Welcome to Nukapedia!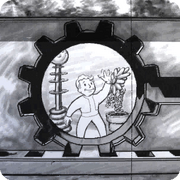 Hello, Iowasteland, and welcome to the Fallout Wiki! Thank you for your contributions, and we hope you'll stay with us and make many more.
Some links you may find useful:
If you have questions, you can ask in our forums, join the live chat or post a message on my talk page. We hope you enjoy editing here and look forward to working with you!
Greetings
Edit
Hola. New fella eh?
I was just watching the recent changes (although I'm sure I have something better to do with my time) and I noticed you're making some good edits there. Perhaps you'd want to learn more about editing, or just the way the Wiki works? Take a look at the New User Network, see if you want to be a part of it, and you could be paired up with an administrator or veteran user who can show you the ropes. You don't have to join if you don't want to, I just saw potential and thought it could be put to good use.


04:47, June 13, 2012 (UTC)
Andrea Brixley
Edit
Hey, I reverted your edit on Andrea Brixley because most the information is copied and pasted from the design document and we have a unwritten policy that doesn't allow anyone to change the text that came from a design document. That goes for every single Van Buren page as well. Thanks.

Hawk da Barber 2012 03:32, June 15, 2012 (UTC)
User page edit
Edit
I noticed that you added the letter "q" randomly to someone's user page and then removed it after. As a rule, editing other peoples user pages without the permission of the user is not allowed. I'd recommend not doing this again, as it is against the rules. --

Talk 05:56, June 20, 2012 (UTC)
Van Buren character pages
Edit
You don't have to link Fallout 3 on Van Buren pages. It will lead to a game that has nothing to do with Van Buren. And you linked Belle while she was already linked in the previous sentence. Once or twice on a page is generally enough. Jspoel

01:58, June 22, 2012 (UTC)
To everyone here to yell at me..
Edit
- 7/4/2018 wow holy smokes how embarrassing is this i was 11 years old and a complete nervous wreck who thought mods being helpful was the end of the world ahahaha mods please delete... i have been violently cringing every time i have remembered this post since the day i wrote it
I'm sorry that I'm such an idiot. I do a lot of stupid things and a lot of dumb little unnecessary, unhelpful edits. Like linking, capitalizing, correcting spelling, and removing unnecessary edits by other people, adding bugs that I've encountered, and adding xbox 360 and pc pictures to bugs that I've encountered, but aren't on their. Again, I'm sorry how unhelpful my contributions are. I've got a lot of respect for everyone on here, and I just hope you guys can forgive me for my stupidity.Iowasteland 04:04, June 22, 2012 (UTC)
I think this is unnecessary. No one is cross with you at all, they're just telling you how to better yourself. If you look at my first archive, I wasn't the best editor, today, I still make mistakes. I'm an admin now. Just focus on improvement:)-- 17:40, June 22, 2012 (UTC)

Don't bash yourself too much. Look at it this way, we correct you a few times and and as long as you learn from it, your edits will improve. Just don't make it too difficult for yourself from the start on, start easy. Did you already read Fallout Wiki:Policies and guidelines? Jspoel 18:13, June 22, 2012 (UTC)

Ahaha, my first talk paeg message is Jspoel telling me off for failing majorly xD. Don't you worry, everyone is trying to help you and make you a better editor. Everyone has to start from scratch, right? Hugs "Say 'ello to my little friend!"
No worries man!:) Keep up the good work!--


06:40, June 23, 2012 (UTC)
Hi there, in that case, fix the link like this: [[Lobotomite|LOBOTOMITE]]:)--


05:06, June 25, 2012 (UTC)
Talk page blanking
Edit
Hello there! Removing content from your talk page is against the rules which you can see here. The only exception is if it is being blanked to remove harassment and/or insults, or it has reached a size of 32kb, at which point it can be archived. Please tell me the reason for the blanking on my talk page. DisgustingWastelander (talk) 17:18, June 24, 2018 (UTC)
Community content is available under
CC-BY-SA
unless otherwise noted.