Welcome to Nukapedia!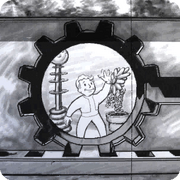 Hello, Matthew Paul, and welcome to the Fallout Wiki! Thank you for your contributions, and we hope you'll stay with us and make many more.
Some links you may find useful:
If you have questions, you can ask in our forums, join the live chat or post a message on my talk page. We hope you enjoy editing here and look forward to working with you!
The Five Stars
Edit
Just FYI, according to sources linked on the page, there were at least six groups in the 1950s recording under the name, The Five Stars. Compared to the other groups, this is the only one that is white.
The Wikipedia page for The Five Stars gives details for a Polynesian band formed in 1974. Youtube already confuses itself by suggesting other songs for "Atom Bomb Baby" that were not recorded by this group, but have the same artist name.
In addition, white doo wop is a subgenre of music similar to gypsy jazz. UpgradeTech (talk) 17:18, July 24, 2015 (UTC)
Page moves
Edit
Welcome and thank you for your many edits! Just for future reference, when moving pages, please leave a discussion on the page's talk page first prior to the move. The super mutant war page was a good move, but in the future please take the time to post it to the talk page and have a discussion. We are a community after all. Unless it is a obvious need such as misspelling etc. Thanks and happy editing!--Kingclyde (talk) 07:12, October 29, 2015 (UTC)
Capital Wasteland Super Mutant conflict
Edit
Howdy, I reverted your edit to the Capital Wasteland Super Mutant conflict page and I figured I'd drop a note here so as to explain my reasoning beyond what can be explained in the edit summary (character limits are a pain). First of all, the way I see it, Talon Company Mercs are more involved in the conflict as a whole than, for example, Reilly's ranger (all you do is rescue 'em from them), whereas the Talon Co mercs (in addition to any incidental encounters) are fighting large scale against the mutants at Tacoma and The Capitol building. At Tacoma they even bothered setting up some artillery. So I definitely feel that the Talon co. Qualifies as a major participant. Additionally, this isn't a full revert, as some of the things, such as the new quote and the changed date are staying. If you have any questions or disagreements with my revision, feel free to contact me via my talk page, and I'll get back to you when I'm next able. Richie9999 (talk) 16:12, October 29, 2015 (UTC)
Community content is available under
CC-BY-SA
unless otherwise noted.