I have no idea what "dw" means.
Edit
I deleted your notes as well as a bunch of others because they were redundant. Nitty Tok. 22:42, December 5, 2009 (UTC)
Hi there!
Edit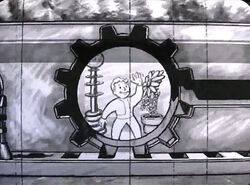 Welcome to our Fallout wiki and thank you for your contributions! I hope you'll stay with us and make many more improvements.
A little help to get you started:
I'm glad to have you here and look forward to working with you!
--Kingclyde 07:13, December 6, 2009 (UTC)
Please follow The Vaults guidelines for uploading images. Thanks. To find the guideline, there is a link above.--Kingclyde 07:13, December 6, 2009 (UTC)
When adding bugs,
First enter them on the discussion page and wait for confirmation by two other editors.
Remember to list the platform in parentheses (xbox, pc, ps3).
Thanks, and I hope you enjoy your time at The Vault and become a valuable contributor. Happy editing!--Gothemasticator 08:31, December 6, 2009 (UTC)
Please abide by the above. I moved your Oasis bug to the discussion page as per policy. (Yes, I know, not everybody follows policy, but, bit by bit, the unconfirmed bugs get moved off the article pages.)
Also, you don't "confirm" your own initial bug post. You simply add the platform in parentheses. Let another editor confirm it.--Gothemasticator 08:59, December 6, 2009 (UTC)
Real-world equivalent places
Edit
Hi! I notice you add a lot of Behind the scenes entries saying that there is a real-world place like the one in the game. These type of entries are only going to valid if there is a concrete connection between the real-world place and the one in the game, like identical location on the map (showable with a link) or the buildings look alike (showable with a link). Please provide such links in your entries. And, please don't add entries if the only similarity is the name of the place. Thanks.--Gothemasticator 01:10, December 28, 2009 (UTC)
Please provide a link when adding such material. Especially in the case of something like Point Lookout, which is a worlwide common name for geographic areas. I removed your recent Behind the scenes addition until you link to something informative.--Gothemasticator 02:47, January 1, 2010 (UTC)
You posted a video on Ausir's talk page with new vegas screenshots. I was gonna go on Ausirs talk to watch it but i can't cos i online at school now and it blocked. Can you please put the video on my talk page. Thanks. that guy who likes to use the tesla cannon 11:11, May 11, 2010 (UTC)
Don't upload scans. Wait until the magazine comes out. Thanks. Tezzla blah blah blah 10:40, May 30, 2010 (UTC)
Yes, its the june issue. Its may. It hasn't came out yet. Its illegal to upload them until it comes out. Tezzla blah blah blah 16:07, May 31, 2010 (UTC)
No its not out yet. Tezzla blah blah blah 11:10, June 1, 2010 (UTC)
Also, don't post gameinformer links on my talk page. Its giving my computer viruses for some reason. Tezzla blah blah blah 11:30, June 1, 2010 (UTC)
Double posting
Edit
Do not double post - use the "edit" function instead. Ausir(talk) 11:48, June 12, 2010 (UTC)
Thanks for the compliments :) As for making better templates, I guess it's a mixture of experience and persistence; not really sure what else to tell you. And while I only contribute to The Vault, I read quite a few other wikis and draw ideas from these; I rarely copy other wikis' templates directly, but they often give me ideas for things I could do.
Regarding your wiki, it seems more organized than most new wikis, so keep up the good work :) -- Porter21 (talk) 02:13, July 3, 2010 (UTC)
Hello! Thank you for your contribution to my Vault story! I will be adding your name to the contestants shortly!

Sparky (Radio) 12:39, July 13, 2010 (UTC)
Destructoid
Edit
Yes. Tezzla Cannon

10:03, August 21, 2010 (UTC)
Although it seems you have figured this out yourself by now, the page you need to edit is w:c:brink:MediaWiki:Monaco-toolbox. Each list item is one the links which appear in the toolbox. -- Porter21 (talk) 15:50, August 23, 2010 (UTC)
Overlinking
Edit
Hi, you seem to be overlinking in articles like you did here on the Ruzka page. Check out the linking policy page. ;) --TheBearPaw 09:29, August 30, 2010 (UTC)
Editing other users' user pages.
Edit
Don't do it, not even to correct errors, with the sole exception of reverting vandalism. --Kris

21:43, September 14, 2010 (UTC)
Re: I need wikicode help
Edit
Well, there's no "universal" solution for this kind of thing. It'd be easier for me to answer your question if you could tell me what exactly you're trying to do (is it the bloglist example?). -- Porter21 (talk) 20:36, January 11, 2011 (UTC)
Template
Edit
Well, maybe you should consider simply making a copy of your weaponsbox template and modify it to your needs. What you're asking from me is quite a lot of work (copying our infoboxes to other wikis is not simple), and I already have more work to do for the Vault than I have time for, sorry. I can answer questions or help with problems you might run into though. -- Porter21 (talk) 22:58, January 22, 2011 (UTC)
Community content is available under
CC-BY-SA
unless otherwise noted.