Hi there!
Edit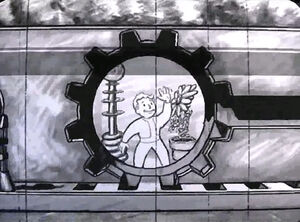 Welcome to our Fallout wiki, and thank you for your contributions! There's a lot to do around here, so I hope you'll stay with us and make many more improvements.
Recent changes is a great first stop, because you can see what other people are editing right this minute, and where you can help.
If you haven't already, create a user page about yourself! If you do, we'll be able to know you better as a member of our community.
Questions? You can ask in the Forum or on the "discussion" page associated with each article, or post a message on my talk page!
Need help? The Help page has an outline of the site, and pages to help you learn how to edit. See the Vault's Policy page for general guidelines and code of conduct.
I'm really happy to have you here, and look forward to working with you!
Pictures
Edit
Not every page needs a gallery, and the ones that do only need official images and images that are significant to the location. :/ Nitty Tok. 13:41, July 12, 2010 (UTC)
Edit summaries
Edit
Please don't just leave an "M" for "minor" as a edit summary. It doesn't take very long to type a proper one. -- Almighty Higgey (talk page) 12:23, November 7, 2011 (UTC)
Fo2 map images
Edit
Thanks for that new Den Residential map image. I've been waiting for someone to match me in the fine art of high quality images in the past year. Question, do you have Fallout Tactics by any chance? Jspoel

16:57, September 21, 2013 (UTC)
Hey that's great to hear! Yes, I do have a special request and it's about FoT maps indeed. I'd like to have all FoT maps, full size, on the wiki. I just spent two hours on making the Macomb map. On my PC at I have it 12,000*6,000 pixels at 57Mb! How about that eh? I had to downsize it to 4500*2250 otherwise I wasn't able to upload it. So it's a big task but the reward is great! I created it with the FT Tools program (which has a level editor) and the extracted FoT map files (mis-core_* files) (used Winrar for that). I made screenshots and puzzled it together in Photoshop. I give you further explanation and a link to the program if you want. You could also make screenshots in-game, but FT Tools has some advantage that everything is static. Jspoel 22:43, September 21, 2013 (UTC)

I hope you can help out with these maps; for 1 man it's really much work. I changed the Macomb map to .jpg format. I think we now have our first image with a +10,000 width pixel! It does show a better zoomed in-image so we stick with that. I'm going to start with mission 14 onwards, then you can take a look at 1-13 and see what you can do there. Jspoel 17:08, September 22, 2013 (UTC)

I take it you found the "set daylight" option (under Level). You can set it to 12. I've taken the standard FT Tools setting, didn't change anything important I think. I have checkmarks at Show Tile Graphic, Stipple Reveal, Dynamic Lighting, Smooth Shading and Dynamic Shadows. Rest is unchecked. I actually like the see through critters in building. Keep that like it is. You have them in the game, someone looking at the map will know what to except this way. Not sure what you mean by compress. When I saved the Macomb map in Photoshop, I set the quality to 9, and got 10,5 Mb in .jpg format. So then I knew I was close to the max of 10 Mb. After adding a black background and chipping some of the edges I was at 9,2 Mb so it was good to go. Try to keep the quality High (9) and see if you can get it to near 10 Mb. Maybe downsize it a bit if it doesn't reach. Jspoel 20:12, September 22, 2013 (UTC)

Now I see what you mean by the anti-aliased sprites and tiles. I didn't have those checkmarked but checkmarking gives a better result. I think we can checkmark those as well. Works a bit slower, but it's an even better result. Jspoel 20:18, September 22, 2013 (UTC)
(←)  I don't know. I'm not going to remove roof tops for the location pages, I'm gonna go with consistency and leave the roofs on. Enable Occlusion leaves white parts around windows so I'm not going to use that. With bunkers I'd like to see the rooftops removed. Note that some of the pages already have large maps like the bunker pages and maybe 1 or 2 mission maps. So I suggest you check for that before you start with a map. But then again, you can always go one better right? Your images are absolutely marvelous! Pieces of art I'd like to think. You just set the record for largest image on the wiki, 9,98 Mb. Great work all in all. Jspoel

22:30, September 22, 2013 (UTC)
Wow, you are fast with those maps. It takes me ages to get one done and you already did a few. Do you have 2 monitors or something like that? Jspoel 22:41, September 22, 2013 (UTC)

I've done Buena Vista and will upload it tomorrow. Another masterpiece of 10,000 pixels width. Rest of your message I'll get back to. Bedtime here. Jspoel 01:23, September 23, 2013 (UTC)

Ok, you can do the rest of the maps, so everything that's left (except Buena Vista). You're in the zone right? Fantastic these images. I mean 14,000 width that's absurd. But we love it. I can find something else to do no problem. Jspoel 01:36, September 23, 2013 (UTC)

The Mardin map is there, hidden in mission07.mis. I just discovered it with checkmarking Enable roof popping. I'm not entirely sure that did the trick, so I don't dare quit the program anymore... You try it and let me know, otherwise I'll create the image. Fiddle a bit with it. "Being in the zone" is an american expression. It means that you started to work on something and by some good fortune you discover that it's going great and no one can beat you at it (a term mostly used in sports). Sort of being in a magic bubble for a short period of time. Like you are now these 2 days. But I can understand you didn't know the expression as a Russian. About Scott City, I don't have a problem opening the map so I can create it. Now this project is going smoothly, how about we give it another run and create the maps, with all the roofs removed. It would be great to have those too... Jspoel 14:52, September 23, 2013 (UTC)
(←)  Yes, I prefer the large maps for location pages in the top infobox, the smaller ones (main location image) in the footer. It's a location page, and I think the entire map deserves the most credit. On the special encounter pages, it's mostly the other way around. The encounter is the most important thing, so we need to focus on that and zoom in. Entire map can be in the footer or gallery. There may be some exceptions which requires some insight to what is best. Like with the B1000 (special encounter), I placed the entire map in the top infobox, because I know that entire setting is historic in terms of movie history (the steel mill). It outranks the focus on just the metallic brahmin. Jspoel

15:26, September 23, 2013 (UTC)
I've done Mardin underground already. Maybe you can do the last few maps, I'll do Scott City. Jspoel 18:19, September 23, 2013 (UTC)

Already finished with all maps? You made these maps at incredible speed, I say! Maybe there are 1 or 2 underground maps left then. Thanks for all the hard work! Jspoel 18:35, September 23, 2013 (UTC)
Freeport
Edit
Sorry about that! Saw the 3 e's and assumed... --Tribal Wisdom (talk) 21:31, September 22, 2013 (UTC)
Demo location maps
Edit
I have 2 more for you. Can you do the Dirt Haven and Devil's Graveyard maps from the Tactics demo? Download the demo and they're in the extracted files somewhere I'm sure. Jspoel

15:42, September 24, 2013 (UTC)
If you're willing to also add the no roof map variants to all pages, then I would like the critters just to remain. Don't remove them. Adds some more spice and reality to the image. I'm working on the FOT character images myself. Also trying to create some other long time wanted images; the 5 variants of the special encounter world maps. All 5 player characters have different locations for their special encounter I believe. Jspoel 17:07, September 24, 2013 (UTC)

These images are just absolutely great, don't you think? An enjoyment to watch, if I say so myself. Later this week I'll spend a blog on it I think (and will credit you for it of course!). These are major improvements. Jspoel 17:38, September 24, 2013 (UTC)

I know what you mean. Without the roofs the screen randomly seems to change and then it's hard to get what you want. Jspoel 20:44, September 24, 2013 (UTC)
Multiplayer maps
Edit
There are 12 multiplayer maps left in Fallout Tactics\core\missions (Assault, CTF, Scavenger, Skirmish. Can you do those too? Jspoel

19:22, October 20, 2013 (UTC)
That's a fast response! Thanks, saves me precious time which I can spend on soundfiles. Jspoel 19:42, October 20, 2013 (UTC)

You delivered another miracle with that many maps of exquisit quality in so little time! Marvelous. They still need a page to go on. We're probably going to need to create a FoT multiplayer page for them. Jspoel 00:20, October 21, 2013 (UTC)

Me neither. Have to think on that one. Jspoel 00:26, October 21, 2013 (UTC)
Community content is available under
CC-BY-SA
unless otherwise noted.