Welcome to The Vault!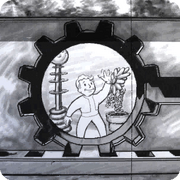 Hello, Kbender321, and welcome to The Vault, the Fallout wiki! Thank you for your contributions, and we hope you'll stay with us and make many more.
Some links you may find useful:
If you have questions, you can ask in our forums, join the live chat in our IRC channel or post a message on my talk page. We hope you enjoy editing here and look forward to working with you!
Hello Kbender, and welcome to the wiki!
I'd like to tell you now rather than later: bugs / glitches such as this one you just created a page for are not supposed to have their own page. Instead, pages such as the Merchants page should harbor them under the "Bugs" section, which has yet to be created.
I am going to delete your page and move its content over to the Merchants page, so you can see how bugs / glitches should be posted. Thanks for listening, and I'll see you around the wiki ;) -- Ghouly89 (Talk) 06:41, March 17, 2011 (UTC)