Welcome to Nukapedia!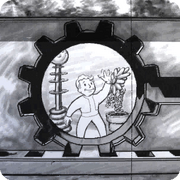 Hello, Jrooksjr, and welcome to the Fallout Wiki! Thank you for your contributions, and we hope you'll stay with us and make many more.
Some links you may find useful:
If you have questions, you can ask in our forums, join the live chat or post a message on my talk page. We hope you enjoy editing here and look forward to working with you!
Fancy bars
Edit
Hey thanks a lot for the help, appreciate it! Missed that one. Just changed it and already see the result! Jspoel

19:17, February 24, 2012 (UTC)
Allright, thanks, that could speed up things a bit. Did you make that script by the way? We sure can use a js and or css programmer. Jspoel 22:59, February 24, 2012 (UTC)
Signature links to Message Wall
Edit
Your signature was leaving red links to the message wall, so I tampered somewhat with your sandbox. Looks like you spotted that. Anyway, looks like it's fixed now. Jspoel

16:14, March 2, 2012 (UTC)
Community content is available under
CC-BY-SA
unless otherwise noted.