Hi there!
Edit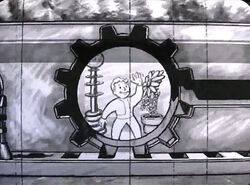 Welcome to our Fallout wiki and thank you for your contributions! I hope you'll stay with us and make many more improvements.
A little help to get you started:
I'm glad to have you here and look forward to working with you!
--
Nitpicker of the Wastes
(
Talk
) 16:38, June 8, 2010
Fallout Extreme
Edit
Fallout Extreme was indeed going to be set in Washington State. I looked at the article page for that game and recognized some of the locations from when I lived in Western Washington. You can banish any uncertainty you may have had :) Kris (talk) 22:22, July 31, 2010 (UTC)
Thanks for deleting my helpful edit! I really like it when people do that with out a reson :)

i'm putting my edit back up because some people actully want to IMPROVE this site it was on MDPL mass relay station BTW64.222.106.221 23:22, August 16, 2010 (UTC)
He there it's Techno, I kinda guessed you'd be on this wiki and i've been here a lot, cos of the amazing coder (our wiki steals his templates >:D) :3 Would you recommend my bro getting fallout 4 or 3 for xmas this year? and just saying hi again :)--TechnobliteratorTechno's Talk 21:36, November 1, 2010 (UTC)
Well done
Edit
Congrats on your rollback rights :)--TechnobliteratorTechno's Talk 21:45, November 4, 2010 (UTC)
Please weigh in on a proposed change in our written bugs policy.--Gothemasticator 01:12, November 9, 2010 (UTC)
Bugs policy revised: new poll
Edit
Please review and vote on the revised proposed bug policy changes.--Gothemasticator 05:03, November 30, 2010 (UTC)
thanks for the explanationTFG 22:27, April 22, 2011 (UTC)TheFalloutGuru
Community content is available under
CC-BY-SA
unless otherwise noted.