Welcome to The Vault!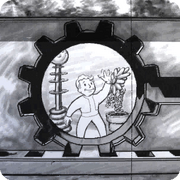 Hello, Jol87, and welcome to The Vault, the Fallout wiki! Thank you for your contributions, and we hope you'll stay with us and make many more.
Some links you may find useful:
If you have questions, you can ask in our forums, join the live chat in our IRC channel or post a message on my talk page. We hope you enjoy editing here and look forward to working with you!
Human category - Boulder City Memorial
Edit
I spent a very long time taking off the Human characters category off of all of the Boulder city memorial soldiers. I discussed this with Jspoelstra and GhostAvatar and we agreed that the Human Characters category should not be on the pages because the NCR enlisted both humans and ghouls so it is not safe to assume that they are humans. I hate to ask this of you as I see you went through the list already but, please revert your edits.
Ok, thank you!
TwoBearsHigh-Fiving 21:54, September 15, 2011 (UTC)TwoBearsHigh-Fiving
Category links.
Edit
Hi! Can i ask you, to remove category links from your profile page? Thanks in advance.
Explanation: Fallout_Wiki:Content_organization_guideline#Categorization
--Theodorico (talk) 22:08, August 30, 2012 (UTC)
It has been fixed. Thanks. Jol87

19:26, August 31, 2012 (UTC)
Community content is available under
CC-BY-SA
unless otherwise noted.