Welcome to The Vault!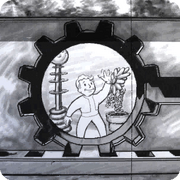 Hello, Headless Magi Mami Magica, and welcome to The Vault, the Fallout wiki! Thank you for your contributions, and we hope you'll stay with us and make many more.
Some links you may find useful:
If you have questions, you can ask in our forums, join the live chat in our IRC channel or post a message on my talk page. We hope you enjoy editing here and look forward to working with you!
Hello there
Welcome to the wiki! With you being a new user and all, I thought you needed the official welcome from the welcoming committee (me) ;)
Ah, now that that's over with, I have a few small remarks for you to remember in the future when you edit:
If you feel an article is missing a picture you really think it needs, don't hesitate to upload it. However, you should remember to make images with really good quality, especially because we have had a few frequent contributors uploading really good pictures here lately (Jspoelstra and GhostAvatar).
Specifically, it wasn't necessary to upload this image you added to the bottom of Christine Royce's article because the existing image is much larger and of higher quality.
Please, don't take this the wrong way; I am trying to help you learn more about what makes an experienced editor on the wiki. I have no doubt that after a few months of learning the ropes, you will be a well-known user and editor.
Thanks for listening, and see you around the wiki,
Community content is available under
CC-BY-SA
unless otherwise noted.