Welcome to The Vault!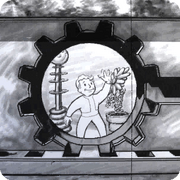 Hello, Hal10k, and welcome to The Vault, the Fallout wiki! Thank you for your contributions, and we hope you'll stay with us and make many more.
Some links you may find useful:
If you have questions, you can ask in our forums, join the live chat in our IRC channel or post a message on my talk page. We hope you enjoy editing here and look forward to working with you!
Thanks
You've been making a number of very helpful edits. Thanks for lending your eye for detail to The Vault! Cheers.--Gothemasticator 02:42, September 26, 2010 (UTC)
Reference
2010?--Gothemasticator 03:49, September 26, 2010 (UTC)
Scribe confusion
You seem to have gotten your scribes mixed up on Yearling's page. Scribe Bigsley is a man added in Broken Steel. He has some comments regarding Yearling. --Kris

23:55, October 3, 2010 (UTC)
What are you doing, Dave?
:3. Nukey (talk) 23:45, October 4, 2010 (UTC)
Raider Invitation
You have been invited to join the Raiders wiki group just place an application in our page in the off-topic section, you have already been approved and looked over by the raider's warlord Deathclawpoop. we look forward to working with you. Deathclawpoop 01:59, October 12, 2010 (UTC)
Postapocalyptic interior decorator
I don't know if there's a specific rule about it, but IMO it's unnecessary. Just continue to use your best judgment. --Kris

10:34, October 17, 2010 (UTC)
Rollback
Rollback rights granted. Ausir(talk) 05:56, October 24, 2010 (UTC)
Maintenance
Please see Forum:Maintenance!. There's a lot we can do to keep The Vault running smoothly. Thanks.--Gothemasticator 04:03, October 30, 2010 (UTC)
Please weigh in on a proposed change in our written bugs policy.--Gothemasticator 01:11, November 9, 2010 (UTC)
Username
My name is an in-universe feline beast name from a pet project of mine. IIRC, it was created from an arabic word for shadow.

Tagaziel (call!) 19:10, November 20, 2010 (UTC)
Bugs policy revised: new poll
Please review and vote on the revised proposed bug policy changes.--Gothemasticator 05:03, November 30, 2010 (UTC)
Marking for deletion
Please don't mark things for deletion just because there's an existing article with the correct name. Instead, redirect the page to the correct article with #REDIRECT[[Article name]]. Thanks. --Kris

00:48, December 8, 2010 (UTC)
Legion Currency
Hmmm... my thoughts are that these fall right under the Item page overhaul project, as such I have marked them with the relevant tags for the project. Overall the page legion money should be moved to Legion currency as a page name, providing a overview with background. Both Aureus and Denarius should have separate pages with the transcluded background added etc. I have added them to the list to be sorted and I will most likely get this all done soon as it is a simply fix. ☣Avatar☣
adminship
wait a week or two then apply for adminship. Shadowrunner(stuff) 03:47, December 17, 2010 (UTC)
Appearances
According to this The Vault:Article layout guideline/Item article we no longer need that section. Porter and GhostAvatar discussed it and I verified it. It is truly redundant. Thanks for your edits though.--Kingclyde 06:46, December 18, 2010 (UTC)
Admin request
I wouldn't worry about the timing. We've had close-together requests before. My two cents is that you might actually get a better response during the next 7 days because of school breaks. I say go for it. Cheers.--Gothemasticator 22:19, December 24, 2010 (UTC)
Chauncey
If one character actually appears in the game, and the other one was cut, there's no need to make the page for the name itself a disambiguation page. Best to keep the in-game character at Chauncey, and add this:
to the top of the article. Ausir(talk) 04:30, December 27, 2010 (UTC)
Congratz!
Congratulations on becoming a Vault Admin! :) Wish me luck on becoming one! Gheart 22:17, January 5, 2011 (UTC)
HELP ME PLEASE!!!!!!
i just joined this wiki and i cant post a picture for my avatar thru my psp. do i need a computer to do so? ~~vault-tec780~~
Deathclaw
Good call there on the deathclaw, Hal. I stared at it for a while and thought it was a little typo being changed. In this case it helps your native language being English (it's my guess it is your native language). What do you think of semi-protecting this one? It's a page anons like adding text to that doesn't belong. Greets, Jspoelstra 02:26, January 26, 2011 (UTC)
Comment policy
Good call. I also fixed it a bit, so that it now reads "Fallout x rocks/sucks", lest some accuse me of bias :) Cheers.

Tagaziel (call!) 07:19, January 31, 2011 (UTC)
Request
Hey Hal, remember what you promised when applying for admin?. Can you delete you few images which are marked for deletion?. I'm having some difficulties spotting which ones I've marked and which not. Would be appreciated. Greets, Jspoelstra 02:21, February 8, 2011 (UTC)
Ok, understood. I'll see them disappear then. Thanks for now. Jspoelstra 02:58, February 8, 2011 (UTC)
Blog link
Yeah, linking to your blog on your user page is fine. Basically, unless a link violates one of our policies, you can link to whatever on your own page. Cheers.--Gothemasticator 05:25, February 12, 2011 (UTC)
Quests
To be completely honest, the really long quest names are only a problem with Modoc and a little bit of San Fran. I don't think it's that big a problem to us, and what else would people be searching for if not the name of the quest? Nitty Tok. 15:17, February 18, 2011 (UTC)
vandal
I have an anonymous one for you to check user:69.49.53.240 out. Greets, Jspoelstra 23:51, February 20, 2011 (UTC) - Probably a first-timer having some fun. Unfortunately for him, we don't like it.
Dead Money
I haven't spent the money for the add on yet but I was going off of the Dead Money page and it describes nothing about raising the level cap. That's what I was working off of. Now I found it on the level page.--Kingclyde 17:28, February 28, 2011 (UTC)
Unblock?
Hey Hal, I noticed you blocking an anon who did a little writing on the quote: 'damn, you're looking tasty' from a New Vegas hooker. It could be true she's saying that, don't you think? Greets, Jspoelstra 18:51, March 6, 2011 (UTC)
Average
On average, you do 18.6871 edits per day. Just thought you would like to know. Best regards, Kastera (talk) 02:04, March 24, 2011 (UTC)
Armor and clothing image format
Can you share your opinion with us on this forum post? Jspoel

13:56, April 15, 2011 (UTC)
Been a while!
Good to see you around again!--Gothemasticator 02:30, June 20, 2011 (UTC)
Status?
Howdy Hal. It's been over a year since you last edited here. In that time, a policy was put in place regarding inactive users with extra rights. After a period of time (9 months), we're supposed to check and see if inactive users still intend to edit and use their rights. I just wanted to check in and see what you wanted to do. If you've moved on, that's obviously completely understandable. Just leave me a message with what you want to do. I appreciate your time,  The Gunny  

19:48, April 5, 2013 (UTC)
Community content is available under
CC-BY-SA
unless otherwise noted.