Welcome to The Vault!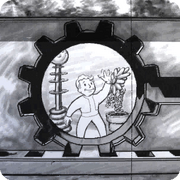 Hello, HRRlion, and welcome to The Vault, the Fallout wiki! Thank you for your contributions, and we hope you'll stay with us and make many more.
Some links you may find useful:
If you have questions, you can ask in our forums, join the live chat in our IRC channel or post a message on my talk page. We hope you enjoy editing here and look forward to working with you!
Hi my friend ;)
I think you have Lonesome Road after saw some of your edits, in English I presume. Since I have the French version, can you upload for me the LonesomeRoad.esm containing the English voices, on megaupload or mediafire? French voices are pretty bad compared to the original. Thanks in advance! Itachou [~talk~] 19:49, September 20, 2011 (UTC)
Hi! I'm afraid to say that I don't actually have the DLC. Now what happened was I noticed that when a DLC was released, the page on the add on would not be updated for a while. I wanted to do something so I decided to watch some Youtube Videos and add some info to the page. I'm sorry that I wasn't able to help but in the future I'd be happy to! :) HRRlion 15:19, September 21, 2011 (UTC)
Community content is available under
CC-BY-SA
unless otherwise noted.