Hi there!
Edit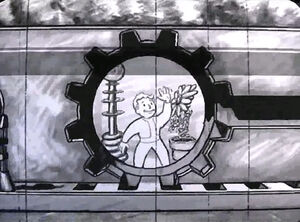 Welcome to our Fallout wiki, and thank you for your contributions! There's a lot to do around here, so I hope you'll stay with us and make many more improvements.
Recent changes is a great first stop, because you can see what other people are editing right this minute, and where you can help.
If you haven't already, create a user page about yourself! If you do, we'll be able to know you better as a member of our community.
Questions? You can ask in the Forum or on the "discussion" page associated with each article, or post a message on my talk page!
Need help? The Help page has an outline of the site, and pages to help you learn how to edit.
I'm really happy to have you here, and look forward to working with you!
Ausir 20:21, 7 November 2008 (UTC)
Things To Do
Edit
Fo1 and Fo2 pages need some attention and care, primarily in filling out the infoboxes, adding proper tags, fixing links etc. That Furry Bastard 09:11, 28 April 2009 (UTC)
You can also check our community portal. -- Porter21 (talk) 10:09, 28 April 2009 (UTC)
stop please
Edit
Can you not take credit for the edits that i'm doing for the NPC overhaul project. If you want to help with it edit a character that hasn't been completed yet, or peer review characters that are done. Shadowrunner56 17:41, November 26, 2009 (UTC)
Thanks for understanding. Shadowrunner56 17:55, November 26, 2009 (UTC)
npc project
Edit
Thanks for contributing to the project! A couple matters I'd like to bring up...
Section titles should have only the first word capitalized (unless the section title contains a proper noun). For example, "Daily schedule," not "Daily Schedule."
The section "Interactions with the player character" should be written just like that, for consistency across the wiki, not shortened to "Interactions with the player."
I noticed a "Behind the scenes" entry you made on Andy Stahl's page mentioning that the GECK lists his age as 15. Is this true? I am surprised, since this would make him a child by the game's reasoning. I just don't have the GECK installed and would like to make sure this strange info is correct. If it is, I would not put it in "Behind the scenes" but list it under "Notes," perhaps with an introductory phrase, like, "GECK inconsistency:..."
Thanks.--Gothemasticator 04:56, November 27, 2009 (UTC)
Fallout 3 NPC Overhaul Project
Edit
You can simply do reviews for any article which is finished task-wise, you don't have to wait for anybody to ask you :) Regarding fixing vs alerting the original editor, it's up to your preference. I find it easiest to simply fix small issues right away and only alert the other editor if I notice that the same mistakes were made by the same editor in multiple articles (to prevent it happening in the future). -- Porter21 (talk) 18:28, November 28, 2009 (UTC)
Generally I'd agree that multiple characters shouldn't be crammed on one page. However, I feel "generic" NPCs are a special case and should be treated differently. In my opinion, it doesn't make much sense to have different pages for e.g. all 50+ "Raider" NPCs or all equally numerous "Wastelander" variants. While the dead commando is unique, I'd still have it on the same page for all Chinese commandos, if only for consistency's sake.
I don't mind at all, go on ahead. Shadowrunner56 19:47, November 27, 2009 (UTC)
projects
Edit
Thanks for diving in! Great work, and thank you especially for making the effort to learn and follow the project guidelines. It's also good to see you working well and communicating with Shadowrunner. Welcome to the wiki!--Gothemasticator 20:21, November 28, 2009 (UTC)
Re:NPC Project
Edit
It's not that the facts are wrong, they are completely right, and the stuff in the guide is greatly written. Personally I think the wiki should be a collaboration between people. I don't think that copying straight from the official game guide is right. Absolutely, it's good information, but it should be rewritten in your own world. The Game Guide is copyrighted, too. It might just me being way too moral about this, but it would look better if it was written by us, and not copied from a book. -=KAG=-The VaultNO 19:07, November 29, 2009 (UTC)
Very well, I shall do that in the future.
Gunjaer 22:47, November 29, 2009 (UTC)
Character Images
Edit
Please make sure you're swapping images for more readable ones, not vice versa. [:http://fallout.wikia.com/wiki/File:Chiptaylorgunjaer.jpg] is good. [:http://fallout.wikia.com/wiki/File:Christinekendallgunjaer.jpg] is not.

Tagaziel (call!) 19:45, November 29, 2009 (UTC)
NPC project
Edit
Hi! I want to thank you for your participation in the Fallout 3 NPC overhaul project. Progress continues, and I invite you to pick up the torch again! Please visit the project talk page to see what's new and add your input.
I look forward to seeing your name on the recent edits page!--Gothemasticator 10:18, January 5, 2010 (UTC)
FO3 NPC overhaul project finished
Edit
Community content is available under
CC-BY-SA
unless otherwise noted.