Welcome to Nukapedia!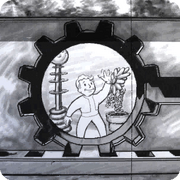 Hello, Fylhtq, and welcome to the Fallout Wiki! Thank you for your contributions, and we hope you'll stay with us and make many more.
Some links you may find useful:
If you have questions, you can ask in our forums, join the live chat or post a message on my talk page. We hope you enjoy editing here and look forward to working with you!
The image was fine before - don't add bad images to the articles. MysteryStranger: Trust in the power of Infinity! 10:42, March 3, 2012 (UTC)
I see. In the future I'll do pictures with full length persons.--Fylhtq 14:40, March 3, 2012 (UTC)
COMBATAI.MSG (Fallout 1/2)
Edit
Well, we encountered same issues on some other pages. Still, we sent word to a staff member, so let's hope the error gets fixed soon. Energy X ∞ 09:01, August 26, 2012 (UTC)
I assume the staff have their hands full with tasks. I sent a word to the staff member (again). Energy X ∞ 20:49, October 20, 2012 (UTC)
Revertal of images
Edit
I reverted the images you removed the red haze from. They way you altered them was too much away from the original. Our visitors know Aurelius and Camp Forlorn Hope from being in a red haze environment. We can make slight alterations, but we should at least picture them to a significant degree in the original environment. Jspoel

16:26, March 7, 2013 (UTC)
Community content is available under
CC-BY-SA
unless otherwise noted.