| | |
| --- | --- |
| | Archives: #1 |
Feel free to drop me a message here or hit me up on the

Nukapedia Discord


–Findabair

The benefit of the doubt is often doubtful.
Welcome to the Fallout Wiki!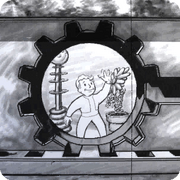 Hello, Findabair, and welcome to the Fallout Wiki! Thank you for your contributions, and we hope you'll stay with us and make many more.
Some links you may find useful:
If you have questions, you can ask in our forums, join the live chat or post a message on my talk page. We hope you enjoy editing here and look forward to working with you!
Thank you kindly
Thank you for the new gift. I was feeling down lately with all the turmoil, but I am happier now. You always know what to say. Love you. -

kdarrow take her for a spin! 05:22, 23 August 2021 (UTC)
Cleaning out unknown treasures
Can you hook me up with name of this bad boi? I have done a vague cursory look of keywords in nifskope and gave up immediately. If you have time, can I have info for zebra one (did I write that already? or just add it to camden park rollercoaster car article?) All/any help is appreciated. -kate

kdarrow take her for a spin! 19:00, 26 August 2021 (UTC)
RE-Casualties
Okay so think I understand what you mean about them so won't be report it again.—Preceding unsigned comment added by Greatsman69s (talk • contribs) 10:26, September 11, 2021 (UTC). Please sign your posts with ~~~~!
Merc / Raider outfits
These edits were meant to point out that the outfits were ported from Fallout 3, even under a different name. Xporc (talk) 11:59, 12 September 2021 (UTC)
Wild razorgrain bug / UFO4P
Mentioning a bug and not mentioning the very relevant fact that is patched (by what may be the single widest used mod, certainly the widest used bug fix mod), seems almost deliberaly unhelpful to the reader / end user. Do we pretend the user base plays Fallout 4 in a world where mods don't exist? It makes sense not to cover mods as topics, but not mentioning when a very popular and very stable mod fixes a bug, I just don't get that. Spikezarkspike (talk) 09:48, 17 September 2021 (UTC)
Fair enough and many thanks for the patient explanation. Spikezarkspike (talk) 13:16, 27 September 2021 (UTC)

Here we go again... The Astoundingly Awesome Tales 2 Perk is bugged in the vanilla game, does not work at all. It is fixed by UFO4P. It seems like vandalism to say that the perk doesn't work, and NOT mention that it's fixed by the most common 3rd party patch. :-(
Spikezarkspike (talk) 23:49, 7 October 2021 (UTC)

Thanks for the wise advice. You are right, the sensible thing to do is for me to lobby the community to make a minor change to the rules. I probably won't be able to do it for a few weeks. I am ok on Discord but I would probably prefer to use a forum discussion. Thanks again. Spikezarkspike (talk) 04:12, 9 October 2021 (UTC)
Random Page I Made By Mistake
Hey Findabar. Thank you for leaving a note on my page, i accidentally created that page when trying to do a quote link that i later scrapped, thanks for handling it properly. JustDoggo2, Mugs Mugs MUGS 01:04, 1 October 2021 (UTC)
Policies
The policies aren't hard to find and we shouldn't need to baby a user and hold their hand to get them to read the policies. If they can't take the initiative to read them when they get here before editing, that's entirely on them. Great Mara (talk) 20:42, 11 October 2021 (UTC)
Vertibird FO4
I just wanted to thank you for that great reorg job you did on this page. I think you could see where I was going... but you have really improved it. Thanks! Spikezarkspike (talk) 00:11, 13 October 2021 (UTC)