Hi there!
Edit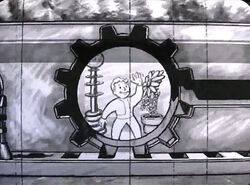 Welcome to our Fallout wiki and thank you for your contributions! I hope you'll stay with us and make many more improvements.
A little help to get you started:
I'm glad to have you here and look forward to working with you!
--
AreYouGoingToEatThatNuke?
(
Talk
) 16:40, 2010 May 29
Moved, not removed
Edit
I moved the quote because it was not what was printed word for word on the gun, the explanation of the quote and reference should still be in a Behind the scenes section of the page where information like that belongs. Unless someone changed the page since I last looked at it. Great Mara 02:33, May 13, 2011 (UTC)
Ya I never removed anything. I tried to add that it was clearly a Colt 1911, but oh well someone will just take credit for that when the expansion comes out in five days because they hate it when I'm right.
Random comments from some random user. And no, I don't monitor everyone's edits, it was obvious.
Edit
Yeah you are probitly right, sorry i just got carried away. I will go back and delete some of those comments.LibertyPrime 02:37, May 17, 2011 (UTC)
P.S. You must be very busy if you are monetoring all the edits people are making, and having sheriff myers as your image is very cool.
This is just some friendly advice, if you liked playing Fallout 3, then you will LOVE Oblivion. It sis made by the exat same person as Fallout 3 (Tod Howard). It might be a little to late to play the game now, but its sequal Skyrim is comming out on 11-11-11.LibertyPrime 02:45, May 17, 2011 (UTC)
Black guy image
Edit
Good work on tagging that black guy image for deletion! Jspoel

14:30, June 12, 2011 (UTC)
texas bos
Edit
i really admire your job of drawing the us map, but i want to remind you one thing, the map didn't include texas bos's land. here is a map i found one month before in this wiki may be it will help you(Vvardenfell 13:35, June 15, 2011 (UTC))

Fallout world map
Edit
Hello my friend ;). I see your map and is well created, but it has some mistakes.


- The NCR is not all California, North Oregon and some part of Nevada. NCR territory only includes:
Arroyo
Klamath
Redding
Vault City
Shady Sands - New California Republic
Maxson
The Hub
Boneyard
Dayglow
Junktown
Navarro
Vault 15
Some part of the Mojave Wasteland
That's all. New Reno, Modoc, Necropolis etc. are no part of the NCR and therefore should not be displayed with NCR color on the map.


- The Brotherhood of Steel not seem to have any members in the Texas now, which was not a division but a special expedition dedicated to destroying the Attis army. Once done, they had returned home in Lost Hills.


- Super mutants have no more territories, Attis army was destroyed, Gammorin's army was merged with the Midwestern Brotherhood of Steel and the Vault 87 super mutant was mostly repulsed by the Capital Wasteland Brotherhood of Steel after the event of the original Fallout 3 story.


- The territory of the Midwestern Brotherhood of Steel is much too large. Several cities are independent (Coldwater for example), and since the end canon seems to be the destruction of the Calculator, their territory greatly decreased compared to the end of Fallout Tactics in 2198, because the emergence of raiders say in the ending and one of the dialogue of Reginald Rothchild in Fallout 3, saying that they have fallen on hard times. This official map show during the ending of Fallout Tactics can help you: [1]


- Also, in 2282, it's Caesar who wins the Mojave or the NCR. Without the certainty of who will win, the map must be dated 2281 and not 2282.


I'll remove them for now, but once the mistake corrected, it is with great pleasure that you can put it on the page my friend =)! Keep up the good works, nice day and see you around! Itachou [~talk~] 16:39, June 15, 2011 (UTC)
Add more proclamed nations in your fallout government !
Edit
O.K. you got few post war nation on there and you need more nation like state of utobitha and put mountian, some town and cities. for next update. by chad 68.153.242.162 19:03, June 15, 2011 (UTC). 19:03, June 15, 2011 (UTC)~~...
How about maxson, although it is in ncr terrority, but bos is the most influence faction in that state, it should be some who show in the map(Vvardenfell 02:47, June 16, 2011 (UTC))
Your map
Edit
You said that you didn't know where to put it, so I have a suggestion. Create a page called Post-Nuclear Governments or Fallout Governments like it's called and add it there. Then just explain the history of each one and keep it up to date as new games and information becomes available. I think it is great and should be used :). I will do this for you if you like, but it is your image and you should have the choice to do as you wish. Click the little man for my talk page if you want to discuss it :). See you around,

14:04, July 3, 2011 (UTC).
Add San Francisco
Hoover Dam in 2281 belongs to the NCR
There is still a lot of cities of Fallout Tactics that are not on the map, and also some don't belong to the Midwestern Brotherhood of Steel .
Chicago is not part of Midwestern Brotherhood of Steel - and an Enclave fortification is located there in addition
Add all appearing Vaults,not just Vault 0; and all bunker of the Midwestern Brotherhood of Steel would be nice but optional.
Afterwards, we would be able to place it on the main Fallout world page: quite an achivement in my opinion. I'm sorry that I won't be able to create a page for it though, as much of the information on such a page would be duplicating the existing pages. I'll try to come back sometime and see how it is going, but until then I can't do much. See you around

18:23, July 3, 2011 (UTC).
Lynos in Fo3 states there IS a BoS base in Chicago, so yes they are in Chicago. Unless Fo3 suddenly became non-canon. Also Buens vista has no real life equivalent, the cloest city it appear to be is canon city in colorado.SajuukKhar 05:33, July 4, 2011 (UTC)
Bethesda ruins
Edit
I left a message on GhostAvatar's talk page about this. Your edits are correct in this case. If he changes it again, don't change it back, since that would be edit warring (and with an admin, no less); but I'm guessing he probably won't change it back in light of this information. --Kris

18:39, July 11, 2011 (UTC)
Bullhead City
Edit
We should add a map marker on your map. There is city named Bullhead City, it's location is shown on http://en.wikipedia.org/wiki/Bullhead_City,_Arizona
Community content is available under
CC-BY-SA
unless otherwise noted.