Welcome to The Vault!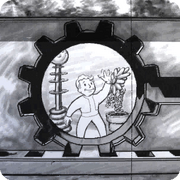 Hello, Fakaiyun, and welcome to The Vault, the Fallout wiki! Thank you for your contributions, and we hope you'll stay with us and make many more.
Some links you may find useful:
If you have questions, you can ask in our forums, join the live chat in our IRC channel or post a message on my talk page. We hope you enjoy editing here and look forward to working with you!
Fallout 4
Edit
What do you want to add? The release date has not been announced yet, it's all speculation thus far. Jspoel

15:23, April 23, 2013 (UTC)

I would like to add the following:
"As of April 15, 2013 Bethesda Game Studios made the following announcement on their blog regarding moving on from Skyrim development and support:
"For the last year and a half we've been working on new content for Skyrim; from the game updates, Creation Kit, Steam Workshop, Kinect support, to DLCs. Parts of our team have also been in pre-production on our next major project, and that game is at the point where it requires the studio's full attention to make it our biggest and best work yet."
On April 16th, 2013, Bethesda Softworks posted a cryptic video on their twitter feed featuring classical music and barbed wire. This led many to speculate that Fallout 4 was the next major project for Bethesda Game Studios because Bethesda Softworks and Bethesda Game Studios had worked together as publisher and developer for Fallout 3 respectively. Pursuant to those rumors Pete Hines, Bethesda Softworks VP of PR and Marketing, tweeted "guess again."
On April 19th, 2013 Bethesda Softworks announced that the video was a teaser for the Evil Within. This has subsequently led to the misconception that Fallout 4 is not in the works. While Bethesda Softworks is working on the evil within, Bethesda Game Studios is not. According to the Bethesda Blog post of April 19th, 2013 Tango Gameworks is the developer, not Bethesda Game Studios.
This means that Bethesda Game Studios has moved its full attention on to another project, but that project is not The Evil Within. Further, since their founding in 2001 Bethesda Game Studios has only worked on the Elder Scrolls series, IHRA Professional Drag Racing and Fallout 3 it stands to reason that it is highly likely that Bethesda Game Studios has moved its full attention to Fallout 4. Unless of course they are attempting to revive IHRA Professional Drag Racing."

So, what do you think? I have the references prepared for the article. I realize that my post does not definitively nail down the release date, but neither do any of the other posts in that section. I believe that my post would provide the most up-to-date and investigative report on the standing of Fallout 4 and would make an excellent addition to the Fallout 4 page. Looking forward to your reply.
Regards,
fakaiyun--Fakaiyun (talk) 16:21, April 23, 2013 (UTC)
Fallout 4
Edit
I think I'd like to stick to the first alternate suggestion Agent c provided. It's short, clear, adds a bit a new information and avoids speculation. I expect Fallout 4 news to come soon, so the page will likely undergo changes soon enough again.
This part can be added I think: "On April 15 Bethesda Game Studios announced on bethblog (Link Bethblog post) that they had completed all new content for Skyrim and were moving the studio's attention to an as yet unknown title that had previously been in pre-production. Although Bethesda Softworks did announce "The Evil Within" during the same week, this is being developed by another studio and will have no direct impact on whatever project Bethesda Game Studios is currently working on." Jspoel

19:20, April 25, 2013 (UTC)
Sounds good. May I make the edit?
--Fakaiyun (talk) 21:28, April 25, 2013 (UTC)
You can edit the page now. Jspoel 21:31, April 25, 2013 (UTC)
Thanks! I got it on there, but I couldn't quite get the link/reference to work right and wonder if I could get some help.
Fort Independence Terminal Entries
Edit
No sweat. All the terminal entry pages should be taken straight from the game either through the GECK or someone sitting in front of a TV while typing what they read. Richie9999 (talk) 20:59, April 26, 2013 (UTC)
Re:Feral ghoul (Fallout 3)
Edit
Hi. I appreciate you contacting me regarding this edit in such a polite manner. We typically don't note resemblances across games/franchises because we do not know whether the resemblance is really significant (i.e. if it's intended to resemble, if it's an inspiration or a reference etc.). It would be preferable if there were developer commentary regarding the resemblance, otherwise I'm afraid we'll have to leave it out for now. --Skire (talk) 02:08, April 28, 2013 (UTC)
That's a bummer.... the resemblance is pretty close though - am I right?
fakaiyun--Fakaiyun (talk) 02:14, April 28, 2013 (UTC)
The image you are using for your avatar and added to the ghoul page, ghoulification.png, where exactly did you get it from? Paladin117>>iff bored; 03:50, April 28, 2013 (UTC)
My brother copied and pasted it. We put it into the project I recently posted as a blog. I don't know where he got it. I know it used to be in the Vault-tec survival guide that came with the casing and the disk for the Game of the Year Edition, but I'm not sure where he got it.
It's all detailed in the image policy. Basically, everything has to be from the game or the developers and you can't show the HUD. Other than that, images have the same policies as regular content.

Paladin117

>>iff bored;

04:33, April 28, 2013 (UTC)
Robobrains
Edit
Hey Fakaiyun, I undid your edit on the Robobrain (Fallout 3) page as that type of robobrain ONLY appears in FO3 (hence the Fallout 3 in the page name). Make sure you're aware of that stuff when editing similar pages for creatures/robots/etc that have a specific game attached to 'em. Richie9999 (talk) 20:55, May 2, 2013 (UTC)

What is the type difference, none of the other pages seems to indicate that there is a difference.
It's a matter of stats, appearance and stuff like that. Additionally the Overview page Robobrain covers all robobrains in the fallout series. Richie9999 (talk) 21:24, May 2, 2013 (UTC)
Ok, on the Lakelurk thing I'll concede. However, saying that a matter of stats prevents us from saying that something doesn't appear in multiple games sounds sketchy. Would you say that Deathclaws or supermutants only appear in Fallout: New Vegas if you were describing the Fallout series to someone? Based merely upon the change in statistics? Those changes in statistics often represent stylistic and gameplay decisions made by game developers, not some change of species or model. I mean, if this is representative of some strict policy then, ok, that's a style choice of the wiki. However, I think such a policy confuses and misrepresents gameplay or style changes of re-occurrent creatures, items, etc. with a change of kind (i.e. deathclaws in the Mojave are ACTUALLY different from Capital Wasteland Deathclaws, not just different by virtue of some gameplay or style choice by a game developer). Just my opinion, but I would like to know the ACTUAL policy on this and I'd like to see it.
Regards, fakaiyun--Fakaiyun (talk) 21:39, May 2, 2013 (UTC)
Lakelurk orgins
Edit
The fact that in our world there are no snapping turtles in Lake Meade is irrelevant as this is the Fallout world. Snapping turtles could have easily been an introduced/invasive species. We don't know. Richie9999 (talk) 21:26, May 2, 2013 (UTC)
Fakaiyun- "You did a super job! and I'm not just saying that because I have to." Also, beware of arbitrary policies that exist only to gratify the fragile egos of people who are already too convinced of their own self import relative to everyone else :)
M4Y83M4N (talk) 14:36, May 3, 2013 (UTC)
Blog post
Edit
Congratulations! -yet again- For making #1 popular blog post!!! I'm so happy for you!!! THE-HECK-OF-A-GUY (talk)

Thanks THE-HECK-OF-A-GUY! I really appreciate it.
fakaiyun--Fakaiyun (talk) 11:56, May 5, 2013 (UTC)

You're welcome! I'm happy we have you on this wiki! THE-HECK-OF-A-GUY (talk)
Survivor - Fallout 4
Edit
It's not certain TheSurvivor2299 site is linked to Fallout 4. Right now it's still more or less guesswork, so we leave it outside the page until we have more proof. Jspoel

22:44, November 18, 2013 (UTC)
Community content is available under
CC-BY-SA
unless otherwise noted.