Welcome to the Fallout Wiki!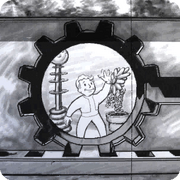 Hello, EvilKid851212, and welcome to the Fallout Wiki! Thank you for your contributions, and we hope you'll stay with us and make many more.
Some links you may find useful:
If you have questions, you can ask in our forums, join the live chat or post a message on my talk page. We hope you enjoy editing here and look forward to working with you!
Gauss rifle image
Edit
That American soldier firing the Gauss rifle doesn't meet standards. It still has the HUD in the image. So that needs to go (use the tilde ~). It also needs a better name, not personalized. Jspoel

15:58, April 11, 2015 (UTC)
Please try to keep your edits to one time per page. Sifting through multiple edits to a page to verify them can be rather annoying. Furthermore, you keep entering opinionated comments into the articles ("This is strange..."/"Developers may have overlooked..."). Finally, this wiki uses American English. Please stop making edits just to change the spelling on the pages. Great Mara (talk) 12:19, April 23, 2015 (UTC)
Adding "Found" where you put it is not really needed. Found is more something you add when you literally find something like physically or entries on a terminal. But finding something in a game is a bit too abstract. Jspoel 15:52, May 4, 2015 (UTC)
Capitalization
Edit
There is no need to capitalize each word, like "enhanced". ☢ Energy X ☣ 17:14, November 13, 2015 (UTC)
Community content is available under
CC-BY-SA
unless otherwise noted.