Welcome to the Fallout Wiki!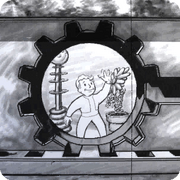 Hello, JaketheWastelandWanderer, and welcome to the Fallout Wiki! Thank you for your contributions, and we hope you'll stay with us and make many more.
Some links you may find useful:
If you have questions, you can ask in our forums, join the live chat or post a message on my talk page. We hope you enjoy editing here and look forward to working with you!
Please don't add strategy to pages, like how to get items practically for free. It's policy. Thanks. Jspoel

15:50, February 18, 2012 (UTC)
When you create pages can you fill in the infobox more? I still have to add the value, edid and baseid of each page. If you can do that while you're at it, would be great. Jspoel

23:05, August 22, 2019 (UTC)
The mentor program is still active! Is there anything in particular you would like to learn or is it more that you would like regular feedback on your edits? Either way (or both ways) is fine. You're on Discord, right? If you want we can continue there, conversations are easier there imo.
- FDekker talk 17:46, August 27, 2019 (UTC)
Can you upload your clothing images ratio 5:7? Now the width/height ration isn't good, should be a bit wider, like this. Jspoel

01:50, September 1, 2019 (UTC)
Nukapedia - Vault Merger: voting has reopened
[
edit source
]
Howdy,
As you may have already seen, voting for the proposed merger has been reopened. Voting was originally postponed so that users could better discuss the proposal, and after a lengthy conversation, that forum has since come to a close. For more information, please see the discussion itself. The post is a little lengthy, but if you are truly interested in making an informed decision, I would recommend reading through it.
Because this discussion may or may not affect how you voted initially or your rationale at the time, please review your post so that it reflects your current beliefs accurately.
This is only a notice of open polls and is not soliciting a change of vote. This is a generic talk page message intended only as for any and all voters, so as to avoid any indication of bias towards a particular outcome. Voting is slated to end on 5:01 pm November 1, 2019 (UTC).
The formal vote can be found here.
Thanks,
The Dyre Wolf (talk) 11:27, October 28, 2019 (UTC)
Community content is available under
CC-BY-SA
unless otherwise noted.