Hi there!
Edit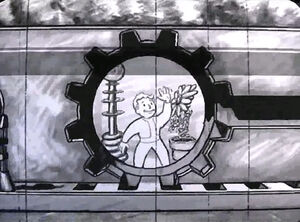 Welcome to our Fallout wiki, and thank you for your contributions! There's a lot to do around here, so I hope you'll stay with us and make many more improvements.
Recent changes is a great first stop, because you can see what other people are editing right this minute, and where you can help.
If you haven't already, create a user page about yourself! If you do, we'll be able to know you better as a member of our community.
Questions? You can ask in the Forum or on the "discussion" page associated with each article, join the live chat in our IRC channel or post a message on my talk page!
Need help? The help pages can help you learn how to edit and how use the wiki tools. The Vault's policies and guidelines can help you with putting those tools to good use and getting up to speed with our editing customs.
I'm really happy to have you here, and look forward to working with you!
Shhh! Nobody must know! Nitty 13:03, October 25, 2009 (UTC)
Well, I'm a simple-minded and silly moderator who has no idea what you just said. I say we call it a draw. :D Nitty 13:23, October 25, 2009 (UTC)
PorterBot
Edit
Yeah, was the bot's fault. It's not a human after all; accounting for all possible setups editors may have used for a given template is somewhat tricky and occasionally one falls through ;) -- Porter21 (talk) 00:33, October 29, 2009 (UTC)
Sure, it's appreciated. Regarding how to fix it, you simply need to rename "weaponname" in the infobox to "name". -- Porter21 (talk) 10:38, October 29, 2009 (UTC)

By contacting an admin like you just did. I don't think immediate action is required though - he was already blocked for his edits to KristofferAG's user page and his edits after returning don't seem necessarily malicious to me. Sure, they could use better spelling but that's true for a lot of people's edits :) -- Porter21 (talk) 13:20, October 30, 2009 (UTC)
Community content is available under
CC-BY-SA
unless otherwise noted.