Welcome to Nukapedia!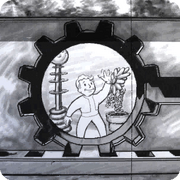 Hello, Dr. Klein, and welcome to the Fallout Wiki! Thank you for your contributions, and we hope you'll stay with us and make many more.
Some links you may find useful:
If you have questions, you can ask in our forums, join the live chat or post a message on my talk page. We hope you enjoy editing here and look forward to working with you!
Capacitors
Edit
I've just taken a look over the Capacitor articles and tidied up the subject titles, plus expanded on what was originally the effects section. Do you mind taking another quick look at them? I have very little in the way of knowledge of military terminology and some of my wording may be wrong. Sakaratte - Talk to the cat 04:31, April 6, 2017 (UTC)
I've been back through them now and updated the pages to reflect the workshop information so the numbers should be right. I had been thinking we need images for the weapons as attached (I know the hunting rifle particularly has some significant differences in appearance based on the attached receiver). What I've done is put real world images in so people can see how they physically look installed. Unless you can see anything else, that should wrap them up. Sakaratte - Talk to the cat 09:06, April 8, 2017 (UTC)
Hey Klein, I haven't seen you for a while, but I thought I'd let you know I'm going to go on a blitz getting all the mod articles in if you're interested in joining me. Sakaratte - Talk to the cat 15:31, April 30, 2017 (UTC)
It's all good Klein, do your country proud and please come back in one piece. Sakaratte - Talk to the catmin 18:33, June 14, 2017 (UTC)
Community content is available under
CC-BY-SA
unless otherwise noted.