Welcome to the Fallout Wiki!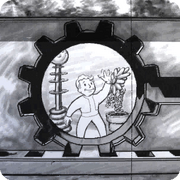 Hello, Degrelescence, and welcome to the Fallout Wiki! Thank you for your contributions, and we hope you'll stay with us and make many more.
Some links you may find useful:
If you have questions, you can ask in our forums, join the live chat or post a message on my talk page. We hope you enjoy editing here and look forward to working with you!
Talk:Sierra Madre vault
Edit
It is possible to get all the gold the long way with level II GRX but you have to pick the right conversation options with Elijah. There is no jump to be made. Leave vault to the left before the force fields raise, go through the room where the holograms were, the hallway turns right, walk into the next room and drop down to the stairs below (where the walkway is damaged before a terminal), exit that room and into the next, climb a few sets of stairs, stay to the right at the broken walkway, when you get to the Tripping Hazard sign drop something (burned book or Mac & Cheese) on the left side of the stairs to step up over the broken section before the hallways to the Maintenance Door. When Elijah gets locked in the vault, the Maintenance Door unlocks and you are out. GRPeng 17:13, January 8, 2012 (UTC)
X01 Power armor
Edit
Despite the visual similarities there is no proof that the XO1 is the same armor as The APA Mk I or APA Mk II, it is entirely possible that it is a new type of power armor, to say that the X01 is the same armor is speculation, which is not allowed. Additionally, APA Mks I and II are separate power armor models. Also, do not edit war. Richie9999 (talk) 02:21, July 11, 2015 (UTC)
And the video shows different models for X-01 and X-01 Mk II (just skip forward a second or two in the video), which match the models for APA and APA Mk II EXACTLY. Oh and then there is the Fallout Shelter description of it, "The guys who protected the President wore this. It's THAT good." If you remember the guys who protected the president were the Enclave in Fallout 2... Who wore Remnant Armor. This isn't really speculation any more then saying that Remnant Armor and Fallout 2's Advanced Power Armor are the same armor. It is completely obvious in all context. In fact I don't know if there is any item in Fallout 3 or New Vegas that has that clear of a description to state exactly where it was used in previous games. Degrelescence (talk) 12:56, July 11, 2015 (UTC)
EDIT: Forgot to add that adding a new page for X-01 armor was redundant. We already have a page under X-01 Mk I power armor, you should add one for X-01 Mk II though.
Except, there are six versions of X-01, Marks I through VI, so it doesn't match it "EXACTLY". Fallout Shelter is non-canon, so that doesn't help. The X-01 Mk I power armor page is for the Fallout Shelter one, not the Fallout 4 one so there is no redundancy there, unlike making six pages as you suggest. I should also add that even if/when it's confirmed that they're the same, this would have nothing to do with the items as they appear in Fallout 3 and Fallout: New Vegas, which is what you are editing.

Paladin117

>>iff bored;

13:32, July 11, 2015 (UTC)
I am not suggesting 6 pages as there aren't 6 versions shown. There is Mk I, which states that it is the version used by the guys who protected President Richardson, and is identical in appearance to the armor used by ... The guys who protected President Richardson in Fallout 2, which is why I am saying that now that the model number is shown, editing a page from Fallout 2 and the Remnants Power Armor page from NV which is a page created for the same armor in Fallout NV would make sense. Also, there is a Mk II shown, which is in the video, and also matches everything from FO2 and because it is a Mk II, not a new model, it lines up with the Mk II from FO2 again, in every way. We don't have a Mk III shown, or a Mk IV or a V, so creating those pages right now would be wasted time, but turning the X-01 power armor page into a catch all page for the X-01 line would make more sense then having only information about the Mk II there. But I get what you are saying about having a page for each, like X-01 power armor Mk I (Fallout Shelter) vs. X-01 power armor Mk I (Fallout 4), which probably shouldn't be done yet, to your point because the Mk I wasn't shown in FO4 yet. But the point still stands about the line. Degrelescence (talk) 13:40, July 11, 2015 (UTC)
Well Rested (perk)
Edit
Thank you for clearing up about this article, I found the IP user was quite rude, as well as making blind assumptions about me trying to start a Edit War. They either misunderstood, my edit summary or don't about assuming hood faith with edits. Mesowhite1 (talk) 20:45, February 9, 2016 (UTC) O
No problem. :) Hope it helped to clarify everything for everyone. Degrelescence (talk) 21:57, February 9, 2016 (UTC)
Community content is available under
CC-BY-SA
unless otherwise noted.