Welcome to The Vault!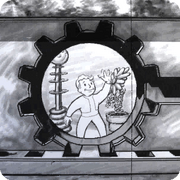 Hello, Dbbolton, and welcome to The Vault, the Fallout wiki! Thank you for your contributions, and we hope you'll stay with us and make many more.
Some links you may find useful:
If you have questions, you can ask in our forums, join the live chat in our IRC channel or post a message on my talk page. We hope you enjoy editing here and look forward to working with you!
Achievements
The vote is not about in-game achievements, but about achievement badges for editing the wiki. Ausir(talk) 01:16, May 18, 2011 (UTC)
Keys
Watch your edits, I don't like a loose S somewhere. And don't add strategy. Jspoel

15:51, December 19, 2011 (UTC)
Loose S? And last time I checked, this wiki was full of strategy. Dbbolton 16:47, December 19, 2011 (UTC)
Fair enough. While were on the subject of typos, I'll try to fix some of your comma splices. Dbbolton 17:02, December 19, 2011 (UTC)
Well, the strategy should belong to forums, blogs or talk pages - so if you see one, remove it. MysteryStranger: Trust in the power of Infinity! 16:51, December 19, 2011 (UTC)
So the wiki is more about following a rigid, boilerplate formula than providing useful information. Got it. Dbbolton 17:02, December 19, 2011 (UTC)
Unique weapons
Hi there, I'm sorry, I'm busy on the computer so I was doing rollback. There is actually already a category for that (Fallout 3 unique weapons) and I have no idea how that duplicate one got there.--


00:53, March 24, 2012 (UTC)
But that is just an article, not a category. I think having both would be useful. If not, then I think a link to the unique weapons article should be in the "See also" section of all the unique weapons' own pages. Dbbolton 00:55, March 24, 2012 (UTC)

That would be a good idea to have a category, but with that one already made, it would just be extra and unecessary.
SMO
Sorry I didn't phrase myself well. Instead we put down something along the lines of this "For locations of super mutant overlords please see the super mutant page. The Australian Kiwi 21:37, March 27, 2012 (UTC)
Scrap that the information on the article section is suffice, it has a link to the super mutant overlord locations on its page. The Australian Kiwi 21:39, March 27, 2012 (UTC)
Old Olney
Thank you for your edits on the Old Olney pages, but I've had to remove your most recent edit where you added in a .32 pistol as notable loot. Consequently, I would like to ask you to please take a look at what our policies consider Notable loot. If you have any questions, feel free to ask me or another experienced editor and we'll be more than happy to answer them.

Skål! 14:56, March 29, 2012 (UTC)
I will respect these guidelines in future edits. However, I do disagree with this policy. The .32 pistol has a value-to-weight ratio of 55, which is nearly double that of 30 for a Nuka-Cola Quantum. Also, there are only a few times in the entire game where I've come across a weapon in perfect shape, so I do think it's noteworthy. Thus, I think it might be worthwhile to have a community discussion on extending the definition of notable loot. Dbbolton 17:03, March 29, 2012 (UTC)
Not entirely sure why you believe that is a substantial amount. Anyways, if you're truly interested in bringing the current policy into question, then feel free to start up a forum about it. I even have a noticeboard for these types of subjects to gain attention within the community and Administration team. Anyways, the current policy is in effect simply to help keep clutter down. That and many users here are exceedingly impressionable. They see your .32 pistol addition and they get it in their heads that it's perfectly fine to add the same types of weapons to every article page they can find. It becomes a whole mess trying to clean up, I hope you can understand, which is why we only stick to unique/rare/ and highly sought after items. Skål! 17:08, March 29, 2012 (UTC)
The Quantum isn't on the notable loot list due to its value, it's due to it being a rare quest item. The .32 fills none of the requirements for being notable, in my view. Hugs "Say 'ello to my little friend!"
Super mutant overlords
Hmmm, whenever I go super mutant hunting, I always find at least one overlord (sometimes two). I'm usually hunting in the Mall, the D.C. ruins, Germantown police HQ, and Mason Dixon Salvage and there are always overlord there. Maybe since I only focus on those areas, that's why I always find overlords. --Kastera (talk) 22:50, March 29, 2012 (UTC)
I think even if it's true that they always appear where other super mutants do, it would still be helpful to have at least a partial list of places to look for people who are looking for a tri-beam. I answered to an issue on the talk page from a user who said he was having trouble finding them. If you don't think it should be in the article, then I think it's OK to say "See this discussion (link)" on the tri-beam article. However, as you can see above, I did this before and another user deleted it because he said it was unnecessary. I definitely think there should be at least some mention of the locations on either the tri-beam or superm mutant article.
Dbbolton 07:27, March 30, 2012 (UTC)
Turtledove
Whoops, I'm not sure why I added that under loot. -SigmaDelta54(Talk) 21:31, April 3, 2012 (UTC)
Edits
The reason I undid your edit was not because you separated it into two bullets, which is fine. It was undone because the pre-war book link was broken, and you stated that the book was on the same desk as the Quantum, but as was stated in the original bullet it is near the Quantum, but not necessarily on the same desk. For the record, it is not 100% necessary for each piece of notable loot to be on a separate bullet, it's more based on context (i.e., where the items are coming from, related items, etc.). Just wanted to let you know my reasoning.

nihil novi sub sole 01:36, January 30, 2013 (UTC)
Strategy
Per policy, strategy is not allowed on any pages, no articles are treated differently. The closest to strategy we get is explaining the stages of quests, but even then we don't suggest how to complete them. Paladin117>>iff bored; 19:11, May 11, 2015 (UTC)
Community content is available under
CC-BY-SA
unless otherwise noted.