Welcome to The Vault!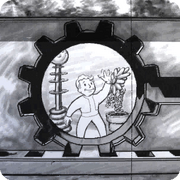 Hello, Cyberweasel89, and welcome to The Vault, the Fallout wiki! Thank you for your contributions, and we hope you'll stay with us and make many more.
Some links you may find useful:
If you have questions, you can ask in our forums, join the live chat in our IRC channel or post a message on my talk page. We hope you enjoy editing here and look forward to working with you!
yo
Are you aware how much time passed? If that was the case however, it wasn't to intentionally annoy you. People often upload pictures without using them so these things need to be acted on. No hard feelings intended. --


21:32, October 18, 2011 (UTC)
Damn!!! Just damn, that's impressive, what the hell are you doing playing Fallout!?
SPOILERS: It's not her actual picture. 74.76.128.170 00:26, October 19, 2011 (UTC)
WELL WHOSE THE HELL IS IT I WANNA GET ME SOME OF DAT!
(1) Start using proper indentation.
(2) Stop using all capital letters.
(3) Start signing what you're saying.
(4) Stop being a jerk.
74.76.128.170 00:39, October 19, 2011 (UTC)
more pix please. :D lol jk, but that pic is hot, anyways, thanks for the list! I wouldn't have known what category some of these were in. These are good to know.
Needs 2 B said
Edit
You are sooo not ugly! You have a sweet looking face, soft & smooth looking skin & from what your pic shows a super sexy body! WoW Stay Sexy Girl!
Not ugly, absolutely gorgeous! Wish I lived in Chicago, I'd come find you.
I was just wondering why you don't put the food list in your sandbox (ie http://fallout.wikia.com/wiki/User:Cyberweasel89/Food ) and then stick a link on your profile like this Food.
A fellow female fallout fanatic,


14:45, October 19, 2011 (UTC)
User boxes
Edit
Personally I built my own on my page, but there are preset ones on the wiki that are accessable to users. Maybe try asking the mods how to get to them? For customized user boxes you can use any image already on the wiki related to Fallout freely, but any personal images are considered part of your five image limit.

Message 04:27, October 20, 2011 (UTC)
This user is blah bawks.
Edit
You can just go to my edit profile thing and copy and paste some of mine on to your profile, then just edit the words in the boxes. --Felix Brehh

05:01, October 20, 2011 (UTC)
(scratches out the 26th on your birthdate and makes it September 27th) Mine! >.>

Message 04:38, November 7, 2011 (UTC)
Community content is available under
CC-BY-SA
unless otherwise noted.