Welcome to The Vault!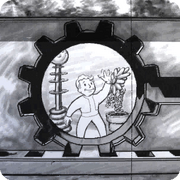 Hello, Conqueror of all Zombies, and welcome to The Vault, the Fallout wiki! Thank you for your contributions, and we hope you'll stay with us and make many more.
Some links you may find useful:
If you have questions, you can ask in our forums, join the live chat in our IRC channel or post a message on my talk page. We hope you enjoy editing here and look forward to working with you!
Notification
Edit

No speculation on articles please. Energy X ∞ 22:08, August 11, 2012 (UTC)
Why are you systematically going through pages changing numbers from numerals to words? These edits make no significant improvement to the pages. The Gunny   22:31, August 11, 2012 (UTC)

Almost half of the edits you have made here are of the sort I detailed above. For an editor here with a relatively small number of edits, it seemed suspicious. I now see you have quite some editing experience on other wikis. I'll defer to the wikipediea manual of style for usage of numbers, but please understand how this appears when we see a relatively unknown editor making a number of small, seemingly insignificant edits. Thanks for you contributions. The Gunny   22:49, August 11, 2012 (UTC)
Hi. Please be aware that the scope of our content is limited to that of the vanilla game. I am referring to your edit on Blade of the East, as we do not cover mods, thus the note is true. See you around =) --Skire (talk) 01:26, October 1, 2012 (UTC)
An end to it all
Edit
There is no possible way to play the game past its ending cutscene without the use of mods. What that information you quoted was referencing to is the fact that the game auto-saves before you join the final conflict, which allows you to pick up again where it saved after the game is finished.

Some Assembly Required! 01:35, October 1, 2012 (UTC)
Liberty prime appearances
Edit
You just undid an edit by an anonymous user. This user added that Liberty Prime appeared not only in Fallout 3, but also in Fallout 4. This is, actually, correct: Liberty Prime appears in the BoS questline.
Sure, the user edited the link wrongly ([[Fallout 3|Fallout 4]] instead of [[Fallout 3]], [[Fallout 4]]), but wouldn't it be more useful to edit this mistake?
- FDekker talk 22:15, June 15, 2016 (UTC)
Fallout 4 Cultural references recent changes
Edit
Hello, I just wanted to leave a remark on this topic. I thought I was seeing double on the recent changes of Fallout 4 Cultural References page. It seems you chose to undo your own edit on this page today. Which I found perplexing as to why you undid your own edit. When another user could dispute the edit and undo it. I thought I was seeing deja vu. Anyways, until there is any official confirmation asked of that particular possible easter egg. I think it is best to leave the page as-is. And I type this opinion from the other camp side so to speak regarding the subject. Canyon Light (talk) 20:18, August 28, 2016 (UTC)
Community content is available under
CC-BY-SA
unless otherwise noted.