"
Welcome to my user talk!

Feel free to leave comments, questions, suggestions here – about the game, the wiki, my edits, or addressed to me in general. Or whatever you think might be suitable – in terms of this being a user talk page on a game wiki.
(I feel free to remove inappropriate things …)

I prefer the practice of staying with a certain topic on a single page, for a better overview, rather than 'you talk to me here – I answer you on your talk page', as it's usually done here. So you might find the answer to your question on my page and vice versa.

Please sign your posts with ~~~~.


"
—

---
Welcome to The Vault!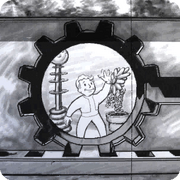 Hello, CompleCCity, and welcome to The Vault, the Fallout wiki! Thank you for your contributions, and we hope you'll stay with us and make many more.
Some links you may find useful:
If you have questions, you can ask in our forums, join the live chat in our IRC channel or post a message on my talk page. We hope you enjoy editing here and look forward to working with you!
Bitter Springs
Edit
Because this is a game and not the real world, characters should not be expected to behave as they would in the real world. It's more likely differences between the graphic novels and game are due to seperate individuals working on them, human error, artistic license (horses appearing in the graphic novel), etc. Mictlantecuhtli 09:16, November 29, 2010 (UTC)
Whoops... I guess we did do it simultaneously. And hello! Are you "moved over" from The Vault now too? Brantmeierz (talk) 00:18, October 10, 2019 (UTC)
I came back from a pretty long spell of inactivity to find out about the merger, so ever since then I've been limiting myself to editing content here and seeing if I can do anything to facilitate the process. You should be able to contact a bureaucrat (the Discord has information about the merger, and I talked to Tagaziel there) and get your user rights transferred here as well (I didn't have any prior experience editing here, and that's how I got mine), although I still am trying to get accustomed to the new practices and community here. I'm not 100% sure about what's going to happen to The Vault and how the merger is ultimately going to get carried out, but it seems like for now the best thing I can do is get integrated here. Brantmeierz (talk) 01:39, October 10, 2019 (UTC)
Advertising
Edit
He had his website on his userpage so that counts as spamming links. I've blocked him. Jspoel

11:29, October 10, 2019 (UTC)
Questions
Edit
We use American English here, I was under the impression that the word dialogue was that. Also what I got from the GECK files, where the term dialogue is used by Bethesda. About the game statistic pages, we capitalize those. Jspoel

21:48, October 10, 2019 (UTC)
Community content is available under
CC-BY-SA
unless otherwise noted.