Welcome to The Vault!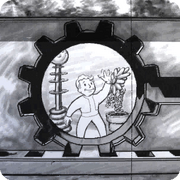 Hello, Charcoal121, and welcome to The Vault, the Fallout wiki! Thank you for your contributions, and we hope you'll stay with us and make many more.
Some links you may find useful:
If you have questions, you can ask in our forums, join the live chat in our IRC channel or post a message on my talk page. We hope you enjoy editing here and look forward to working with you!
http://www.youtube.com/watch?v=vZeXFP-mvYw&feature=channel_video_title
Randomly changing punctuations in articles can be viewed as achievement boosting and may be dealt with by a moderator.


21:07, July 5, 2011 (UTC)
10 Points of Luck
Edit
The 201,000th must be separate from the 181,000th which I have. However, check out Template: User lucky. Mictlantecuhtli 17:04, July 31, 2011 (UTC)
Blanking out words.
Edit
"Hell" or other words like it do not need to be blanked out. If they character said a cuss or word or such, then that is what is put.


02:04, October 28, 2011 (UTC)
Lol, that sucks. Just be wary of using it as there are alot of cuss words on this wiki. Oh and don't just type your name at the end of a post. Sign it using four tildes. (~)
Look to the leftside of the navbox, there you'll see v-d-e. Click on e, then you can edit the navbox. Jspoel

22:16, November 1, 2011 (UTC)
Capitalization
Edit
We have a current policy that leaves things such as super mutant and trog lower case as they are not proper nouns. Named items should be capitalized but not items such as above. Thanks.--Kingclyde 22:31, November 1, 2011 (UTC)
Martin Retslaf
Edit
Registered users can edit it now. Don't add a speculative suicide comment; that was the reason it was being locked. Jspoel

22:18, November 3, 2011 (UTC)
Blog comments
Edit
Less of the "cool story bro", memes constitute spam and if I see it again I might take this further. --


00:00, November 16, 2011 (UTC)
Speculatores
Edit
On the Caesar's Legion military hierarchy article, Speculatores are not gladiators, they are simply Explorers, not to mention this is all speculation anyway, no pun intended. But if you want to have an accurate real life historical background, at least put up a true one. Merry Christmas! -Love, ΣΔ 15:27, December 24, 2011 (UTC)
Yeah, no problem. I get confuzzled all the time. -Love,

ΣΔ

21:23, December 24, 2011 (UTC)

I appreciate you lookin' out for punctuation, but on many notable loot notes, if there is no complete sentence, there need not be a period. An example is your recently edited Nipton Road reststop. -Love,

ΣΔ

03:05, December 29, 2011 (UTC)
Nukapedia
Edit
If you don't like the name, that's your own problem, to be frank. The vote for the name change was up for nearly a month, was displayed in the community messages and was mentioned at every news digest that Agent c put up. You had plenty of time to vote. If you don't participate in an election, you don't really have a right to whine about the result. Hugs

"Say 'ello to my little friend!"
The community voted for it here.--Kingclyde 21:19, January 6, 2012 (UTC)
Inflammatory blogcomments
Edit
Please lay it off with the ad hominems and politically inflammatory blog comments. All you're doing is derailing the discussion, even if you didn't start it. Thanks, hugs

"Say 'ello to my little friend!"
I reverted you Harry edit. If the character ain't living anymore, we don't use appear, but say he/she is only mentioned. Jspoel

15:41, February 3, 2012 (UTC)
Your last 2 edits didn't improve the page. Those could be left like they were, present tense. Jspoel

03:02, February 5, 2012 (UTC)
I was about to say ;) κηδεμόνας [~μιλώ~] 21:18, February 15, 2012 (UTC)
I'm not quite sure what you were trying to do with that edit, but I'm going to ask you not to do it again. -ΣΔLet's talk! 22:18, February 16, 2012 (UTC)
That's part of it yes, but I'm talking about the edit on the top, perhaps accidental? Take a look:[[1]]. -

ΣΔ

Let's talk!

22:43, February 16, 2012 (UTC)
Hi, I've undone your edit on this article. "Decanus" isn't a proper noun, so it shouldn't be capitalized. The other additions were also unnecessary, as our guidelines suggest we aim for conciseness. On another note, it seems all your edits are being tagged as minor even when they are not; maybe it's marked as default in the preferences as that's a common issue. Toodles~ Limmiegirl

Talk! ♪ 06:06, February 19, 2012 (UTC)
I'd like to note that ranks are capitalised if accompanied with the name of the holder of said rank.
Incorrect - As he said he would, the Overseer closed the vault door.
Correct - As he said he would, Overseer Almodovar closed the vault door.
Hugs

"Say 'ello to my little friend!"
Your infobox icon has already been added, though you might have to purge the cached files in your browser to see it. Toodles! Limmiegirl

Talk! ♪ 15:59, April 27, 2012 (UTC)
Isn't he awesome?! :D -- Bacon-Man Talk to me goose! 23:37, April 27, 2012 (UTC)
If you're going to add copyright tags, you might as well do the whole thing. Put a section down as ==Licensing== then the copyright tag underneath it. --Skire (talk) 14:49, July 6, 2012 (UTC)
You can also categorize when you add a license, like with the Gallo image: [[Category:Fallout 3 character images]]

You're still forgetting the categories. This way the files need to be edited twice, while it can be done in one. Jspoel 19:50, July 26, 2012 (UTC)
Status request
Edit
I've set it back to active again. But after this request I expect you to live up to it. Jspoel

14:40, July 16, 2012 (UTC)
FALS Edit
Edit
I found it unnessacary to revert my addition to the bugs section, ecspecially since I added the verification template. Why'd you revert it?
Haha sorry, didn't mean to sound upset there, I just saw a patroller edit an article right after I did so I made an assumption, sorry about that.
Re:Andale
Edit
No problem, I had assumed it was just a simple mistake =) And the information is not relevant anyway. See you around! --Skire (talk) 01:53, July 24, 2012 (UTC)
Arc welder
Edit
The arc welder is a Lonesome Road weapon, not a New Vegas one. Check if it's an add-on weapon. Jspoel

17:13, July 27, 2012 (UTC)
Sorry. It seems that the bolt glitch has made it look like a scope, I'll see if I can get you a screenshot. I was on vacation and going to edit it. Thanks for doing it for me! BlueflamesX (talk) 16:16, July 30, 2012 (UTC)
Sorry. It seems that the bolt glitch has made it look like a scope, I'll see if I can get you a screenshot. I was on vacation and going to edit it. Thanks for doing it for me! BlueflamesX (talk) 16:17, July 30, 2012 (UTC)
Girdershade bug
Edit
Is a dog attacking brahmin really a bug? Don't animals attack them all the time? Paladin117>>iff bored; 04:07, August 3, 2012 (UTC)
Image categorizing
Edit
I categorized those images just as a blog post image because they're in a blog. If you add a FNV weapon image category, that would mean they're in the game as a weapon and they're not. It's an own invention I think from Frankie. I'd like to keep images appearing in the game seperate from non-game images. Jspoel

16:08, September 21, 2012 (UTC)
If you want, you can add that one yes. Jspoel 16:12, September 21, 2012 (UTC)
Can you come to the chat? Energy X ∞ 20:21, September 30, 2012 (UTC)
Fallout: Apprentice
Edit
Hey, Charcoal! I was wondering if you would like to upload an electronic signature? I am currently creating the Grand Prize for Chad's Fallout: Apprentice, and I am wanting to create a plaque that has all of the consenting leadership's signatures and thanks on it!

Some Assembly Required! 14:30, October 15, 2012 (UTC)
It just means having your signature available over the wonderful inter-webs. :) If you have a tablet, that should be easy enough to do. If not, you can always use a program like Photoshop or Paint to write it out. (Or, I could just create a default signature for you, if you'd like. Just tell me which font you'd like for me to use.) Some Assembly Required! 19:42, October 15, 2012 (UTC)

Of course! Some Assembly Required! 22:41, October 16, 2012 (UTC)
Permaban reviews
Edit
I'd like to get your input on Forum:Vote:_Permaban_Reviews, if you could. I've extended the vote for a day, as I feel it's a very important decision that will effect how we deal with bans. Please add your views if you could. The Gunny  

17:23, October 20, 2012 (UTC)
Categorizing
Edit
Hey Charcoal thanks for categorizing, but can you first add Licensing and copyright tag, and below that the category. Not the other way around like you're doing now. Bit nitpicky, but I like it that way. Jspoel

00:23, December 19, 2012 (UTC)
Happy holidays
Edit

Happy Holidays
Edit

Merry Christmas!
Edit
You have been given a lump of Charcoal.

Your efforts and diligence have not gone unnoticed, and you have been given a small token of appreciation.

Because what else should I have gotten you? Honestly. Merry Christmas Char!

--

"Those Old World Relics still stand..."

23:32, December 23, 2012 (UTC)
Merry Christmas and a Happy New Year Charcoal121! Yours Always; --

"Those Old World Relics still stand..." 23:32, December 23, 2012 (UTC)
From the ghoul
Edit
Happy Holidays!
You have been given the Master's strain of FEV.

Your efforts and diligence have not gone unnoticed, and you have been given a small token of appreciation.

For suffering through my FEV blog to leave me with a funny-as-hell comment. Even after all this time... a ghoul never forgets.

--

The Ever Ruler

(

talk

) 07:34, December 25, 2012 (UTC)
Some advice
Edit
Hello my friend! Please do not remove all of a page's content when adding a deletion tag. It is improper etiquette. Thanks! --Skire (talk) 20:40, January 10, 2013 (UTC)
Patroller blog
Edit
Howdy. I made a blog covering some patroller/rollback stuff. Mostly things everybody knows already, but a few things there I wanted to make sure we were all on the same page about. Take a look at [[User_blog:The_Gunny/Admin_talk_-_Patrolling_and_rollback]] and let me know in the comments that you've had a chance to check it out. Thanks,  The Gunny  

02:10, January 18, 2013 (UTC)
Categorizing
Edit
It's nice you're categorizing images, but please pay attention where you put them in. Ammo images don't belong in a general category like misc item images. You made also an error with a Tactics character image. Jspoel

02:44, February 2, 2013 (UTC)
You can put them in Category:Fallout: New Vegas character images. Jspoel 18:43, February 13, 2013 (UTC)

Why are you removing full game names from the Elder Scrolls series from developer page? They can be written full. Jspoel 23:41, February 14, 2013 (UTC)
Thanks for categorising that image I uploaded. Nice edit summary too ;) --Skire (talk) 23:43, February 14, 2013 (UTC)
Re: Geck check
Edit
Hi! 300 Bottle Caps and 3 Med-X. --Theodorico (talk) 03:57, February 16, 2013 (UTC)
You can remove everything behind the question mark on the dev pages. That isn't needed. Already done it on the pages you changed. Jspoel

18:28, February 17, 2013 (UTC)
And while you're at it, can you delete spaces from the mobygames parameter so the link is on the same line and doesn't get pushed down? Then align the other parameters with it. Jspoel 18:31, February 17, 2013 (UTC)
Infobox parameters
Edit
Hi! Just letting you know, edits like this have no visible effect on the appearance or function of the infobox. --Skire (talk) 00:02, February 23, 2013 (UTC)
Hello, Charcoal. This is a message that I will be circulating through Nukapedia's Sysops. A while back I had created a more suitable version of the Administrators' Discussion Board as an attempt to help regulate important matters that require immediate attention from the veteran users around Nukapedia. With Fallout 4 on the horizon, I would like to begin making this feature more widely embraced, so that we all are more comfortable and familiar with using it for when the time comes around that we'll need to look towards it the most. What I would like to see is for an example to be set for where certain matters should be discussed within our community, as well as creating an environment where users will know that their issues will be addressed in a timely and fair manner. What does this mean, exactly?
Appropriate topics should be addressed within the ADB instead of the normal fora space. Not only is the ADB a general area to condense important topics, but it is also always kept at the top for easy access. (As well as having a place within the Community Messages.)
All Administrators, Moderators, Patrollers, and Bureaucrats should make it a priority to check through the ADB at least once every few days or so. This is the duty of mantling the extra tools, after all, and is not too much to ask for.
The ADB should make an appearance within new user's welcome message.
If a topic within the fora has been made that is of significant importance and affects the wiki as a whole, these topics should be moved into the ADB.

It is my hope that these requirements will help our community become more familiar with where they should go to have their grievances and ideas properly heard. Right now, the ADB has been largely ignored because the Sysops have also largely ignored it, and this is unacceptable at times when important matters such as this one are mostly by-passed except for a couple of people. With the chaos that is soon to come with the new title(s), all I am asking is for a bit of responsibility in making sure that we all recognize issues and ideas as they come up, and making sure that we do our parts in seeing them through. Thank you for reading, and I would greatly appreciate some feed-back. Once a general consensus has been reached, possible changes will be taken care of.

Some Assembly Required! 22:09, February 27, 2013 (UTC)
Effects bug
Edit
When you delete my post in FNV bug page I expect better explaination, reason, links, or whatever, anything else better than a short sentence 'That doesn't sound necessarily like a bug." Explain yourself, if you wouldLaclongquan (talk) 17:56, March 7, 2013 (UTC)
Not enough of an explaination. Still, I will refrain from making new edit to the bugs page to talk here with you first, out of an interest to gain helpful advice.
I use chems before major fights. It's a necessary and, I believe, well known strategy. No one will raise an eyebrow over that.
When I use chems that way, it's necessary to use anything that can help the fight, but Your Mileage May Vary. I use over ten different thing: mags first to raise skill like Med and Survival, Guns, Crits... Then AP-stuff like Rebound and and Sugar Bombs etc... then normal buffs like Mentats, Buffout, Wasteland Tequila... then foods and drinks like Brahmin Steak etc...
Thats' why I get over ten effects in Effect pages (Pipboy, Status, EFF). This I saw plenty of times before.
What I havent seen before is the loss of permanent effect like Strength Implant (Str from 6 down to 5)etc... The perks are still in Perks page but the loss is not document in EFF page or SPECIAL page. I dont know if there's any other loss.
The only difference between this time than the others (like the fight with Legendary Deathclaws et al in Deadwind Cavern...) is the continous Rad gained, either in Crashed Vertibird surrounding or in Vault 34.
I am curious to know if there's any other experience this bug. I am interested in ways to solve it. I am also interested in way to respec character to circumvent it, essentially delevel, de-SP-gained, and de-perk-gained, then relevel.
Anything you care to share? Laclongquan (talk) 04:34, March 8, 2013 (UTC)
Forum discussion
Edit
Hello Charcoal. This is a message I will be rotating among Nukapedia's sysops and regular contributors. I would like your input on this forum. In an attempt to remove redundancy and confusion, I have proposed some tweaks to user rights, including the elimination of the moderator position. Thanks for your time, and let me know if you have any questions.

nihil novi sub sole 09:32, March 31, 2013 (UTC)
Gunny has called a straw poll to determine whether we move forward with some user rights changes. Your input would be greatly appreciated. Thanks for your time. nihil novi sub sole 20:20, April 3, 2013 (UTC)
Staff invitation to NotY
Edit
Hi there. As you may or may not know, the 2013 Nukapedian of the Year contest is currently ongoing. A lack of integrity in the original polling format has spurred a change in the voting system used. Inevitably, this new system has seen significantly fewer voters participating. As such, we would like to extend an invitation for you to go participate in the voting. Directions and voting itself can be found here. Thanks! --Skire (talk) (via the courier) 02:44, December 4, 2013 (UTC)
A review of all extra rights holder has been done. Since you are already on the inactive list, we'll allow a one month period for you to increase and maintain your activity before your patroller rights are removed. We do understand that people have other demands on their time and it is understandable if you can not. We all appreciate your contributions and hope that you will become more active and retain those rights.  The Gunny  

16:32, April 19, 2014 (UTC)
Cool. No problem. Since I left this message, the community has been discussing changing/removing the old inactivity policy anyways. You might want to check out the forums. The Gunny   20:14, May 14, 2014 (UTC)
Inactivity
Edit
I have called a vote to remove a number of our patrollers, admins and moderators on grounds of lack of presence or activity on the wiki. As you are one of them you have one week to make your case before the vote opens. JASPER//"Do you like hurting other people?"

18:48, April 27, 2015 (UTC)
---
Saw the last edit you made, could use a hand over at Fallout 4 quests thx.--Aquarius Alodar (talk) 00:55, November 13, 2015 (UTC)
Community content is available under
CC-BY-SA
unless otherwise noted.