Welcome to Nukapedia!
Hello, Canyon Light, we are glad you have joined the Fallout Wiki!

For assistance, please feel free to reach out to our admins or join the Nukapedia Discord server. We look forward to working with you!
Untitled
Thank you, I wish I wasn't so busy so I could contribute more/better. Aiming to get the badge for making edits per every 5 days. Canyon Light (talk) 13:24, July 14, 2016 (UTC)
Caps stashes & notable loot
Hullo! I just wanted to drop a note to let you know that per the Wiki's notable loot policy caps stashes aren't considered notable loot for location pages which is why your edits are being undone or removed.
There is, however, a caps stash page which you can note all the locations that you've been finding them on. I've been trying to move them there whenever I delete it off the location page. :) --L84tea

Would you like a cup of tea? 07:44, April 22, 2019 (UTC)
Thank you for the polite heads-up. I wasn't sure if cap stashes were considered notable loot or not, having seen them listed here and there on location pages before. If I find another stash, I'll list it on the Caps Stash page itself, then. Shame it isn't considered notable, even with the possible value with the Cap Collector perk card. Perhaps due to the high volume of notes, holotapes, and randomized bobbleheads, recipes, plans, and magazines one can find in the game, as-is.
On that note of what is/isn't notable loot, are bobby pin boxes notable enough? I notice it is listed as notable loot on the Pumpkin House page, for one. Usually, I only find a couple or even just one bobby pin from those boxes. I find more on feral ghouls and in containers, most of the time. Canyon Light (talk) 22:40, April 22, 2019 (UTC)
Yes, sometimes we don't catch all the ones that are added and I understand the instinct to consider it notable and list it on the page (I know I definitely did when I first started finding them!). Bobby pin boxes aren't notable under the policy either, I'll take that one off the pumpkin house page, thanks for noticing. --L84tea Would you like a cup of tea? 00:10, April 23, 2019 (UTC)
I thought those bobby pin boxes were not so notable for loot. Thank you. I'll edit the Caps stash page from now on then if I find them elsewhere. Canyon Light (talk) 00:27, April 23, 2019 (UTC)
Notable loot
If you copy notable loot content from The Vault, make sure all the loot they have matches the loot on our wiki, with links. I just had to correct the link of a key. Jspoel

21:46, September 13, 2019 (UTC)
Now I see we didn't have that key link as well. You just rearranged the content. Jspoel 22:01, September 13, 2019 (UTC)

Thank you for the message, Jspoelstra. I shall keep that in mind for all the notable loot to have links, where possible. The various keys are still a work-in-progress for hyperlinks, as well, I would imagine. Regarding the noted weapon/armor/power armor mods: many Fallout 76 modification boxes do not have their own pages yet, which will be an easy project, to make a new page to list modification boxes akin to Fallout 4's weapon mods, etc pages. In the future I will be sure to add a summary comment of rearranging content. Canyon Light (talk) 02:35, September 14, 2019 (UTC)
Holotapes
You just added a whole bunch of more precise descriptions of holotape locations, which makes me to believe you went in there and found them. Could you upload location images of those holotapes? At least if you're playing on PC then. Jspoel

15:37, February 2, 2020 (UTC)
Hello again Jspoel, that is correct, I went to every location in-game to verify. Everything regarding notable loot I personally verify in-game. I am indeed playing on the PC version, so, I can arrange the time to do that. I also have a more suitable PC monitor for better screenshots at that. Location images of the holotapes are on my to-do list, then. Will get started on it. Canyon Light (talk) 21:19, February 2, 2020 (UTC)

Great! I'd really like to have those. The more the better. Holotapes but notes too, and keys, special items etc. Jspoel 21:23, February 2, 2020 (UTC)

How do we take the best screenshots for the wiki? Using the in-game Photomode? Would that also apply to the randomized spawns of different types of plans and modification boxes? Either way, expect much better quality screenshots in a more modern resolution size. Canyon Light (talk) 21:25, February 2, 2020 (UTC)

Yes, Photomode looks best suited to me. If Photomode doesn't work use printscreen, no HUD please. If you see possible spawns listed as notable loot you can also make screenshots of those I suppose. Jspoel 21:34, February 2, 2020 (UTC)
(←)  This may be a dumb question but how would you take HUD less pictures? I'll get around to them later this evening, for the four holotapes first. Canyon Light (talk) 22:40, February 2, 2020 (UTC)
Well, when you make a screenshot you have HUD, but then you cut the picture in a way so that the HUD doesn't show anymore. Or at least most of it anyway. Try a few and we'll see. Jspoel 22:47, February 2, 2020 (UTC)

It looks like Photomode will do the trick. I'll get the pictures in high resolution as well, as I'm getting the hang of uploading pictures again. Just have to activate the quest again on an alternate character and visit each location. Canyon Light (talk) 10:48, February 3, 2020 (UTC)

And my last reply for now, just wanted to double check you wanted images of all four holotapes right? For the meantime I added the existing screenshot of Maria's last words holotape to the Morgantown Airport page. However if higher quality and no HUD would be preferred, I can upload a screenshot of that holotape too. Currently in-game and enroute to Charleston Fire Department for the Out of time holotape, as requested. After these four holotapes, I'll start adding more images for every single note, holotape, key, etc that could use an image. Canyon Light (talk) 20:15, February 3, 2020 (UTC)

Yes, all holotapes and notes and keys and special items you see in a location. So best would be to find everything in the notable loot section (if you can locate it, sometimes it may be missing because someone else picked it up), take a screenshot, and only then move on to the next location. It may be a long process, but it will give great reward. Maria's last words looks great, don't see any HUD. Jspoel 21:12, February 3, 2020 (UTC)
Recruitment Blues
Hey nice work on the Recruitment Blues page, with the rewards and the quest stages check. Those may have been altered with updates and so on. Jspoel

13:02, March 10, 2020 (UTC)
No problem, Jspoelstra, it's my pleasure to contribute to the wiki. Double-checking the quest stages for updated spelling and missing entries is one way in which I can contribute. Thank you for the kind words. Canyon Light (talk) 00:33, March 11, 2020 (UTC)
Mothman Museum key
Can you be more specific/make a screenshot of the apartment where you can find the Mothman Museum key? I can't find an open apartment there. Jspoel

14:54, April 5, 2020 (UTC)
Perhaps a screenshot of the map when you're at the location would help. Jspoel 14:58, April 5, 2020 (UTC)

Hello Jspoel, sure, I have a screenshot here as reference. From the Map76 website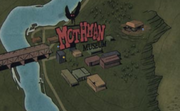 Hope this helps. Canyon Light (talk) 21:47, April 5, 2020 (UTC)

I've tried that building, but it is boarded up. Did you get the key yourself? If so can you make a screenshot of the building and the key? Jspoel 16:00, April 6, 2020 (UTC)

The building is boarded up but the southern apartment is accessible from the roof or trickily jumping up to the seemingly unreachable fire escape stairs. It's the exact same room where the Interloper holotape is found in, along with the C.H. Monthly notes too. I did manage to get the key myself in-game. If you do require a screenshot of the building, I can do that tonight. Canyon Light (talk) 02:41, April 7, 2020 (UTC)
(←)  I found it, it's the building behind the one I was investigating. Uploaded and updates a few images. Jspoel

14:27, April 7, 2020 (UTC)
Awesome. That's another key mystery solved now. Canyon Light (talk) 14:36, April 7, 2020 (UTC)

I'd like to have pictures of all the keys in the game. Maybe you can help out if you're on PC. Jspoel 14:41, April 7, 2020 (UTC)
Lewis & Sons
Hey there, do you know if the Lewis & Sons map marker changed at all with Steel Dawn? I haven't been able to play yet but I'm considering making some changes to the locations that are revamped with the location. Is the Putnam residence the new name of the location, or just an interior added to it? AllYourFavorites! (talk) 14:57, 25 November 2020 (UTC)
Hello AYF, the Putnam Residence is just the name for the new interior at the location, in-game. The location's icon does not appear to have changed. Canyon Light (talk)
Email
Hello! I recently sent you an email to your registered email address. Please check it out when you have a chance! HeyTots (Contact) 19:31, 8 December 2020 (UTC)
Hello, I did not see your email at first, thank you for notifying me. Canyon Light (talk) 00:58, 9 December 2020 (UTC)
Graveyard notes
So, you can read them, but they're not transferred to your Pip-Boy? --

-- You talkin' to me? -- cCContributions -- 19:15, 11 December 2020 (UTC)
Hello CompleCCity, that is correct. They cannot be added to your Pip-Boy's Notes category. Canyon Light (talk) 04:12, 13 December 2020 (UTC)

Thanks, Canyon Light.
I've made an edit on both pages (Huntersville and graveyard note) and … "integrated" your addition by removing the parentheses (which I personally don't like very much, style-wise, regardless of my heavy usage of them within this message 😬 ). You're okay with that? -- -- You talkin' to me? -- cCContributions -- 15:35, 13 December 2020 (UTC)

No problem, of course! I know with editing a wiki means that future edits are inevitable. If the style is more readable, the more the better and merrier. Canyon Light (talk) 05:06, 14 December 2020 (UTC)
Patroller

Hello esteemed editor, just wanted to extended a warm welcome to you, our newest staff member! I am excited to give you some brief information on the role. I know I handed this over earlier but just for posterity, here is Nukapedia's Patroller Guide that explains the new tools you have to make our wiki even better than ever.
If you have any questions, feel free to reach out to any of the staff folks, we are here to support you. Well-seasoned patroller Findabair can also give a hand. I am excited to see you rise in the ranks here, keep up the momentum and exceptional work. Ever Upwards! --kdarrow

take her for a spin! 05:54, 28 April 2021 (UTC)
Thank you very much Kate. I shall strive to do a good job as patroller. I appreciate the guide & resources on-hand for what seems like a daunting task. Canyon Light (talk) 07:00, 28 April 2021 (UTC)
Wild Appalachia
Thank you for helping the Pioneer Scouts! You've earned a merit badge! Scribe-Howard (waster_93) (talk)
07:00, 10 May 2021 (UTC)
| | |
| --- | --- |
| | Awesome opossum! Look at those pages blossom! |

Oh wow a merit badge. Thank you! While my effort is sound. I now need to correct the War glaive mod plans' pages one more time. Canyon Light (talk) 08:28, 10 May 2021 (UTC)
Thank you
Just stopping by (late) to say thank you for your support of me when I ran for crat. It means a lot to me to see your name there and I look forward to fighting the good fight with you in the future. Only if needed of course :) -

kdarrow take her for a spin! 02:54, 15 September 2021 (UTC)
You are quite welcome, kdarrow. Apologies for the late reply as I did not realize I had an unread notification. Canyon Light (talk) 22:48, 27 September 2021 (UTC)