Welcome to The Vault!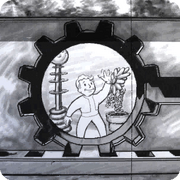 Hello, BusinessMonkey, and welcome to The Vault, the Fallout wiki! Thank you for your contributions, and we hope you'll stay with us and make many more.
Some links you may find useful:
If you have questions, you can ask in our forums, join the live chat in our IRC channel or post a message on my talk page. We hope you enjoy editing here and look forward to working with you!
Video blog
Edit
You've put to work with that blog. Policy says you need to embed videos and not upload them. Uploaded videos get deleted. If you still miss one, go to youtube and see what code it has. Then code it like I've done on your blog. Jspoel

13:18, January 8, 2012 (UTC)
Thank you. I had a feeling the link would be on the wanted pages list. MysteryStranger: Trust in the power of Infinity! 20:08, January 17, 2012 (UTC)
Just letting you know, my blog wasn't a rant. It was supposed to be short, sweet, and to the point. I felt there was no need to put quotes into the post since the title and first sentences said it all. Just a little fun fact for you there. TrailerParkApe Hellions of Earth 20:14, January 17, 2012 (UTC)
Edits/Mini project
Edit
Hey, I've seen you found a yourself a mini-project, keep up the good work! ToCxHawK 01:35, January 19, 2012 (UTC)
Hi just wanted to know you mentioned the type on my logo, and a couple of alternates have been posted, do you find it better there? Just asking as you were on the neutral opinion side--Carinth 16:39, January 20, 2012 (UTC).
Thanks alot, is there perhaps another font you would like to see, I can see if I have it and attempt an alteration example if you'd like.--Carinth 18:16, January 20, 2012 (UTC) I think I found the correct text and altered a few to show it. Please have a look and let me know, pretty sure its the right one.--Carinth 22:29, January 20, 2012 (UTC)
How to make my logo Better
Edit
Obviously my other logos were not as good as the wasteland logo, which is actually getting a good reception. You said that you want to see it pass but it needs good execution, I put a requests section, but I do not know if anybody will actually put anything in there. Can you tell me how I can change it to make it better? --Mr. Youtube 02:49, January 21, 2012 (UTC)
Hi there, could you possibly fix the 'Ranger Reilly' link on your page please, otherwise that red-link will be flashed up as a Wanted Page when really it's meant to link to Reilly I'm guessing? If you need a hand, just ask :) κηδεμόνας [~μιλώ~] 00:34, February 20, 2012 (UTC)
Just wanted to drop by and let you know to be more careful with your edits please. Your recent edits has caught a few of our eyes as possible achievement boosting since you are making a lot of small edits to the article pages and your user page. Here's a few examples of what I don't want to see: [1][2][3][4] I especially don't want to see anymore like that last edit I provided. Thank you for reading and see you around, BM!

Skål! 16:11, March 10, 2012 (UTC)
I read your post to Clyde. You do not have to contact an admin to contest your ban. Just set up a forum thread under 'wiki discussion' so the case can be presented. If you honestly feel that ban was unjust, that is. -ΣΔLet's talk! 22:15, March 11, 2012 (UTC)
The wikipedia link led to a page with a better description of Black Isle. If you're looking for edits, the VB pages probably aren't the way to go. If you REALLY feel that your edit is THAT necessary, change it back and another editor will mediate. -- Bacon-Man Talk to me goose! 00:27, March 20, 2012 (UTC)
Like I said, go ahead and change it if you want. I won't interfere. -- Bacon-Man Talk to me goose! 00:36, March 20, 2012 (UTC)
Spelling
Edit
You don't have to do an edit just to change "cancelled" to "canceled". Although the corrupt American spelling is preferred, something like this honestly is pointless, especially when the edit is done purely for its sake. -SigmaDelta54(Talk) 02:01, April 2, 2012 (UTC)
Community content is available under
CC-BY-SA
unless otherwise noted.