Welcome to The Vault!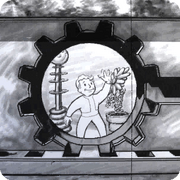 Hello, Braaains, and welcome to The Vault, the Fallout wiki! Thank you for your contributions, and we hope you'll stay with us and make many more.
Some links you may find useful:
If you have questions, you can ask in our forums, join the live chat in our IRC channel or post a message on my talk page. We hope you enjoy editing here and look forward to working with you!
You just finished Fallout 1?
[
edit source
]
Was it worth playing? I've only played Fallout 3 and Fallout: New Vegas, but I was interested in 1 & 2. Do you recommend buying it? Yes-Man 10:26, June 14, 2011 (UTC)
Yeah defo, even though I skipped every side quest is was great, worth it by far :) Braaains 17:57, June 14, 2011 (UTC)
Fallout 2 is better in the fact that you aren't forced to do the main quest line. Saxony4 17:01, June 14, 2011 (UTC)
Yeah, I do enjoy both but I've never completed Fallout 2 (Yet) But still get Fallout 1 (I bought mine as a trilogy which comes with 1, 2 and Tactics for £15) Btw it's really hard to get used to the gameplay style, but it's still fun :) Braaains 18:36, June 14, 2011 (UTC)
Don't create templates just for the fun of it and with no use. These kind of edits could result in a block eventually. Jspoel

18:01, June 14, 2011 (UTC)
Apologies, I was trying to create a box like on your profile? For some reason it would not work correctly, may you show me how? I've tried using the tutorial but I still can't do it, I'm new at this stuff. Thank you and sorry again for the mistakes. Braaains 21:53, June 14, 2011 (UTC)
Really sorry but during the editing of my page I upload 2 talon company logo pictures, please could you remove them for me as they are not needed? Sorry for messing the wikia up. Braaains 23:20, June 14, 2011 (UTC)
By concidence I read this message. You need to click on my username, otherwise I won't get the message. And I removed those 2 images. Jspoel 22:39, June 14, 2011 (UTC)
And I see you succeeded in making an infobox on your userprofile page. So I guess you don't need help with that anymore.
I'm not going to permaban him. Further offenses will rapidly increase the block but for now it's a week. Jspoel

23:13, June 21, 2011 (UTC)
Okay, thankyou User:Braaains 23:13, June 21, 2011 (UTC)
Community content is available under
CC-BY-SA
unless otherwise noted.