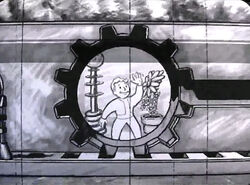 Welcome to our Fallout wiki and thank you for your contributions! I hope you'll stay with us and make many more improvements.
A little help to get you started:
I'm glad to have you here and look forward to working with you!
Ausir(talk) 10:34, April 3, 2010 (UTC)
Thank you for your recent edit to a weapon page here at Nukapedia. I just wanted to drop you a quick note to let you know that we don't put real-world weapon references on article pages, unless it's the same name as the real-world weapon, or if is mentioned by a developer that the ingame weapon is intended to represent a specific real-world weapon. Thanks again. Nitty Tok. 12:28, December 25, 2010 (UTC)
I am putting quest guides out on the game in full detail with commentary what is so unacceptable about that?
I found the image unused in a category, with the name Nikola Tesla and You. It's a good quality image, so I placed on the Nikola page. He and House do look somewhat alike, so I didn't see it was actually House. So I think you're right, it's House. I reverted it, it's good you noticed it. Greets, Jspoelstra 12:03, January 6, 2011 (UTC)
Why did you move the page for "Edward Callow" back to "Caesar"?
[
edit source
]
Just wondering. It seems we name the pages according the character's name, not what they are generally called in-game. That's why House's page is called "Robert House", even though he is referred to as "Mr. House" almost exclusively in-game. --Lugiatm (talk · contribs) 20:07, May 23, 2011 (UTC)
That's true, but as far as I'm aware the wiki names pages based on what the name of the character is rather than the one with the most prevalence. That's why ranks and other titles are omitted from page names. Perhaps we should put the issue to the community? --Lugiatm (talk

 ·

contribs) 18:48, May 24, 2011 (UTC)
You removed something, then reverted that. Whats up with that? Scar: "Say 'ello to my little friend!" 22:27, June 6, 2011 (UTC)
Why did you revert my edit to Broken Hills? --Lugiatm (talk · contribs) 12:58, June 8, 2011 (UTC)
It being a "spoiler image" is not a concern, see The Vault:Content policy#Spoiler policy. Several other pages from Fallout 2 endings use the images from their ending slideshow, and Redding is only not among them because it does not have a corresponding image listed on that page. --Lugiatm (talk

 ·

contribs) 13:07, June 8, 2011 (UTC)
Community content is available under
CC-BY-SA
unless otherwise noted.