Welcome to The Vault!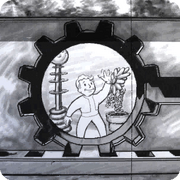 Hello, Aristatide, and welcome to The Vault, the Fallout wiki! Thank you for your contributions, and we hope you'll stay with us and make many more.
Some links you may find useful:
If you have questions, you can ask in our forums, join the live chat in our IRC channel or post a message on my talk page. We hope you enjoy editing here and look forward to working with you!
Stratavarius
Edit
If you think that's out of character... May I suggest a visit to our chatroom during US east coast PrimeTime? Agent c (talk) 12:00, November 12, 2012 (UTC)
Skill books
Edit
Although I cannot say it was a worthy debate, I'd like to commend you for the comments you made in it. You make your points cogently and we need more editors like you. --Skire (talk) 22:52, March 14, 2014 (UTC)
Thank you! Unfortunately I did a melodramatic faceplant literally the day after you posted this, and after the swelling went down and I could walk and chew again I'd gotten sufficiently distracted by a more mind-numbing game to forget about the wiki for a while. Sorry about that! --Aristatide (talk) 06:12, July 20, 2014 (UTC)
Community content is available under
CC-BY-SA
unless otherwise noted.