Welcome to The Vault!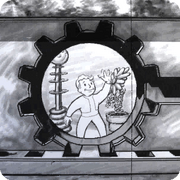 Hello, Anticube, and welcome to The Vault, the Fallout wiki! Thank you for your contributions, and we hope you'll stay with us and make many more.
Some links you may find useful:
If you have questions, you can ask in our forums, join the live chat in our IRC channel or post a message on my talk page. We hope you enjoy editing here and look forward to working with you!
greetings earthling, and no i am not an alien or sience fiction wacko, how do you feel about being part of the vault, please say hi Erty358 23:41, November 22, 2011 (UTC)
Savior of the Damned!
[
edit source
]
Hey Anticube, congratulations on achieving the Savior of the Damned badge! 365 days of consecutive editing. Pretty good and does look rather nice on your merits, doesn't it? Now it is us two. You also got it on the Russian Fallout wiki I noticed. Well done. Jspoel

00:20, September 13, 2012 (UTC)
Thanks! I just keep working.


И ещё раз — спасибо. --Anticube (talk) 23:51, September 13, 2012 (UTC)
Hi Anticube, do you have any objection if I give you patroller rights? Just so we dont have to patrol your edits manually (although you're welcome to patrol edits here too). Agent c (talk) 23:18, March 14, 2015 (UTC)
Hi! Sounds good, lets do this. --Anticube (talk) 00:06, March 15, 2015 (UTC)
I found a bug in Vault ответил Мартин Корж October 19 18:01 2015 god —Preceding unsigned comment added by Мартин Корж (talk • contribs). Please sign your posts with ~~~~!
Community content is available under
CC-BY-SA
unless otherwise noted.