HEEEY Amitakartok
i saw you didn't do anything with your page So I will help you(i know i'm bored)

I think you are a girl
age??
country(im from the netherlands and greece)??

and some other information
how long are you doing this?
well bye bye amitakartok
ps: i'm halfgod

well that's not creepy -DragonJTSLeave me a message 19:22, 4 May 2009 (UTC)
More like moronic. To answer his questions in order: no, 18, Hungary, what do you mean >how long am I doing this<?
how long are you doing this wiki thing (what does moronic mean can't find it on babel fish:P)
Now I understand. Not for very long (couple of months, maybe?). I mean, I got the hang of it, I just never find reason to add stuff (mainly because others already added it). This isn't the only wiki I visit, by the way: I also use the Combine Overwiki, the C&C wiki, the Homeworld wiki, the Stargate wiki... you name it.
dragonJTS you're right but you know what i hate? people who have stupid names say stupid things just to show the world what a asshole he is... they know it dragonJTS,they know... Halfgod 21:32, 4 May 2009 (UTC)

why so many wikis? Halfgod 21:32, 4 May 2009 (UTC)
Hey my name is Baz28 and i was just gonna message you cause you seemed pretty experienced. I need help with getting my page to look more like yours. message me back- --Baz28 23:58, 5 August 2009 (UTC)
Hey There!
Edit
Hey, nice to see another user at The Vault! It's nice to meet you. My name is AreYouGoingToEatThatNuke? or for short, call me Nukey.

Just to help you out and get you started, here's a few places that you should visit:
Porter21. He knows all about editing and creates most of The Vaults templates!
Ausir. He runs the Wikia, and knows a lot about Fallout and is the founder of The Vault.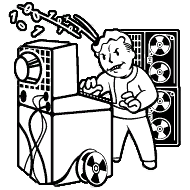 This is how hard the administrators work. Really.
Nitty. He is one of the more active administrators and is very knowledgeable, if arrogant.
A few things to be aware of, also, while editing on this Wikia and leaving messages on forums, blogs and talk pages:
Don't be nasty or rude! Saying inappropriate things or being rude towards people is not accepted here. If you disagree about something, talk about it civilly.
Don't edit in first person! Putting things in articles like "This user..." and "I..." doesn't work here. I'm not saying that this is the Encyclopedia Britanica, but it ruins the quality of articles.
Read, read, read! Information is the ultimate weapon!
More rules may be found here!
You need to leave your signature on talk pages and forums by typing four tildes (~). It helps people identify you.
Personalize your user page! Don't be afraid to upload pictures for that purpose! Just don't put your age and location on there, creepy people will use it for bad purposes!
Ask me if you want a personalized signature! Unique signatures will make you more memorable, and they are wonderful to have!

Tips to get you started!
Don't vandalize or use bad grammar! I, myself, am a grammar Nazi and I also hate vandalism.
If you need any help with making your page, ask me (please)!
Congratulations!
Edit
You are now an official Vault Resident! With these tip's in mind, you'll be a respected and popular user!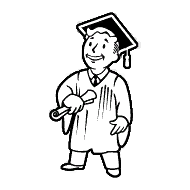 üdv! Magyar billentyűzeneten az Ö a 0.
Community content is available under
CC-BY-SA
unless otherwise noted.