Welcome to The Vault!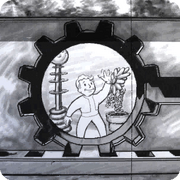 Hello and welcome to The Vault, the Fallout wiki! Thank you for your contributions, and we hope you'll stay with us and make many more.
Some links you may find useful:
If you have questions, you can ask in our forums or post a message on my talk page. We hope you enjoy editing here and look forward to working with you!
Limmiegirl-Itachou
Edit
Don't know you but I wanted to tell you something. I come on this wiki from time to time and I saw some of the work of Itachou. It is one of the most respected people here. I don't know Limmiegirl so I'm neutral about her.
If you saw the whole discussion, Limmiegirl start the flame and Itachou never wanted to ban her. Threaten to ban her for something that doesn't respect the rules and to try to avoid a next flame from her is reasonable if you ask me, it was like a warning. I don't like people talking about others behind their backs, like Yes-Man I think it's just disgraceful.
You don't bother to make an account because you don't have the balls to assume your opinions. Actually in movies, you are the kind of person who dies early in the movie because he was uninteresting. Light-Revan 03:30, November 6, 2011 (UTC)
---
This is the discussion page for an anonymous user who has not created an account yet or who does not use it, identified by the user's numerical IP address.
Some IP addresses change periodically, and may be shared by several users. If you are an anonymous user, you may create an account or log in to avoid future confusion with other anonymous users. Registering also hides your IP address.
Help: Why create an account? • How to create an account • WHOIS
Community content is available under
CC-BY-SA
unless otherwise noted.