Welcome to The Vault!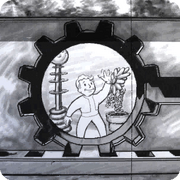 Hello, 3Varenier, and welcome to The Vault, the Fallout wiki! Thank you for your contributions, and we hope you'll stay with us and make many more.
Some links you may find useful:
If you have questions, you can ask in our forums, join the live chat in our IRC channel or post a message on my talk page. We hope you enjoy editing here and look forward to working with you!
Lincoln Memorial
Edit
It's nice you're uploading an image of the Lincoln Memorial, but then I wonder why you've captured it during darkness and not daylight. Then everyting is much better to see. Jspoel

12:37, May 28, 2011 (UTC)
Simply hasn't thought of it and hasn't rewind time. But why not to place a dark place in darkness? --3Varenier 13:15, May 28, 2011 (UTC)
Line breaks
Edit
Please stop changing <br /> to <br>. They've been standardised on the basis of readability. --Skire (talk) 19:22, July 18, 2013 (UTC)
Okay—oka-ay. If there thinks that tags with slashes looks better, I won't touch it anymore. ~ 3V ? 01:51, July 19, 2013 (UTC)

Yeah there's pretty much no difference but it would seem the one with a slash is better (since it spaces things out more, I guess). Thanks for understanding. --

Skire

(

talk

) 02:17, July 19, 2013 (UTC)

As explained to me by Gunny, the slash is there to guarantee the HTML tag thing closes. Richie9999 (talk) 02:27, July 19, 2013 (UTC)

Can I ask: for whom it? People or bots? ~ 3V ? 02:43, July 19, 2013 (UTC)
Community content is available under
CC-BY-SA
unless otherwise noted.