Welcome to Nukapedia!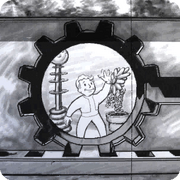 Hello, UnknownObject, and welcome to the Fallout Wiki! Thank you for your contributions, and we hope you'll stay with us and make many more.
Some links you may find useful:
If you have questions, you can ask in our forums, join the live chat or post a message on my talk page. We hope you enjoy editing here and look forward to working with you!
Hey, I'd like to ask - can we upload some of the images from your wiki (like this one)? Energy X ∞ 21:46, October 30, 2012 (UTC)
I don't mind uploading the images, use them as you need. UnknownObject (talk) 18:15, October 31, 2012 (UTC)
Speculation
Edit
Hi, we dont include player theories on the wiki. If you can get a developer confirmation, we can include it. Agent c (talk) 04:50, March 27, 2013 (UTC)
Did I include my own theories? Give me an example of this. --UnknownObject (talk) 07:11, March 27, 2013 (UTC)

Please dis-regard the above, as you were confused with anon 206.53.106.237. Hope this clears matters up. Happy editing! Some Assembly Required! 07:34, March 27, 2013 (UTC)

Understood it. --UnknownObject (talk) 08:31, March 27, 2013 (UTC)
Community content is available under
CC-BY-SA
unless otherwise noted.