Hello Ladies and Gentlemen, and Happy New Year! Following a board meeting, we have named the 2015 Nukapedian of the Year, runner-up, and Best Newcomer. And for the first time ever, we have Fallout 4 Bobbleheads as the awards!
The Nukapedian of the Year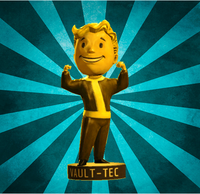 Congratulations to this year's Nukapedian of the Year: Leea!
Leea took up the responsibility of managing the Saturday Polls, one of Nukapedia's longest running community features. Her enthusiasm in this role has kept our Nukapedia community going strong, as the polls remain quite a popular feature for users, both registered and anonymous. Leea's consistency in running the polls throughout, before and after the release of Fallout 4, has made her a fitting winner.
The Runner-up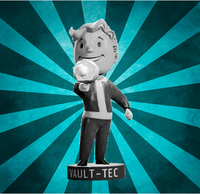 Congratulations to this year's runner-up: Energy X!
Energy X has been one of the more active admins throughout the year, constantly reverting vandalism and fixing errors. After Fallout 4 released, there was a lot of work to be done on the wiki to remain up to date. Energy X responded by producing a tremendous volume of work, having made 3000 article edits since the game's initial release!
Best Newcomer
With the release of a new game, we have seen many dedicated new editors who've contributed greatly to the wiki. With so many excellent candidates to choose from, the decision was certainly not easy. In the end, the board decided to award the 2015 Best Newcomer Award to Alfwyn!
After the release of Fallout 4, Alfwyn has put in a lot of work to improve the wiki's articles. Furthermore, his outstanding use of edit summaries sets a great example for other editors to follow.
Acknowledgements
The board believes that Xernoc deserves an honourable mention for the work he's done since the release of Fallout 4. Xernoc's work with images has significantly improved the content here at Nukapedia.
Your board consisted of the following users:
Thanks to all who participated, and have a safe and joyous 2016!
Community content is available under
CC-BY-SA
unless otherwise noted.