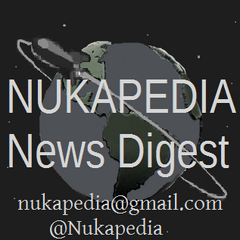 Welcome to the Nukapedia News Digest! It's me, Paladin117, bringing you all the pictures and news your little hearts can handle.
In your edition this week, we have:
Picture gallery
This week's pictures have been selected by our own Letzplaygamez.
Obsidian Entertainment
Obsidian has announced they are working on a new RPG. No, sadly it is not Fallout. It is Tyranny, a game where you play the servant of an evil overlord and features a nonlinear story.
T-shirt sale
Bethesda is currently having a t-shirt sale at their store. Most t-shirts are currently being sold for $10 each. The sale ends this Thursday, March 31st, so get them now.
Credits
Agent_c (Editor in Chief) Paladin117 (Temp. Intern) Letzplaygamez (Image Picker) BrandonFox (Caption Picker)
Community content is available under
CC-BY-SA
unless otherwise noted.