Make sure to leave a comment on the caption contest!
FEB. 26 - MAR. 4, 2018
World News
The Reverend Billy Graham dies at age 99 of natural causes. His physical body was laid-in-honor in the U.S. Capital Rotunda (only the fourth private citizen to lay in honor there), before being laid to rest at a funeral ceremony in his hometown of Charlotte, North Carolina. Graham was known for being the most-heard televangelist of all time; sources estimate that he converted hundreds of thousands or millions of people to Christianity.
David Ogden Stiers, best known for playing Charles Emerson Winchester III on M*A*S*H, dies at age 75.
Nukapedia News
Fallout News
The above mentioned bureaucrat request also qualifies as Fallout news, so please vote...
Caption Contest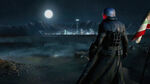 "
The Strip is bright and big at night, deep in the heart of Mojave! [Submitted by Asghetti]
"
This week's pic
Submit your caption to this pic via the comments section!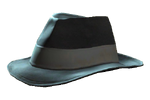 Choose your favorite caption for last week's image:
Random Music Suggestion of the Week
Similar to The Band in concept, and in their great music...