I've agreed to do a joint poll with Nomad this week (it was his idea). First goes his intro, then you get the usual mine. As you might expect, this will mean that he's not doing his own polls this week...at least, he never told me if he would...
So, Nomad's intro:
Fallout Friday Polls are here! Be sure to answer all polls and leave a comment!
Nomad here. I hereby present an award that I'm fairly sure belongs to the polls-at-large, and certainly belongs more to Leea than to me.... I mean, if polls alone are the reason I got NOTY, Leea's been doing them for longer and better...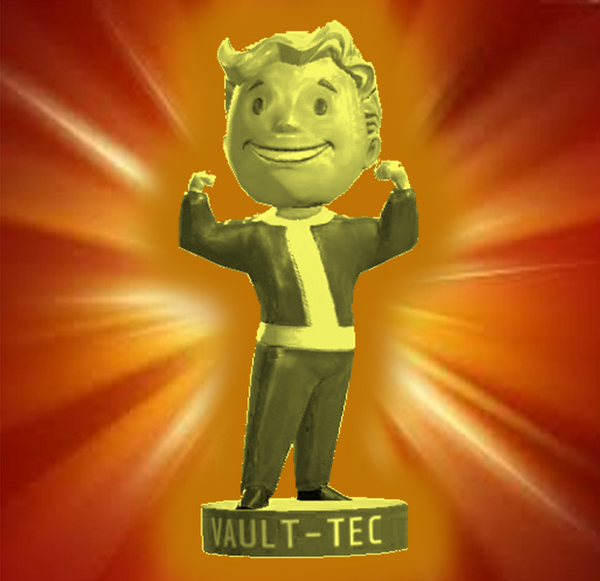 Unfortunately, I need to give an acceptance speech or something.
Thanks to all the members of Nukapedia who've commented on either weekly poll segment. Thanks to the judges and voters of the NOTY, and thanks to those who keep everything running smoothly here.
Congratulations to The Dyre Wolf. You're a darn fine commenter.
Also congratulations to Soto - you're a great guy to be 'round.
Congratulations to the Honorable Mention L84tea. Keep it up!
I'll also make my own honorable mention here - thanks to Chris the Saiyan for keeping these polls running on Nukapedia Twitter.
A random note - Welcome back from the dead, Eden!
And finally, happy New Year's 2019, everyone!
Well then. Time for some polls.
This Week's Polls
[Recap of last week's poll] Did you stay up till midnight on New Year's?
Now that FO76 has been out for a while, what's your favorite Fallout "theme" song?
Do you think mashups and crossover specials are dumb?
Leea, back to you.
Does anyone ever think that animals understand human speech more than they let on? I talk with the cats all the time and their facial and eye expressions change according to what I'm saying. I wouldn't be surprised, you know? The cows - when we had them years and years ago, they were pets - listened, too, to what we said. I think sometimes animals just play dumb - like people - just to get a rise out of you. "Yeah, I knew you were calling and calling for me, but I played dumb like I didn't understand you." Typical, if true (and I wouldn't doubt it...especially with cats!).
This Week's Trivia
If normal breath-freshening methods don't work (mouthwash, brushing your teeth), you can try and old Indian remedy, of chewing anise seeds. And then, if that doesn't work, you can try an old "remedy" (note quotation marks) where you cremeate a mouse and then swirl his ashes around in your mouth with a little honey.
Blegh! Gross! I'll take the anise seeds any day, and no matter how much money, you couldn't make me take that "remedy"!
Last Week's Polls
How would you help this person?
Third was tough words. Only for the more tough-at-heart. Dad tried that once when I was bummed, and it...didn't work.
Second was a tie of comment and keep telling him what you're telling him. I help him when he's down-and-out, and he tries to help me when I tell him I'm feeling bummed. He's been a good friend to me, and I am thankful that he is there...even though that means he's all the way across the ocean. He's said much the same, so I am thankful to be that for him.
And first was tell him to see a shrink. I guess you could say I'm his shrink, and he's sort of mine, though more in the vein of best-friend-you-can-talk-to-and-understands-you-well.
How much time do you spend bartering (selling and buying stuff) in the Fallout games?
Third was a triple tie of you can't figure out how to sell anything (it'll be in in-game help menus), you only gather caps in-world (you might not get that many that way!) and not too much. If you have a computer and the code for caps, you might not need to sell anything; you can just conjure them out of thin air.
Second was somewhere in between lots and nots. Not sell-happy, eh? I sell whatever I can...
For as much as I can! Which is first, by the way. You spend a lot of time in the bartering screen. All the better to make some room to hoard more things, eh? Heh heh...
This Week's Polls
Do you think that animals understand human speech more than you think they let on?
Did you think that the sounds made by slot machines in New Vegas are annoying?
That's all, folks!
THAT'S ALL THIS WEEK! IF YOU HAVE ANY IDEAS FOR ME, LEAVE THEM ON MY TALK PAGE!