Welcome to the Patrons' Lounge of the Strategic Nuclear Moose cantina, the hot spot for any and all wastelanders worth mentioning, to hang out and share their tales. Maybe you're looking for someone to team up with out in the harsh wastelands, or you could be looking for a story to pass the time before heading out again. Whichever is true, you'll always have a place here at our hearth, among friends. That is, so long as you don't agree to arm-wrestle with Francis over there in the corner.

Want to become a content creator?
The first 5 content creators, will receive a free Patron Card to customize. Subsequent content creators must purchase a Patron Card for 500 Credits from our Bank's Virtual Store, a link for which can be found above under our SNM Resources tab.
Every week that our content creators update their community content, credit stipends (250 credits) will be sent out in return.
If you have any questions and/or feedback regarding the SNM and its content, you can shoot me a message on my talk-page, or join our Discord, and shoot one of our Bouncers/Bartenders a message. We hope you enjoy your time here at the Patrons' Lounge, and we're all looking forward to seeing more of you here!
---
Patron Cards
Portfolio:

Introduction:

---

I am the President of the Enclave, but of course you already knew that. In between executive orders, trying to keep Congress in line, and hunting mutants for the good of this country, I like to write. When you come to my Patron Card, you can find a random assortment of games media. Sometimes, I upload Youtube videos that have something to do with games, sometimes I remix music, but most of what you will find is an assortment of fan-fiction that I have definitely finished in my head but need to get around to writing down.
Community Features:

Hello, SNM readers! I am Denis517, an old Patron from the SNM, coming back to show you all a new idea I have for a fan-fic based in the Fallout universe titled: Fallout: Salt Lake. F:SL is set in a remodeled Salt Lake City, and takes place a little more than a decade after the Courier used Yes Man to take over New Vegas. Because of the Courier's exploits, there is a variety of new technology that has come from Big MT, a few tribesmen inhabiting SLC after leaving the Dead Horses and the Sorrows, and tunnelers now roam some of the mountain areas that were once thought to be safe.
The city itself was founded by the old inhabitants of Vault 51; a vault that was placed in the heavily Mormon city, and had the job to test out what would happen if social norms were changed to be much more liberal and free spirited. Drugs, alcohol, and gambling were available to anyone at any age, and moderation was encouraged but not enforced. Polygamous and polyamorous relationships were allowed if not encouraged, and homosexuality was no longer hated. Vault 51 thrived for a long time by itself, and the vault dwellers were happy having little to no taboos, with addiction and social exclusion becoming very rare. V51 was the only vault to have a security force that was compulsory to serve in for every citizen, but almost never needed. The inhabitants were unfortunately too happy, however, and the citizens reproduced so quickly that the vault was forced to open its doors much more quickly than previously thought, and the vault dwellers were forced to live outside of the walls that once protected them. Luckily for V51, having a close-knit community made for a very quick development of turning the now irradiated Salt Lake City into something habitable. Salt Lake is now a metropolis where you can indulge in almost any activity you want without the condemnation of the people around you, if you have the money and the mind to protect yourself from the people running the show.
This is where Molly, our protagonist lives. Molly is the daughter of two parents raised by former Enclave members. Molly's life was much more easy than those outside of the walls of Salt Lake City, where she did not want for food, and was trained in combat by both of her parents. Molly's story will take us through the seedy areas of Salt Lake City where casinos and drug houses are on every corner, through the neighborhoods of both the wealthy and the poor, past the dangerous Families running the various places of business, and into the terrifying areas outside of Salt Lake where only the truly brave or truly stupid dare to walk through. Accompanying Molly are her two best friends; Aaron, a mechanic and scientist who wants to create things just as brilliant as the technologies coming out of the Big MT, and Olivia, the daughter of a merchant who can steal anything not nailed down and welded to the floor, and is quicker than a cazadore on Psycho.
While writing Salt Lake I am going to implement game mechanics that anyone who has played Fallout has used themselves. The S.P.E.C.I.A.L., perks, traits, and skills system, the Pip-boy, the miraculous healing of stimpacks, the inventory management, and the attempt (and sometimes failure) of speech checks. To give you all a peek at what's to come, you will see here character template for our protagonist. F:SL is planned to be a trilogy, with each act having a separate arc for the characters and the world. If you have any suggestions, requests, or critiques, please leave them in the comments section below.
Chapter 1:
Salt Lake City is a wonderful place. It was founded by the survivors of Vault 51, a place dedicated to removing the taboos of the culture at the time before the great war. It asked it's inhabitants a lot of questions that challenged the way they all thought at the time. Why should kids not be able to gamble? Why can't people marry more than one person? Why can't men date other men? Why can't people decide for themselves what they put into their own bodies? Vault 51 aimed to test and see what would happen if you taught children at a young age that you should be able to do anything you want, as long as you didn't hurt yourself or others in the process. The only bad thing about Vault 51 was that people had so much sex that the population growth was way too quick to hold everyone inside. Eventually resources grew short, and the vault had to be opened prematurely. Salt Lake has been through many changes (some because of me,) and during the spring of 2300 I was walking towards Joey's bar to receive a job that would end up turning the whole city around.
I'm Molly; a redhead raised in a military household. Both of my parents were raised by former Enclave Members, and they were taught (and taught me in turn) about combat training, a little science, and most importantly how to avoid getting hurt in the wasteland that rejected the Enclave. I was doing a combination of acrobatics and jogging on my way to Joey's Bar, a hotspot for people who like getting into trouble. Joey's is run by an old Ghoul who was a comedian before the bombs fell. He helped raise me when my parents died and taught me the ins and outs of Salt Lake that were forgotten by almost everyone. Joey helped build the city as I knew it then, and he is so old there's a rumor that people owe him more favors than they do caps. The bar is in the middle of town, and is used as neutral ground by everyone who isn't affiliated with any of the local gangs doing committing crime in Salt Lake. I walked through a tunnel that led to a drop six feet down, and used a couple of footholds to get down; then walked into Joey's bar.
Joey's bar is always bursting with energy. The left side of the bar held the stage where Joey either did comedy or let bands come in and play for the patrons. The right side held a combination of pool tables and nooks for various sorts of scams being run by one shady dealer or another. A cyborg known affectionately as Zax was running a three card Monte game, Nick was running a game of Five Finger Fillet, and had a stack of human fingers lost during the game to discourage people (or to encourage dumb people) from playing, and Sweet Jones and Billy were walking out of the bar with sacks of caps after what looked like a completely amazing run of dice games. I'm not sure what I thought was more hilarious, the fact that the local brothel was about to get two really dirty customers, or that people didn't realize that those two always loaded their dice. The bar itself was being propped up by a mixture of beautiful women waiting to get drinks bought for them, and ghouls who knew Joey from before the war. I nodded to Hawk who was on his fifth beer, and went through the back to talk to Joey. Joey is like most ghouls, he has a scratchy voice (although he says drugs messed it up before he was ghoulified,) his skin was patchy, and he smelled faintly of rot. The only real difference was that Joey was quick enough take down a Cazadore by himself. Joey was a big time thief before he came to Salt Lake. He stole from anyone and everyone he thought was a piece of shit. Drug Dealers, gangsters, lawyers, Preachers and Pimps couldn't seem to hold their caps around Joey (agility 9). He also could charm anyone into trusting him; if you listen to him talk, he will tell you about a hundred different times he just was allowed somewhere he shouldn't have, or was told information that should have been kept secret (charisma 9.) Combined with a streak of luck that would make the kids born to rich people seem like street urchins (luck 10,) Joey was given so many opportunities for success it was just a matter of when he would settle down, rather than if. He wasn't necessarily a good person, but Joey did right by people when given the chance these days.
He took me in when my parents died, and taught me a lot about the city that has saved my ass on more than one occasion. I shook his hand and asked him "any Jobs for today Joey?"
"I was actually hoping you'd come in and ask, someone just dropped something by me that's special. And I don't trust anyone else to handle it." he said
" What's the catch?" I asked, because there's always something when someone wants Joey to get something couriered somewhere
"You need to take this inside the Prep's Stronghold, and deliver it personally to Hartman's Daughter. That's the direct orders from the person who asked me to take this job." The Preps were the major gang in Salt Lake. Founded by the rich assholes who made their own Vault separate from 51, the Preps were all born rich and had more money than anyone who wasn't running a major Corp or in New Vegas. Even the low members of the gang all wore combat armor and carried expensive guns. The Preps were an army, and nobody fucked with them.
"I'll do it" I said.
I left the bar just as a man was leaving with tears in his eyes after getting turned down by a super mutant. The street outside the bar was almost as lively as Joey's. The block the bar was held on had an energy weapons dealer (our smiths are brighter than plasma!) , a restaurant entirely dedicated to insect cuisine (try our radroach stuffed Cazador!), and a casino made with Vault 51's old gambling tables (In business since the bombs fell!). And those are just the most popular attractions. People absolutely cluttered the streets in search of one form of reckless abandon or another. I decided to avoid all the temptation and started taking the underway.
The underway is a group of tunnels and bolt holes that run through the middle of Salt Lake. There aren't too many people who know about the underway, since it's a secret kept mostly by the guys who rebuilt Salt Lake after the news of New Cannan's destruction reached the city. Using the Underway can turn an hours run into a few minutes jog. The tunnels run in between a lot of the buildings that are stacked on top of each other in the city. Some tunnels go into various sized rooms that we used to lay low when we had people actively looking for us. A few tunnels lead to drops that will kill you if you fall; the only way out of these is a well hidden ladder. This time I went through a tunnel that went under the brothel that Sweet Jones and Billy were almost certainly terrorizing. I wasn't sure if it was my imagination, but I thought I could almost hear moans through the walls. I walked out a few minutes later into one of the only neighborhoods that looked exactly the way it used to before the rebuilding of Salt Lake.
The neighborhood the Preps stayed in was completely owned by rich assholes. Most of the people who lived there were either part of the gang or did in business with them. There were a couple other oddballs that lived there. One guy made his money by breaking the bank at every Casino in Vegas. Another was a weapons dealer that sold exclusively to the people fighting in Caesar's Legion's old territory. The Prep's base was an old mansion before the war, and was big enough to see in almost any part of the neighborhood. As I walked down the sidewalk I saw my friend Olivia walking towards me.
I knew that the only reason she could possibly be here was to cause trouble. So I walked by her like I didn't know her, and only caught a faint movement as she took something from the back pocket a Prep gangster walking next to her. We all walked past each other, seemingly none the wiser. As I got to the front gate of the Prep's base, I was stopped by a hulking figure I could only guess was a cross between a Super Mutant and a regular person. This particular guard had been acting as the doorman for longer than I could remember. He barely talked to anyone, and usually only talked so he could be told why you think he should let you through. He looked at me with a face I could only guess asked "What do you want?"
I looked at him and said "I have a to deliver this package. I was given strict orders to give it only to Emma Hartman." Then I showed him the signature that verified what I just said.
He took his sweet time making sure everything was in order before opening the door and simply saying "Ok." Then I walked into the house that was the center of a majority of the crime in Salt Lake City.
Chapter 2:

The Prep's mansion was everything I thought it would be. The first thing you saw when entering the house was an Enclave set of Power Armor. It sat upright like a soldier with a plasma caster in its hands, looking like it was still geared up to shoot anyone and anything that stepped in its path. I hadn't seen Enclave power armor in my life, but it was just as imposing and glamorous as my parents told me it was. To my left was a living room with prewar furniture that had been reskinned with Nightstalker hides. A few Prep gangsters were sitting on them, reloading their weapons and gossiping about scouts outside the city going missing. I filed that away for later, if they really were missing that meant that either somebody was hitting the Preps again or something Dangerous was coming out of the mountains to eat. Nobody looked at me twice as I walked up the stairs towards the bedrooms. If I was inside the doorman must have let me in. As I walked up the stairs I the sound of someone yelling became louder. I hadn't met the leader of the Preps before, I assumed it was going to be him. Nobody screams more than a rich asshole who knows that there's no chance anyone would decide to even contradict, much less take a swing at.
Hartman had been leading the Preps for years now. He started out with a high rank from birth because his uncle was already high in the food chain. John Hartman went from the middle to the top by being even more brutal than the guys around him. Through coercion, bribery, and a few broken bones Hartman gained control of the once proud Energy Weapons industry, Once the Preps wiped out the Van Graff's hold in Salt Lake things got bloody. The Graffs decided to show that they were going to teach the Preps a lesson, and sent a couple dozen mercenaries led by a group of Van Graff enforcers into what was the Prep's Stronghold at the time. The street that the war was fought on still has deep gouges in the area surrounding both the stronghold and the area where the Van Graffs made their assault. The Van Graffs got their asses handed to them, and haven't been back since. Hartman was made the boss just six months later following the death of the last boss who died in a suicide bombing from a ghoul who grew up in Vault 51. I got off the stairs and walked down a hallway with multiple doors on each side. The invoice for the package I had to deliver the door I was supposed to knock on was the last one on the left. As I passed an open door, I saw Hartman himself screaming into his radio.
"I told you I don't fucking care about the people on that street! That street is still owned by us, and if they don't want to live somewhere else we can just shoot them and move them ourselves." A voice responds too low for me to hear it.
"Send two squads of low ranked Preps there. Have Goodman lead them and force those squatters off my street. Everyone knows that our stronghold used to be there, and if they try to resist just shoot them until they start moving themselves." He saw me walking towards his daughters room, and he stopped what he was doing, grabbed a plasma pistol on his desk, and started walking towards me.
"Hey! Who are you and why are you in this house?" I noticed that the people who were relaxed hanging around the area now had their own guns in their hands, and every one of them pointed in my direction. The Preps were even more well equipped than I thought. Two guys in full power armor had Multiplas Rifles in their hands, while two girls in recon armor put their hands on my shoulders with ballistic fists ready to splatter my head all over each other. I started sweating immediately, and held up the folder I had in my hands.
"I'm a courier! Emma hired me to deliver this to her. Instructions told me that I had to deliver this personally. I'm not here to cause any harm." The angry look Hartman had went away once he saw the signature on the folder, then he walked back to his desk and told me "Yeah, well hurry up and get out of here then."
The people around me put down their guns.The two girls in recon armor went into a room and closed the door. I breathed a sigh of relief and went into Emma's room to give her the folder which almost cost me my life.

Emma Hartman is a mystery to almost everyone in Salt Lake. Everyone knew John Hartman had a daughter, but nobody ever got to know her. Emma was occasionally seen walking through the city with enforcers trailing her, but she talked to nobody and was talked to by nobody. The only times I've thought about her were to think about how lonely the life of a crime boss's daughter must be. Emma was sitting down, looking over an odd piece of tech that was glowing blue. It didn't look like any weapon I had ever seen; just a metallic looking cube that had a small dome on top. Emma never even looked at me, just kept working on the cube in front of her and said

"You're Molly, right? I told Joey that your reputation for getting things delivered would ensure that I got my package. Well, just hand me the pictures that are in the folder."
I opened the folder and handed her the pictures. I took a glance at them and asked "Why are these pictures so important to you? It's just a picture of the Courier and some crudely drawn schematics for a grenade launcher."
"It's not just a grenade launcher. The scientific community got wind that Big Mountain and the Sierra Madre have working Hologram technology a few weeks ago. The unfortunate thing is that the Courier controls who does and doesn't get to buy it or even have it. He refuses to give holograms to anyone who would use them for anything not defensive, and outright has blacklisted anyone even remotely tied to crime from ever buying it. The Courier has also made it known that even if someone develops Holos themselves they cannot use them offensively without the Courier declaring war on them and obliterating them from the map. Do you know why?" [Science 60]
[Succeeded] "Because holograms are completely invulnerable to damage. Anyone who had one could set it loose and kill anything they wanted without losing a single unit. Why are you trying to develop holograms if you know all of this? Even the Prep's firepower and army couldn't hope to stand up to the Securitrons and Roboscorpions that the Courier uses as his army."
Emma looked at me for a while. I could almost see Emma asking herself whether or not she should trust me. She eventually nodded and told me " If I can develop this Hologram technology, I can make sure that this city has an emergency defense plan, and I might also find some way to defend against other people using them as weapons. These Holograms are worse than nukes, because right now nobody knows how to defend themselves against them. I'm not making this for the Preps. I hate everything my family has done to this city, and the only thing I want to do is to protect it from people like my Dad. "
Chapter 3:
The surprise on my face must have said how I felt more than anything I could say would have. Emma swallowed, apparently trying to get some courage back into herself after what she told me and said "I know it sounds cliche, but I don't like how this family works. I read a lot about Vault 51 and Salt Lake before the families took over this city. Salt Lake used to be one of the only cities where you could always feel safe."
What Emma told me wasn't something I hadn't heard before. The ghouls and old people who had lived in Salt Lake before the Preps and the other three families came all had the same opinion. "The citizens of Salt lake used to have a spine." they would say; "if we weren't so old and tired we would've just killed any petty thug that thought they could buy their way into our home."
What I heard was dangerous for me to know. Everyone knew that Harman had no mercy on anyone who tried to get in his way. There were few brave souls who still talked about what happened to Emma's mom when she tried to divorce Hartman. I'd had enough with this job. I had guns pointed at me by every up and coming criminal in the Preps, and now had information that would almost certainly get me killed if people found out I knew. Emma might be trying to do good, but I wasn't about to get hurt over an idealistic girl who thought she alone could save the city. Trying to keep the frustration out of my voice, I turned towards the door and told Emma "I need to go back home. There's people waiting for me and they might start to wonder where I am."
Emma nodded and pressed a button on the terminal sitting on the workbench in front of her. I could hear as much as see the turret guns powering on and locking onto me. I turned back around and tried to keep the nervousness out of my body. "Of course you know that you can't tell anyone what you heard here. If my dad finds out, he'll kill both of us. Me for turning against him, and you after I tell him it was your friends who made me turn." Emma looked just like I did. Scared and trying her best to hide it. Whatever it came over her that made her confide in me, it was gone now and she wanted to protect her own life.
"You didn't have to threaten me. I wouldn't have told anyone anything anyway. You think that I want Hartman's attention anywhere near me? If you're going to trust someone do it fully, because now whatever sympathy or solidarity I might have had for you is gone. I'm out of here, do what you want." This time I got a lot of looks as I made my way down the luxurious Prep mansion. It all felt so oppressive this time around. All of this wealth around and there was nobody laughing, nobody enjoying themselves. The prep mansion was all business, all the time. Was this how Emma felt walking through the Mansion? A little girl growing up surrounded by killers and crooks only looking to make their next score?
The doorman gave me a whisper of a farewell on my way out. Once I got out I quickened my pace and kept my head down. What I told Emma was starting to eat at me. I know how it feels to be alone, and I had just shut down what might have been the only cry for help that she had given anyone.While I was walking down the dingy alley that led to the underway I heard a scuff behind me, and I got pushed from behind as I mentally kicked myself for letting myself get to deep in my thoughts. "Hey girlie, gimmie all you got. Caps, weapons, clothes and all!"
The ragged voice that gave these commands followed it up with what I could only guess was a snigger. When I turned around and looked at the psycho addicted moron holding the chipped switchblade in front of me, it set me off. Why was it today that I had to deal with so much bullshit? My hands went up to my head as I got into my fighting stance. "If you want anything from me you'll have to take it." I followed that up by exaggerating a boxer's posture.
"I was planning on taking you all anyway" he said with a grin. The addict tried some flashy taunt with his blade as he moved closer to me. When he got close enough, I hopped forward and threw a slow left overhand that gave itself away quickly and let the addict have time to react. While he was busy looking at my left hand I quickly change my footwork and used my momentum to land a low kick to his knee. The addict tried to slash at me on his way down, but he had no balance and the blade might as well have been miles away from me. He landed on his leg with a yelp and used one arm to get himself up.A snap kick to the elbow put him back on the ground. The alley was full of trash the rich people who lived nearby threw away. I grabbed a handy 9 iron and swung for the fences. The crack I felt from the addict's neck confirmed that he would not be getting back up.
I don't like killing, but when it comes to psycho addicted rapists it's a chore like any other. Besides, he came from the underway. Its identity had to stay a secret. The dark and damp underway did nothing for the mood I was in. After passing underneath the brothel I realized I was too tired to even try and make a joke about Jones and Billy again. Assholes like the addict were a ten caps a dozen in Salt Lake, and I had dealt with enough of them to not feel too bad about having to put them down. Something else was wrong, but I couldn't tell what.
I decided that heading back to Joey's wasn't going to cheer me up. The mood at Joey's was great to relax if you wanted to drink, gamble, fight, or hook up with a leggy blonde, but sleep sounded much more appealing after the night I had. After I sent a message to Joey telling him that I would pick up my money tomorrow, I climbed up the wall to my right using cleverly disguised holes and headed home.
Halfway to my house I heard a disturbance outside. The tunnel I was in had a balcony that overlooked a street that a family called the Steses. The Steses were founded by officers of the Legion who followed power rather than Caesar. They convinced a fair number of recruits to join them, and their leader Brutus (self named of course) was able to get the White Legs who hadn't been killed in the war for Zion or war with the 80's tribe to go on their side. The Steses dealt in quality melee weapons, human trafficking, and combat sports tournaments. They controlled the older part of Salt Lake that was now inhabited by refugees and people too poor to live anywhere else.
A young kid was running as fast as he could away from three gang members chasing him. Whatever the problem these four had, the kid thought he could talk himself out of it. "I lost it" he would say when he had to catch his breath, and once when they got really close he yelled "I'll find it, I swear!" as he quickly turned and jumped a fence as he kept running. The older part of Salt Lake wasn't nearly as easy to get lost in, so I wished him luck and walked the last bit to my house.
The proximity of my pipboy unlocked my front door automatically, so I walked in and tossed whatever was in my pockets at my couch. The heavy bag hanging from my ceiling usually looked alluring at the end of the day, but I decided that sleep was more important than a few minutes of cardio tonight. After using the bathroom and drinking some water, I put my recharger pistol away and went to bed. As my mind drifted from the fight with the addict, Emma's confession, then to Hartman's reaction to seeing me, the last thought I had was why the Preps would be chasing one of their own through Stes's territory.
Chapter 4:
t was morning when I woke up after having another unrestful sleep. It's hard to sleep well when you're in the middle of a busy town, and you need to stay alert in case someone tries to break into your house. Crime used to be rare in Salt Lake, but the crime Families who picked this town apart changed that quickly. When they showed up chems became expensive, gambling became just as detrimental as it is in Vegas, and regular people carried guns for more than just going to the range. There was some pushback when they first started trying to claim territory, but it seemed like everyone took the lifestyle they had for granted. Chems and gambling were always harmless fun, so how could these crime families possibly use them for profit? Joey said that the unwillingness for Salt Lake to band together and force the Families out is what killed the good reputation the city once had. Instead of fighting, a few people with a lot of resources got generous offers for their land and their chem labs.
One week after those deals were made, my friends and I got mugged by the Steses. The Steses saw a scrawny blonde guy who was arguing (and losing) with a tall redhead and a petite brunette, so they figured that we would be easy targets. Joey taught me how to spot dangerous people in the city years before, and we were in an area notorious for having Stesses hanging around causing trouble. Because we were too busy having an argument for whether or not the Great Khans making an empire in Wyoming was a good thing, nobody noticed that Oliva led us down an alley she used to always use to get us to Joey's bar. The alley used to be lined with trash, but apparently the Steses made the locals aware that this area was meant to be cleaned up after. That was the first thing that told me we were heading for trouble.
The Steses were well known for forcing the locals to keep any and all areas they might use free of any trash that might get in their way. I guess one of the few things they kept from their legion beginnings was a strict set of laws everyone followed. As soon as I saw movement from the group in front of us I stopped talking and grabbed the brass knuckles from my back pocket. Olivia palmed a switchblade while pretending to light a cigarette. Aaron was seemingly none the wiser about the danger in front of us. I started to worry for him, this was the first time he was going to be in any physical danger outside of the few defense lessons I had given him in the past.Olivia of course continued to argue with Aaron, either because she thought Aaron was up to something or because she cared enough about the Khans to keep arguing in the face of danger. As the Steses got closer to us, Aaron stepped in front of us, turned around, pointed at Olivia, and shouted "The Khans don't deserve a second chance! They are made up of murdering bastards, even if they think they can forget the past and work on some "better future" with the Followers!" I was about to shove Aaron out of the way, when he reached inside his lab coat and pulled out a microfusion grenade. Since these goons were originally in an army that didn't even work with guns, the group in front of us laughed when Aaron pretended to slip and accidentally drop the microfusion cell at their feet. The three of us backed away as quickly as we could when it hit the floor.
The goons were right on top of the grenade when it went off. The light almost blinded me, even with my eyes closed. When I opened my eyes the Stes gangsters were nothing but plasma starting to run down the gutters. As I started to relax, I heard Aaron yell behind me "There's four more headed our way! That was all I had!" Olivia and I ran ahead of Aaron while he went to grab one of the blades the now-liquid Steses were using. Two of the gangsters that were further down the alley closed in on Olivia and I, while another two were running up from behind us with sledgehammers in their hands. I chanced a look back at Aaron. I knew that there was no way a beanpole of a technician like him could stand a chance at holding off two gangsters with heavy weapons and the training to use them. Aaron had an old legion machete in his hands, looking aware of the poor odds in front of him. Luckily for him, one of the Stes gangsters must have been a tribal before joining. Aaron spotted a couple of tomahawks and reached for them. I was still worried for him, so I had to hurry up and deal with the guys in front of me before Aaron got hurt making sure the two Steses in the back couldn't slam those hammers into our backs. I rushed forward recklessly at the Stes in front of me, barely aware of the cattle prod in his hand. The Stes tried to taze me as soon as I got near him, but I evaded the stab at my chest and kicked out at his elbow. The kick connected but missed the elbow, causing the Stes to rock from the blow but not drop the prod in his hands. Using the momentary loss of balance I threw a right hook to his temple as hard as I could, getting a soft crunching sound as a reward. The Stes fell down dead or unconscious, right before I got hit in the back with the cattle prod the other Stes had in his hand. I fell down, my body spasming painfully.
My thoughts blurred for a few seconds, and I even caught myself thinking that the Khans might actually do some good in the world now that they had their own land to call their own. Behind me I heard a body hit the cold ground beneath me, the light tapping of liquid telling me that whoever fell had their throat slit before hitting the dirt. I heard a hollow thud behind me signalling that something had just been hit with one of the sledgehammers. The sound boomed in my ears despite how quiet it would seem to others. It was all I needed to get up and grab a throwing knife the dead Stes had been carrying on him. I cried out in pain and readied the knife, turning around quickly enough that I almost succumbed to the weakness in my legs and fell down. Aaron and Olivia were walking towards me, surprisingly alive for what I thought they had just gone through. "What happened? I thought I heard Aaron get hit with a hammer." I finally let the fatigue I felt hit me and I sat down on the earth, just far enough away that the dead Stes's blood wouldn't get on me. "That legion prick almost took my hand off with that big hammer of his. I got the brilliant idea to try and block his hammer with the machete in my hand. Luckily I'm ambidextrous, and the other guy was slowed down by the tomahawk in his calf." Olivia pushed the hair out of my face and looked at me closely. "Are you good? You were on the ground for a good bit.
I was worried I would have to lug your ass to Joey's." A small giggle escaped my lips. "That is the least you could have done for me. I've had to fireman's carry you out of Joey's all the home more times than I could count. If I had any confidence in Aaron coming out of that fight with anything less than the broken wrist he has I would be playing possum just waiting on you to transport me like the precious cargo I am." Aaron tried to object to what I said, but Olivia overrode him and said " We're all lucky we got out with nothing but a few nicks. We're lucky Ron found out how to make those cells go boom." After Olivia said that I came to a realization. "We can't let this happen again guys. Joey tried to warn people what was going to happen months ago when the Preps started to buy out all of the Chem dispensaries in the City. We need to visit Joey's friend Rick. He manages to get his hands on stuff from the Crimson Caravan all the time. We should all buy something from him to keep us all safe.
The Preps are already gaining control of old town, and it looks like the Steses are moving into the Ghetto." Aaron and Olivia both nodded, so we walked out of the alley and headed to a gun dealer who owed Joey a favor."
Chapter 5:
I had just finished taking a bath when I heard someone knock on my door. There was a big horner soup almost finished on the stove, so I was hoping that I would at least have some leftovers when this person left. I stopped by the security system next to the front door. The screen in the middle of the wall showed Aaron on my porch anxiously tapping his foot waiting for the door to open. A few seconds passed by while I considered the options available to me to mess with him, but I was too hungry to care about fun. When I opened the door Aaron looked relieved to see me. Whatever it was that had him so worked up I could only guess. Looking behind me while walking to the kitchen, I told Aaron "I'm making a soup. Grab yourself a bowl and tell me why you look so wound up." To almost everyone who has seen him, Aaron looks just like another scientist. At first glance he doesn't seem like much. He doesn't show any signs of muscle mass under the lab coat he always wears, and his alert gaze is hard to spot if you don't know what to look for. Aaron has always enjoyed his unassuming appearance. When we were still in our teens, Olivia got Aaron to learn how to use anything he could to his advantage. After we got jumped by the Steses Aaron got more dedicated to learning self defense in his own way. Olivia and I trained him a little on hand to hand, but Aaron always preferred sneaking explosives or feigning ignorance until he could safely and quickly dispense people with his laser pistol.
Aaron runs a small shop in an older part of town. He mostly works on fixing and selling tech for customers, but he devotes all his free time to finding new ways to make things explode or trying to build something that the Think Tank already made. Aaron's shop almost went under multiple times because he kept giving away free tech or fixed things without charging anyone. Olivia ended up buying half of the shop and stopped allowing anyone to get free stuff from the store. She also runs the counter, which gave Aaron much more time to focus on his explosives and inventions. The recipe for the soup I made was taken during one of my first jobs as a courier for Joey. The job was delivering a small case containing liquid Deathclaw eggs and Cazador venom extract. The restaurant I was delivering the case to had a special customer who had some sort of radio show in Vegas. He was small time, but the fact that he had any following at all gave the eccentric cook all the reason he needed to make a brand new dish that he concocted himself. On the way to the chef I just so happened across a recipe for bighorner soup that was known for being expensive. It tastes good, but I was pretty annoyed when I found out that the soup was being sold for twenty three times what it cost to make it. The management was so happy with how quickly I delivered the case that they tipped me a hefty 10% of what I usually expect from a tip. That job is one of the reasons I never feel too bad about taking something from people who have too much wealth and refuse to at least give some of it back.
Aaron walked in with his usual alert gaze looking over every corner of my house. Aaron has been over to my house over a hundred times, but nothing ever stops him from looking over the place like he had completely expected me to redecorate everything in his absence. Instead of grabbing a container to enjoy the fantastic soup I had just finished, Aaron sat down at the table and took out his toolbox. Earlier in the morning Aaron asked me to disassemble my recharger pistol so he could look at it, so the table I was eating at was cluttered. I wasn't too surprised at his enthusiasm over tinkering with technology instead of eating, but I felt like I had to address it anyway. "You do know that my pistol isn't going anywhere? You can eat the delicious soup your friend made first before getting your hands dirty. Hell, that gun is prewar. It's older than either of us and probably still has dirt from whatever military base it was stolen from before I got it."
Refusing to look up from his work, Aaron responded with "If you listened to me and kept your guns clean, the only thing making my hands dirty would be the oil for the insides of this pistol. My laser pistol is also prewar, but I take care of it so well it looks like the Gun Runners made it today. Besides as much as I would love to eat right now, I got my hands on a laser RCW recycler. I messed with it a little, and once I install it to this pistol it will be better than any other energy pistol in the market. Finish your soup and help me clean your gun. I'm not going to upgrade something that is going to break in a week."
Aaron has always been really intelligent. He tinkers with anything he can get his hands on, and he's actually made some really amazing inventions. After getting jumped by the Steses, Aaron found out how to use bulk microfusion cells to make microfusion grenades. Two weeks after that he showed Olivia and I his brand new Energy Cell grenades. He also found out a way to overcharge the microfusion breeder cells I used for my pistol, along with creating a communications system and network for anyone who has a pipboy. If he wasn't so idealistic, he could be filthy rich making weapons for any of the families.
I left my now empty bowl of soup into my sink, and set two others on the table. The soup I made was going to get cold soon, so I poured my soup into an insulated container for later. Cleaning my recharger pistol was going to take a while (it really had been a long time since it was carefully taken care of,) so I turned on my radio with my pipboy. It took ten minutes before Aaron was ok with installing my upgrade. When he started assembling my gun, I heard a familiar knock on my door. My security system confirmed it was Olivia, so I opened my front door with a smile "Hey Olivia, you're lucky is too working on my gun. Otherwise I would have inhaled the soup I made today."
Olivia is the daughter of two merchants who made money selling to the Preps and other well off families around the city. Despite the fact that she was given almost everything she could need, Olivia has sticky fingers. She started stealing when a few customers would get too comfortable in her parents' store. She mostly took things from the gang members who would come in and try to shake down Olivia's parents for protection money. When that wasn't enough Olivia got into going through gang territory and pickpocketing any gangster she came across. For a while Aaron and I would be worried about her getting caught, but we learned quickly that Olivia is so good at stealing that nobody knows she's taken anything until she already sold it.
I filled up a bowl of soup for Olivia, sat on the table, and went back to cleaning my pistol. Olivia started eating immediately. We sat in blissful silence for a couple of minutes while Olivia devoured the food in front of her. Aaron brought up his pipboy inventory and grabbed the recycler he must have been working on, along with another glowing tube. With a big smile on his face, Aaron said "With both of these installed, your recharger pistol will be the most efficient one around. These two mods change the workings of the gun. After this you pistol will have a lower the spread of your laser while converting the projectile into something closer to the AER14 that the think tank made. The Recycler also does its regular job of giving you extra shots before you need to wait for your gun to recharge." "How did you learn how the AER14 works? Those rifles are some of the most expensive around." Olivia looked pretty angry at not knowing where Aaron could have possibly gotten his research weapon.
As Aaron was finishing up reassembling the pistol, he said "I got a loaner from one of our customers. Don't get angry, you know I wouldn't spend our money on research without asking. Here Molly, test this out and tell me if you like your new gun." That was when all three of our pipboys gave us a notification. We all had the same message from a mutual acquaintance of Joey's. "THE PREPS ARE AT JOEY'S! COME QUICK!"
Chapter 6:
There was a few seconds of stunned silence after we all read the message. Joey doesn't allow gangsters into his bar. It's been a standing rule that the bar is neutral ground for years. I grabbed my recharger pistol from the table and said "We have to hurry. We might already be too late." We left my house and went towards the Underway as quickly as we could. Aaron checked his laser pistol's resources while Olivia made sure her silenced 22 had ammo in it. Usually you would see a person or two when you use the Underway (All of the ghouls still alive who helped built the city use the underway), but on the way to Joey's I noticed that nobody else was around. I looked past every tunnel we ran past. All I could hear was the sound of our footsteps.
The empty tunnels started to make Aaron feel paranoid "It's empty in here. You think that the guys who know about this place are already at Joeys?"
Olivia didn't sound too disturbed "Probably. The old gits who made this place know it better than we ever will. Comes with experience, I guess." Olivia's hearing is some of the best I've ever run across (Perception 8.) If she couldn't hear anyone else, we were definitely alone.
It took us another minute to get out of the Underway and into the block that had Joey's bar in it. The first thing I noticed on the run towards the bar was that everyone was heading in the opposite direction. Word must have gotten out at that point, and nobody wanted to be anywhere near Joey's when it got ugly. Whenever we ran passed a business, it was either closed for the day or barricaded with armed guys looking out of the windows. The only place still teeming with activity was a local hospital. The nurses were quickly milling about inside, obviously getting ready for a busy night. We stopped running when we got to Joey's front doors. The usually busy street was barren. A thought that the worst might have already happened passed by me. I let that thought die, there was no way Joey would go this quickly or quietly. Once we all had our breath we opened the doors and went inside.
It took a second to process everything I saw on my way to the main room. The seats next to the door were empty, there were a few broken bottles on the floor. In the hallway was a middle aged guy who had died from a shot to the chest slumped on the wall. A sawed off shotgun hung limply from its owner's hand. Olivia grabbed the gun and checked it for shells. More beer bottles littered the end of the hallway. The only thing I could think was how angry Joey was going to be when he saw all the spilled booze on his floor.
The three of us got to the main room and were relieved to see Joey still alive. He was talking to a group of Preps while holding a Tommy Gun. In the corners of the bar I saw a few of Joey's friends, all holding rifles pointing in the direction of the Preps. Everyone noticed our entrance at the same time, and the first person to say anything was the guy at the head of the Prep's squad. "Hey, your delivery girl is here! I can see that you all have those guns pointed at us, but all we came here for is some information. We mean everyone in this room no harm."
I stared at the man in front of me. He was pretty tall, wearing a set of salvaged power armor and a Mk 2 combat helmet. He also had a Marksman Carbine on his back, unlike his friends who all had them drawn. "That guy in the hallway would like to call you on your bullshit."
The leader laughed a little before saying "He shot at me. Luckily none of the pellets penetrated my armor. If it had we might have had to start shooting everyone. I just came here because the Preps want any information on a holodisk that was stolen from one of us yesterday. It had information Mr. Hartman wants and he will pay anyone who can return it a lot of caps, no questions asked. We came here because we figured that if anyone would know about the stolen holodisk, Joey would. Or he could at the very least pull some strings to get it back for us."
Joey stepped forward, a smirk on his face "Pulling strings can be expensive for a guy like me. Almost everyone in town owes me some kind of favor. Hartman better have the cash to pay me, though."
The leader lifted his Pipboy, and played a holotape loud enough for everyone to hear. It was a recording from Hartman "Hello, Joey. I hope that the squad I sent to your bar hasn't created too much trouble for you or your patrons. As an apology, Jerry here is going to give you 3,000 caps to pay back for any profit you may have lost for the day. Jerry also has been given permission to do anything he thinks is reasonable as payment for your help." After the tape was finished Jerry pulled out a sack of caps and passed it to Joey. "What is your price?" he asked
"Time to die, you Preppy bastards!" Two guys in power armor stepped onto the stage. They were using T-45d armor, and had Gun Runners assault carbines trained on the Preps. Every Prep quickly started to turn their guns on the much more threatening guys on stage, Jerry was the first to point his rifle in their direction.
Before anyone could start shooting, Joey turned the stage lights on full blast and blinded the two armored guys on stage, then he stepped in front of the Preps and gestured at them to lower their guns. "What the fuck are you two doing!? We aren't in danger, we're doing business right now. Get the fuck out before someone gets hurt!" The guys in power armor staggered off the stage, their meek cries of "Sorry Joey" barely heard over the clang of their power armored boots. Jerry looked angrily at Joey and told him "Give me one good reason why I shouldn't fucking kill those two!"
"Because if you did I would find that holotape and spread it around as much as possible. So as the beginning of the payment for my help, you're going to forget what just happened. Now, if you really want my help, I want you to take a few of your heavily armed squads of guys into the mountains to look for someone." At this point Joey was sitting in front of his bar stool with a smirk on his mouth.
"How many squads, and who are we looking for?" Jerry spit on the ground, annoyed at not being able to get back at the guys in armor, and the mission Joey was giving him only made his mood go from bad to worse. "My friend's wife got lost in the mountains doing research on some weird animals that people saw. It's only been a day, but Alexander is worried that something happened to her. He got the money for a few squads of Draggers to form a search party, but they'll all need more muscle if they're going to have better luck at finding her. Join them for the night and we have a deal"
The Draggers are a group of Ghouls and Mutants who have lived in Salt Lake since its new-founding. They all live in a city that was built over a copper mine from the old war. The founders named it Hel, after the "underworld" from some old story they liked from before the war. A lot of the residents have been around since before the bombs. I've been there a couple of times to buy some of the weapons the smiths make with the metal they have in stock. It's a great place to go visit if you aren't stupid enough to insult the people who live there.
Jerry was back to shouting "Why the fuck would I work for those freaks? They'll probably eat my men while we're alone in the mountains! I'd rather take the three squads under my command and look for them separately." "You're going to split up your three squads evenly with the Draggers, you're going to bring your expensive equipment, and you're not going to insult the security company for Hel again if you want any help. The search party leaves in four hours, so hurry the fuck up and join them. That's my offer, take it or get out of my bar. Also, since you're looking for a single holodisk, don't expect that this is a guarantee that I find it. " Joey turned his back on the Preps and started to clean his bar, I went over and helped him.
"This better be fucking worth it." Jerry stalked out of the bar, all of the Preps clearly angry at having to work with the Draggers for a whole night. Right before they got out of earshot, Joey called out to the squad, smiling ear to ear. "Clean up your spit and the fucking mess you made in my hallway before you leave! Don't come back here! Molly will talk to you if I find anything!"
Chapter 7:
By the time Jerry's squad had cleaned up their mess, Joey's bar was looking a lot closer to normal. Joey was sitting behind the Bar smoking jet looking like he wasn't fazed by what just happened. Aaron, Olivia, and I were in front of the bar drinking Rum and Nuka. We all needed the drink. Even coming in late being in a situation where things could turn violent at any moment stressed us all out. I finished up the glass in front of me and said "This is the second day in a row where I was one misunderstanding away from getting shot. I appreciate the Nuka, but I want my money Joey."
Joey started to giggle and tossed a sack of caps at me. Joey tossed the jet he was using in the trash and called out to the stag "The kids are gone! Come back here and sit down!" The two guys in power armor came out from behind the stage and sat down at the tables next to the other guys who were defending Joey. "How did you know we stuck around?" asked one of the guys.
"Because I know you idiots wouldn't be safe and go home. I appreciate you trying to protect me, but the other guys here are just as experienced as you are. Those kids were dead the second they tried anything." Joey didn't look angry, but then again he never does.
Both of the guys in power armor took off their helmets. They were ghouls just like the other guys defending Joey. A lot of Joey's friends are ghouls who are either prewar or were ghoulified around the time the Enclave were destroyed in California. Most of them were cofounders of Hel, and lived in the upper class areas of the city. They all had a lot of combat training and combat equipment. There has been a lot of debate between the patrons of Joey's as to whether or not the Draggers are considered a gang. Honestly, I think that the only people who think that the Draggers are a gang rather than an army protecting its citystate are just bigots. It's always an asshole who calls the Draggers "Muties and Shufflers" that calls them a gang and openly says they hope the Steses or Preps wipe them out.
Never mind the fact that the Draggers all have helped Salt Lake city not be overrun with monsters. The hunters coming out of Hel like to focus on the Yao Guai who live in the forests, the Wannamingoes in the caves, or the lakelurks that litter the once-great Salt Lake. Hel is a major hub of creation for the world, and so many like to forget it. The Super Mutant miners extract and refine massive amounts of ore from the mines with the help of the protectrons. The Ghouls use the metal to make bronze weapons, armor, and tools. The Nightkin hunters bring in clothes, food, oils, and leather with each creature they kill. And all of the Draggers work together to secure Hel, Salt Lake city, and the surrounding area around us. We would've combined into a massive citystate if there wasn't so much opposition to it from the assholes living here.
One of the ghouls who had been in the back when we got in had the remnants of a US army tattoo on his neck. He was still angry about not being allowed to mow down the Prep squad in the bar. "Joey, why the fuck couldn't you just let us waste them? They came in here knowing you don't allow gangs to step foot here. They didn't even asked, just walked in like they owned the place. Then they have the fucking audacity to demand help. They showed you zero respect, and you let them walk all over you!"
For the first time since I had known him, Joey wavered before he answered "Look David, we've been friends since before the world blew itself up. We've been through a lot of shit together, but if you decide to fight a war against the Preps, then you guys can't be allowed here anymore. I don't vote, I don't pick sides, I don't wanna know nothin. And you should know that there's no way I'm going to let Hartman think he can order some kids into my bar and disrupt my business. My patrons are like family, and one of them got killed defending me. I'll find my own way to get back at Hartman, but I refuse to get my friends to put their lives on the line for my sake. Now all of you, get out of here. I'm closing early and going home."
Everyone left the bar while Joey told the mister handys in the bar to do a full cleanup. I was too angry to just leave and pretend like none of this happened. I walked up to Joey and asked "Could you contact your buddy Jack? I want a few stealthboys. I also want to buy a couple of bottles of moonshine.That asshole Jerry said that he was using all of the people under his command to help your friend. "
Joey leaned over the bar for a few seconds, thinking. I hadn't ever seen Joey need to think anything over. He always knew right away whether or not he was going to do something."Molly, I understand that you want revenge. I heard about Hartman almost killing you yesterday, and today probably only made you angrier. But if the Preps find out that you fucked with them, they'll never stop coming after you or your friends. Are you really okay with putting yourself and your friends at risk for a little revenge? Whatever you have planned, they can bounce back from it in a week." For once it was me who didn't need to think before talking. "I'm done letting these assholes think they can terrorize everyone. They've been slowly been pushing the boundaries ever since they bought out the casinos and drug dispensaries. I wish I could've helped you convince people to force out the Steses and the Preps before they became a problem. But if I don't start now, then they'll only get harder to get rid of. And right now I have a plan. I know that all of the Preps who have Jerry's rank have their own barracks to themselves. If all of Jerry's guys are out, then that means I can go in, take anything not nailed down, then set the whole fucking building on fire. With your help we can fence everything we take to Happy Trails. If we're careful enough and use stealthboys, there's no way we'll get caught. I need to do this, Joey."
Joey sat down on a barstool, and I could see how aged Joey looked, even for a ghoul. Joey sent a few messages to Jack, a tech dealer downtown, and Murky, a fence who has a direct connection to the Happy Trails Caravan. After sending the messages, he started to leave. "Jack's got what you need, on the house. Murky's setting up a couple of eyebots to go through the Underway tunnels that lead to Hel. Give them what you have and the eyebots will pay you. Don't fuck this up, Molly. You aren't the first person to try to rob Prep barracks."
Chapter 8:
When Joey was outside locking up the bar (his lock is simple, but the hidden robots guarding the place are not,) Olivia went up to us.
Olivia tried her best innocent smile and asked "Hey Joey, do you know where the Preps keep all their caps? They have to have a big amount stashed somewhere, right?"
Joey cocked an eyebrow at the question, and for a split second I thought I saw him get even more tired "I know I used to be a thief, but why are you asking me? I'm a businessman now."
"Cause you hear everything that people say. If anyone other than Hartman or his circle know about where they keep their stash, you would have found out by now." Olivia said
Joey tried his best to look annoyed at Olivia "And why do you want to know? You planning on getting shot by the Preps?" Joey and Olivia had an awkward relationship when they first met. I introduced them a little after Joey started to teach me about Salt Lake when my parents passed, and Joey hated Olivia. Olivia's parents run a small tech store close to the middle of town. Her dad bought a building so he could sell some of the items his wife made from the copper and bronze they bought from the mines. Olivia's mom preferred to make things like spoons and shovels instead of making swords and armor, much to Olivia's frustration. Her parent's store got popular when it got around that Olivia's' mom also would make bikes and house decorations. Since they took a lot of time, only the rich people in town could afford that sort of stuff. It was around that time that Olivia got sticky fingers.
"A girl likes to know about her options. Besides, Hartman probably won't notice a few thousand caps off the top." Olivia said as innocently as she could.
"Even if I did know, I wouldn't tell you. You'd just get killed and then Hartman would start looking for who leaked about his caps. Hell, what you're going to do right now might have Preps going up and down Salt Lake doing even more damage than today. The only people who know where he stashes his caps are so comfortable and well protected that you're more likely to find out by asking Hartman himself.Now hurry up, and get out of here. I told Jack you were on your way. "
Without another word all three of us left and headed to the Underway at the end of the block. This part of the Underway would lead us to Jack, a weapons and armor dealer. Jack used to be the Armorer for a group of Vigilantes who hunted down bad guys. The group he was with was known for brutality and efficiency, keeping the peace and scaring anyone who was even thinking of doing something they considered wrong. Unfortunately the group kept getting more and more radical which each new leader, but luckily for Jack he left right before they invaded the wrong enemy territory. The two groups ended up wiping each other out in one long, drawn out night. Jack knew where a lot of the spare equipment was, so he got to most of it before anyone else and set up shop near the Stes-controlled ghetto.
Olivia, Aaron, and I were quiet for most of the walk toward Jack's Armory. It wasn't until we reached a fork in the the tunnels that Olivia decided to walk ahead of us and told us to follow her. Olivia went through the tunnel that didn't go anywhere close to Jack and led us through a route I hadn't needed to take before. This situation was making me really nervous. Olivia never took the lead of anything that she wasn't alone in. If you give her someone else to look after she turns into a stressed out mess, but alone Olivia can get almost anything done. Aaron had also picked up on the tension. His breathing was audibly showing signs of discomfort, and he was very loudly holding back a question.
Normally the Underway made me feel comfortable. When my parents passed I didn't feel safe anywhere in Salt Lake. The gangs were a few years from taking control of the city, but along with the tension that the obliteration of New Canaan brought to the city came a massive amount of danger from the tribes that used to leave us alone. When Joey taught me about the Underway and how to use it, I felt safe for the first time in what felt like forever. The only people who used the Underway then were good friends of Joey. And "Any friend of Joey's is a friend of mine!" became something I got used to hearing. Now walking in the tunnel, I noticed how dark and dank it was. Almost as if I was seeing it for the first time. I wanted to peak past corners to make sure we weren't being followed, but that would only have made things feel worse.
The tunnel ended in a blank wall, which isn't unusual for the Underway. For anyone who doesn't know the paths of the Underway there will be a massive amount of dead ends. A lot of them just look like dead ends, and actually have a way to keep going if you knew how the Underway works. This wall was a fake, and had a hidden handle that Olivia used to show us the Panic Room. The Panic Rooms in the Underway are all the same. They have one way in with doors to lock yourself in, an exit only door somewhere in the room which can be sealed from the other side, a few heavy guns should you need it, and a small supply of rations.
When Olivia sealed the doors behind us, she took a deep breath and looked at us with regret in her eyes. Olivia had been a successful thief for years at this point, and there was not a single item that she regretted liberating from some rich asshole. Seconds passed by awkwardly as we all stood there, waiting to learn why Olivia wanted us here. "Um, I took something wrong. I mean, um… Shit. Look, yesterday I was walking down the rich tits street on a favor. I got a note, a buttsniffer preppie who loved to show the big people how good of a soldier he is. I heard things about him from some of the runners I sell things to. He likes to visit certain cathouses and hurt the girls. So one night he gets cunted and tells a girl about an important mission he's going to do. I found him, and pickpocket him after he left the big Prep house. Next thing I know, I hear about him running for his life through Stes territory and the Preppies are going batshit looking for something." Olivia stops talking, fear showing in her eyes. What she did would mark her for life if it ever came out. The Preps needed this holodisk, and were doing everything they could to stop it from being found out.
I went up to Olivia and squeezed her hand as she looked at the ground. Aaron coughed lightly and spoke up. "I'm sorry Olivia, but do you know what was on that holodisk?" I think we both knew what was coming, but just like Aaron I wanted to know just how deep of a hole we were in.
"It's blueprints. The blueprints to the Vault the Preppies keep all their caps in."
Here is a playlist of videos that I made for reasons more than just "I want to look at this later." It has no consistent updates or consistent theme. Don't expect too much from my Youtube channel.
Credit Prizes:

---

+100 Credits

Received upon commenting on each Chapter of the story. Please separate your comments in-order to earn maximum Credits.

Game Token Prizes:

---

N/A
Portfolio:
Introduction:

I am the resident wolf of discussions and I've been around the community polls for ages. Though it took longer than it should have for me to venture out of the forgotten and abandoned forums and blogs, I eventually discovered all the lively debates and commenting were not gone, rather they had taken up roots in /d. And it is there that I am most active, with the regular post on polls when available or the occasional appearance on the various discord servers favorited by the community.

---
Community Features:
For those of you unfamiliar with it, Trending Today is a show which has long been in the heart of discussions back in the so called "golden age," an era before I entered the foray. Highlighting the topics which saw the greatest traffic of the day or an interesting quote from one of the posters. After going on hiatus, the show was recently revived and changed hands several times between the veterans of /d. Eventually, the show fell to me, and I've been running it since. It's now a (semi)regular show released in the a.m. hours. You can visit the above link to see the newest releases and a collection of past episodes.
Throwing my hat in the ring of game reviews since I mentioned it last week, here's my take on Apex. Thanks to Leon for both the patron card template and game review style which I'll try to adhere to.
---
Apex Legends is a hero shooter and battle royale (BR) game set in the Titanfall universe. Though it is very specifically not a Titanfall game; there's neither Titans nor the series' familiar wall running n' double jumping mobility. 20 teams of 3 begin the game, jump off ship to hit their favorite loot locations, and slaughter everyone else they meet along the way. And I'll be honest upfront, I wanted to hate this game. As a fan of both Titan 1 and Titan 2, to hear the there would be no third installment because yet another series turned ride the juggernaut of battle royale was nothing short of infuriating.
But the thing of it is, Apex is good. Really good.
Apex exceed my expectations and is a great example of a studio learning all the right lessons and improving a genre. Unlike CoD's Blackout mode, it manages to look fantastic *and* run smoothly. All the more impressive considering Apex is free, compared to CoD's regular entry price tag, and it's not just appearances Apex delivers on. The hero shooter elements, which sometime feel like they have done more than just borrow from Overwatch, actually add a great deal of dynamic play to any engagement because any given team can only have 3 of the 8 hero powersets. It's not just a matter of hoping to find your favorite gear because your choices and your team's choices before the round ever even starts can impact whether you have what it takes to make it or not.
As for the decreased mobility? It's not as noticeable as you might think, at least not coming from its peers among contemporary shooters and especially not when compared to the noticeably slower games in the BR genre. Pacing is infinitely faster than Pubg, and still felt noticeably faster than Blackout. Movement felt tight and responsive, never slow or sluggish. Weapons handled enjoyably and were stable enough while moving that the ol' Halo Battle Rifle Shuffle is a powerful tool to have in your skill set. It lacks some of the at a great distance gun fights of Pubg due to speed of play, but it makes up for it with far more visceral CQB.
---
Major Additions to the Genre
1) Hero mechanics, including both passive buffs and skills on cooldown. For a game that launched pretty stealthily, there was some serious effort put into balancing the classes. Though there's some obvious crowd favorites, no one feels overpowered or completely useless.
2) Resurrect dead squad mates, dead allies have an item drop on death which can be grabbed by surviving team members. Though you respawn bare bones, it keeps whole parties on the board for longer.
3) "Jumpmasters," one party member can control the entire team's drop. Though you can opt out if you do not trust a random or want break away upon approach to cover more ground, when playing with a trusted party it is extremely handy to have a single skilled pilot if you find your own skill lacking.
4) Mixed loot areas. Not only are there locations with guaranteed tiered loot areas (low/mid/high quality) as are common in BR, but there's also a two random loot locations. There's a randomly assigned high loot area which could occur in any area, regardless of its regular loot quality. And, more interestingly, there's a loot dropship which flies across the map. Though the ship does have a destination, it's in the interest of players to land on it during the initial flight/jump.
---
Pros and Cons
1) Smooth gameplay with solid server performance and few bugs.
2) Weapons handle satisfyingly.
3) Match times are much shorter than Pubg.
4) Easy to earn, user friendly inventory management.
5) FREE.
1) Makes use of lootboxes (though they can be earned) and the exchange rate from real world currency to Apex Bucks is a little steep. Still, on par with its peers.
2) Currently has a single map with varying theme regions, rather than multiple maps. Not uncommon to see limited map selection in BR games.
3) Rather than vehicles with random spawns, there are set jump points across the map which allow for a brief relocation via jetpack.

1) No friends? Hope you enjoy randoms. Likely due to the hero shooter mechanics, there's no solo or duo modes available. There are only 3 man squads.
2) Stealth gameplay and long range engagements are few and far between. Though you can certainly ambush a team with great success, most encounters are going to result in a gun fight, however brief. And the enhanced mobility makes long range encounters far less regular due to the unpredictable nature of character movement.
3) Does not begin with 100 Titans falling from orbit to fight for supremacy
---
If you are a fan of battle royale games, this might be the best I've played. And even if you've been dodging the genre thus far, this feels like one of the most welcoming. Plus, it's free.
Who knows what else may come to my patron card?
Credit Prizes:

---

+100 Credits

Received upon commenting on each mod review. Please separate your comments in-order to earn maximum Credits.

Game Token Prizes:

---
Portfolio: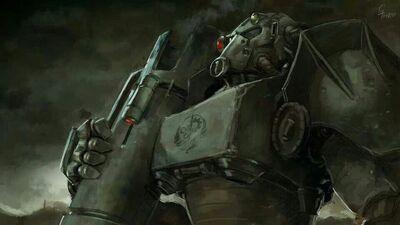 ---
MISSION BRIEF




At ease, soldier. My name is Head Elder Garoux. I will be giving you your orders before every mission; but, before that, I'd like to personally welcome you aboard. Considering that the Brotherhood basic training attrition rate is eighty-five percent, you should be very proud of yourself. Now, on to business:

It is time that the inhabitants of the wasteland learn that there is only one power in this region. The taking of prisoners is not authorized. Do you understand, soldier? I want the bones of our enemies bleaching in the wasteland sun, for all who would even think to oppose us to see.

Until your next assigned mission, stay vigilant, and keep true to your fellow brothers and sisters of steel.

Dismissed.
Missions:
Welcome to the Brotherhood of Steel, recruit. That you've made it to our bunker relatively unharmed is commendable in and of itself, yet know that we expect only the best of the best, and you will be pushed to your limits, as we have no use for weakness within our ranks.
Before you are officially inducted into the Brotherhood of Steel as a fresh-shaven Initiate, you must first prove yourself, by recovering a still functioning suit of power armour from one of our fallen brethren, and return it to this bunker along with 5 holo-tags.
What's that? You need direction? You're on your own, maggot, so don't expect my to hold your hand at any point in your training. Fail this Mission, and don't bother coming back or you will be shot on sight.
Dismissed, recruit.
Unlocked after Mission 1 has been completed for the first time
Initiate: You have unlocked the rank of Initiate in the Brotherhood of Steel by completing Mission 1
Rewards: BoS profile card
Initiate banner
Knight: You have unlocked the rank of Knight in the Brotherhood of Steel by completing Missions 2-3
Rewards: Revealed after first unlock
Knight Sergeant: You have unlocked the rank of Knight Sergeant in the Brotherhood of Steel by completing Missions 4-5
Rewards: Revealed after first unlock
Knight Captain: You have unlocked the rank of Knight Captain in the Brotherhood of Steel by completing Missions 6-10
Rewards: Revealed after first unlock
Paladin: You have unlocked the rank of Paladin in the Brotherhood of Steel by completing Mission 11
Rewards: Revealed after first unlock
Sentinel: You have unlocked the rank of Sentinel in the Brotherhood of Steel by completing Missions 12-18
Rewards: Revealed after first unlock
General: You have unlocked the rank of General in the Brotherhood of Steel by completing Missions 19-30
Rewards: Revealed after first unlock
Elder: You have unlocked the rank of Elder in the Brotherhood of Steel by completing Missions 31-32
Rewards: Revealed after first unlock
Community content is available under
CC-BY-SA
unless otherwise noted.