It's less than a week until the Bethesda E3 Showcase. This will be Bethesda's third ever E3 briefing. So what can we expect? What do we know? And why do we care?
Bethesda has always loved dropping major hints on us fans regarding their future game announcements. And of course they had to keep the tradition going this year too! This year the press invitation featured a cartoon image of a theme park titled "Bethesdaland." The theme park feautures many different zones based on various Bethesda games like Fallout, Doom, Prey, etc. Two areas however are listed as "coming soon" and "under construction."
---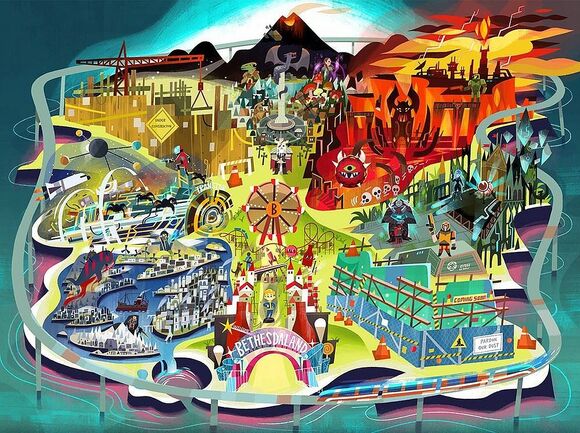 ---
"Three Major Projects"
Earlier this year Todd Howard hinted that they have 3 major projects on their agenda. The cartoon image suggests that 2 of these major projects will be announced at the event. But most people are interested in what the third project may be. If we are to use the cartoon image as a reference, then that means that the third project won't be announced this year. So what is the third major project?
Some suggest that the third project is the Elder Scrolls VI. Which seems to be the most common answer to this question. Though we simply don't know. But how about the other two projects? Many have speculated about Bethesda's secretive project called "Starfield" which has already been leaked multiple times in the past. I'm interested to hear what you think about this years E3 showcase and what you think about the "Three Major Projects."
So finally, why should we care about this? Apart from more great games to play of course. Another major part that has recently gone silent. Is Fallout 4 VR. We don't know much about it, aside from some quotes from Todd Howard himself about how "VATS is awesome in VR." We will likely hear something about Fallout 4 VR during this event. And hopefully Bethesda can make something good out of the concept of Fallout in VR. Though again, we simply don't know that much about it.
If you're dying to know what Bethesda has in stock for this year remember to add the 11th of June, ~6.30pm (PT) to your calendar, they'll livestream via their website. I for one will take part of it!
---
Feel Free To Add A Comment Below:
Community content is available under
CC-BY-SA
unless otherwise noted.