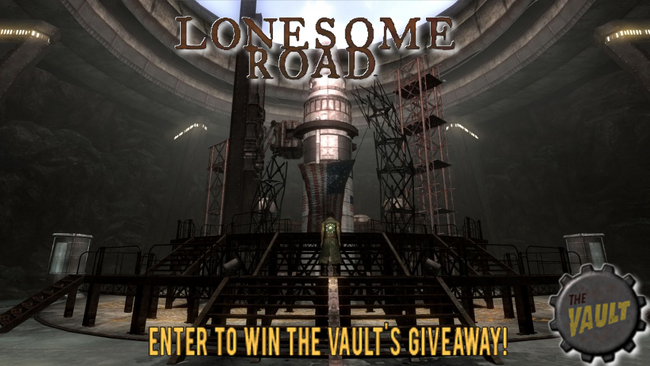 ---
The competition is now closed, here is the list of winners who will be contacted by Wikia in due course to arrange there prize;
Here is the list of winners.
---
With Lonesome Road just around the corner, we have five (5) copies of the upcoming Fallout: New Vegas add-ons to give away. Yes, thats add-ons. We will not only be giving away Lonesome Road, but also Gun Runners' Arsenal and Courier's Stash. Entries are open to registered users only, of course you need to have an account and log in (unregistered user entries will be deleted without warning!). If you do not already have an account, you can create one here, by clicking sign up. All entrants most US and UK residents, who are either 18 years old or older OR have a parent or guardian's permission to win. Please also specify your gaming platform of choice (PC, PlayStation 3 or Xbox 360), failure to do so will void your entry and will be deleted without warning.
Lonesome Road brings the Courier's story full circle when you are contacted by the original "courier six", a man by the name of Ulysses who refused to deliver the Platinum chip at the start of the main storyline in Fallout: New Vegas. In his transmission, Ulysses promises the answer as to why, but only if you take one last job - a job that leads you into the depths of the hurricane-swept canyons of the Divide, a landscape torn apart by frequent earthquakes and violent storms. This is the fabled location of the battle between the Courier and Ulysses. The road to the Divide is a long and treacherous one, and of the few to ever walk the road, none have ever returned.
Imagine you are on a journey down the Lonesome Road, what five old world songs would you listen to on your travels to the Divide. To enter, simple list any five (5) songs (pre-2077) of your choice as a comment and don't forget your platform of choice and your country of residence.
The contest will close on September 20, 2011. Five (5) winners will be randomly selected on or around September 21, 2011.
Community content is available under
CC-BY-SA
unless otherwise noted.