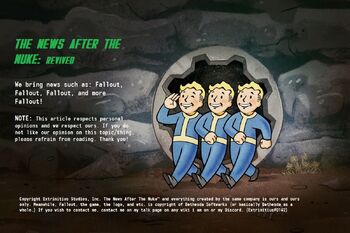 Welcome back to my epic article, where we deliver cold news. Without a further-a-do, let's do this!
A Cup Of Nukes: Nuclear-ly Nucleared Nuclear Cawfee
How are all of you guys doing? My head is aching. But that's alright. That doesn't stop me from making this epic article.
Nuclear News Headlines: Rain Them Down With Headlines
Fallout On Television --- Bethesda announced that there will be a Fallout television series. It is currently being made, available on Amazon Prime Video. No information is known about when it will be released or where it will take place, but it will be produced by Kilter Films, and Westworld's executive producers Lisa Joy and Jonathan Nolan will be involved. Todd Howard, our favorite guy, and James Altman will be the series's executive producers. Todd Howard as executive producer? Wonderful idea :D
Inside the Nuke: Fallout 76 --- Fallout 76 is coming to Xbox Game Pass next week on Thursday, July 9. All your progress will still be there, but sadly, due to so called "technical limitations", you will not be able to transfer your Atom balance or your Fallout 1st membership from your Bethesda.net or Steam version of the game to the Windows 10 Store version. Next week, Bethesda is aiming to re-open the Fallout 76 Public Test Server once again, this time with a focus on Update 21, which is currently slated for release in August.
The Finale
Well, that's about it for this edition of the News After The Nuke, thanks for reading :D
Links and Stuff
Nukapedia Discord Server (join!)
Community content is available under
CC-BY-SA
unless otherwise noted.