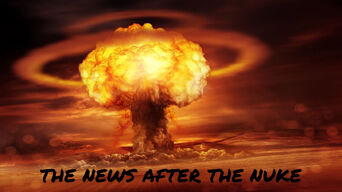 Good day humans, zetans, synths, abominations and weird folk alike! Welcome to "The News After The Nuke", where we showcase news whether from your real world to this world. We broadcast every Saturday and Sunday. Now, without further-a-do, let's get right into the nuke!
Bethesda Rips Off Customers 2.0 with West-Tek Bag!
Now there's something bothering people. Bethesda makes West-Tek bag using a very cheap material for unknown reasons. I recommend not buying that thing because it'll probably disintegrate faster than you do when you get hit by a laser rifle. Plus, it's material is so thin that 2.5kg dumbbells would destroy that bag. Many people got ripped off and angered that they were actually asking for a refund. (they didn't cuz Bethesda ain't got time and bling for refunds. One thing for sure: Who made them and why make them cheap? I guess we'll never know... for now.
Oh No! Bethesda Got Sued!
Get this: Migliaccio & Rathod, the law firm, decides to possibly put a case to Bethesda Studios: because of allegedly not giving refunds because Fallout 76 is unplayable. Well that's pretty awful for Bethesda. Let's hope Bethesda gives out refunds now or else.. they'll pay the fine. They've already tried to, before the law firm did it, but sadly, it fixed 21% of the problems. Poor Bethesda. Why did they rush Fallout 76 anyway? I'm not saying they rushed the whole game textures, but the mechanics? Just a big NO. They took years to make Fallout 4 and well folks, the textures are not HD at all. Talk about getting a 2011 texture pack for a 2015 game.
Travis Miles: Confidence or NO Confidence At All?
There's a quest for Travis Miles' confidence: Confidence Man. To trigger this quest, you have to go to Dugout Inn. Now Vadim Bobrov, a co-owner of the bar, will not immediately trigger this quest. To trigger it, get in the bar, talk to Vadim, then wait outside for any hours until someone says "Vadim Bobrov's looking for you." Then go there, beat up guys, go to Travis, do stuff for him, yadda yadda yadda... and bam. You finished the quest. But here's the thing: Most players or some players like Travis like a coward. And yes, i agree. (but i killed him and yeah. he was replaced by a water kid. Called himself Sheng.) But some like the cool Travis: smooth voice, his temper is like a breeze, and he's just pretty rad. But i don't really like Travis after the quest; what is Fallout radios now, seduction time? I don't know. Choose your pick in the comments below and i will talk about this again in the next edition.

Well that's it for today guys! I hope you enjoyed it. There will be more news.. after the nuke.... Thanks and have a wonderful nuke!
-- THIS CONTENT IS OWNED BY EXTRINITIUS, DO NOT ATTEMPT TO REPLICATE, DUPLICATE, REMAKE, RECOPY, REPRINT, OR YOU WILL BE FACED SERIOUS ACTION. YOU HAVE BEEN WARNED! -
Community content is available under
CC-BY-SA
unless otherwise noted.