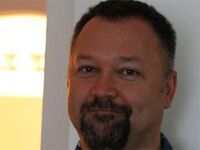 Tim Cain, the creator of the original Fallout himself, has just announced that he is joining Obsidian Entertainment, the studio behind Fallout: New Vegas, as a Senior Programmer on his Facebook and LinkedIn profiles.
If you're not familiar with Tim's employment history, after completing Fallout he went on to do some pre-production work on Fallout 2 before leaving Interplay to set up Troika Games with Leonard Boyarsky and Jason D. Anderson, two of the other original Fallout developers. After Troika's shutdown in 2005, he joined as the programming director at Carbine Studio working on Wildstar, a fantasy MMO game for NCSoft but left Carbine in July 2011 for unknown reasons.
Community content is available under
CC-BY-SA
unless otherwise noted.