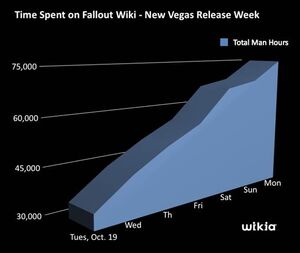 When Fallout: New Vegas was released on October 19th, we figured we'd get some serious spikes in visitors to The Vault. But our jaws dropped when during release week, we saw traffic shoot up to 2.5 million visitors in one week - essentially 7 times the normal amount. More importantly:
Over 1,200 pages on New Vegas were created
9,000 images uploaded
165 videos added
4,000 links shared
Reached a total of 10,500 pages
Over 475K man hours were spent reading and creating content about Fallout: New Vegas – the equivalent of 58 years!
We have also shattered all the previous Wikia records in terms of daily traffic. The previous record, held by WoWWiki, was around 5 million daily page views, and for the last two weeks, we've been having more traffic than that - up to 8.8 million on Sunday, October 24.
Congratulations to all of our contributors and keep up the great work!
Community content is available under
CC-BY-SA
unless otherwise noted.