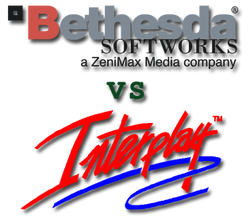 I've just received another batch of court documents regarding the Bethesda v. Interplay court case, where the rights to develop Fallout Online, to distribute Fallout, Fallout 2 and Fallout Tactics, or even the future ownership of the whole franchise are at stake (OK, that last bit is rather unlikely, but still).
Among other things, Interplay asserts that "Bethesda has breached its agreements with Interplay by refusing to allow Interplay the right to use the Fallout related intellectual property assets". However, Bethesda lawyers now claim that when Interplay licensed the rights to develop and publish Fallout Online from Bethesda back in 2007, it actually never had the rights to use any elements of the Fallout universe and Fallout games aside from the title Fallout itself. Here's some snippets:
"
To effectuate the transfer of the Fallout Intellectual Property to Bethesda, Interplay assigned all trademarks and copyrights associated with the Fallout games to Bethesda as part of the APA. Specifically, Interplay transferred to Bethesda the following copyrights and trademarks:

Copyrights:
The Fallout Logo
Fallout and Fallout 2 Character Art
Weapon and Item Art
Cutscene Art
Interface Art
Loading Screen Comic Cart
Loading Screen 3D Art
"PIP" Boy
World Bible
Background Source Materials
Copyright Registration No. PA-886-144 for Fallout
Copyright Registration No. PA-931-744 for Fallout 2: a post nuclear role playing game
Trademarks:
FALLOUT
FALLOUT 2
FALLOUT TACTICS
BROTHERHOOD OF STEEL
Registrations and Applications for FALLOUT in the U.S., Canada, Hong Kong, Malaysia, New Zealand, Thailand, Taiwan, South Africa and the international registration for FALLOUT under the Madrid Protocol.
See Copyright Assignment Ex. A, Schedule of Copyrights; Trademark Assignment Schedule of Trademarks.
In addition, the APA contains the following provisions which unambiguously state that Interplay has relinquished all rights to any Fallout related intellectual property:
Nothing in this Agreement shall be construed as providing the seller [Interplay] with any retained rights, title or other interest of any kind in or to any of the Acquired Assets. Seller recognizes and acknowledges that the Purchased Intellectual Property and all rights therein and all goodwill pertaining thereto solely and exclusively belong to Purchaser [Bethesda] effective automatically upon the Closing and that all uses of the Purchased Intellectual Property shall inure to the benefit of Purchaser.
APA § 5.9 (emphasis added). The APA further states:
Upon and after the Closing, the Purchaser will be the sole owner of, and will have valid and marketable title to, the Purchased Intellectual Property, and will have the full right to use, license and transfer the Purchased Intellectual Property in the same manner and on the same terms that the Seller had immediately prior to the Closing.
APA § 3.9.

In licensing the FALLOUT mark as part of the TLA, the parties expressly agreed: "Any and all rights not explicitly granted to Interplay hereunder are reserved by Bethesda." TLA § 2.6.

Bethesda acquired all rights to and interests in any and all Fallout related intellectual property and reserved all of those rights except for the one license in the TLA.
"
"
The only license back agreement contained in the APA is attached at Exhibit B-1, and is called the "Trademark License Agreement," or the TLA. Bethesda, through the TLA, granted to Interplay, subject to certain conditions,4 an exclusive, non-transferable license and right to use one single asset – the FALLOUT trademark – in connection with a massively multiplayer online game ("MMOG"). See TLA § 2.1; TLA Recital A; TLA Schedule of Marks. There is no other license back to Interplay of any Fallout related intellectual property in the APA.5 Indeed, Bethesda and Interplay agreed that "[a]ny and all rights not explicitly granted to Interplay hereunder are reserved by Bethesda." TLA § 2.6.
"
Bethesda concludes that:
"
The breach of contract claims asserted by Interplay (...) fail because Bethesda is not obligated or under any legal duty to allow Interplay to utilize the panoply of Fallout assets in connection with an MMOG. Interplay transferred its

right, title and interest in and to all Fallout Intellectual Property to Bethesda for $5.75 million. This included, among other rights and properties, all characters, story lines, weapons, art and other game related assets as well as the copyright and trademark registrations that protect same. (...) In the APA, Interplay further represented and warranted that any and all Fallout game assets that it owned were being transferred to Bethesda. (...) The APA contained one single-license back agreement – the TLA. The TLA plainly and unambiguously concerns one single mark – FALLOUT.

(...)

Despite the clarity of both the APA and the TLA, Interplay has in recent months promoted its purported MMOG project by repeatedly using numerous Fallout related trademarks and copyright protected elements that it has no proper right to use under either the APA or TLA. (...) Interplay's use of Bethesda's Fallout intellectual property such as characters, weapons, and story lines was not a "benefit of its bargain" as Interplay claims. The only bargain Interplay made for a MMOG was the conditional right to use the FALLOUT trademark.
"
In another court filing, Bethesda demands that Interplay release the contents of its internal wiki containing Fallout Online design documents as court evidence for discovery purposes. Interplay objects to that, saying that it "has objected to copying of the trade secret document, but has several times offered Plaintiff and its attorneys an opportunity to inspect it. Plaintiff declined the invitation."
Also, Interplay recently filed their 10-Q SEC filing. The company is running at an operating loss of $205,000 over the 3 months ending on 30 September 2010. Here's a snippet:
"
On September 8, 2009 Bethesda Softworks LLC filed a Complaint for Declaratory Judgment, Preliminary Injunction and Other Relief against the Company in the United States District Court for the District of Maryland. Bethesda seeks to terminate the rights Interplay holds to sell and develop certain FALLOUT(r)-branded video games, including an MMOG. Interplay disputes all claims raised by Bethesda and has answered the lawsuit and asserted Counter-Claims, including claims for Breach of Contract, Rescission, Accounting and Declaratory Relief seeking an award of damages and other relief. Interplay also seeks a declaration from the Court that it has not infringed upon the FALLOUT(R) mark and that it has satisfied the terms of the Trademark Licensing Agreement related to Interplay's production of a FALLOUT(R) massively-multiplayer online game. The Court denied Bethesda's Motion for Preliminary Injunction on December 10, 2009. Interplay will continue to defend its rights and pursue its Counter-Claims against Bethesda.
"
Additionally, Interplay won a lawsuit, but not this one.
Update: Jas Purewal of Gamer/Law comments on the case:
"
I can see the commercial benefits of what Interplay is trying to do (if in fact I'm right on the above): get the game as far developed as possible, both as a bargaining chip with Bethesda in any negotiations and because, if Interplay wins, it already has a game ready to go. On top of that, the Interplay Fallout MMO is now probably regarded by fans, gamers and the games industry as the Fallout MMO regardless of this lawsuit - so Interplay has won the PR contest there. So it seems like a smart move in those respects...if it wasn't for the legal risk that it could all be taken away from them.

That said, it's worth remembering that ultimately all of this remains to be tested in the litigation, so the ownership and the future of the Fallout IP is still undecided.

It also means I've stopped making any predictions about what or may not happen in this case - I'll write another update when there's another turn in this roller coaster...
"
Community content is available under
CC-BY-SA
unless otherwise noted.