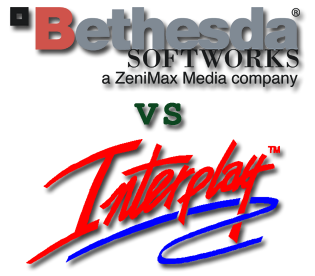 After winning in the preliminary injunction hearing, Interplay wants Bethesda to pay its legal fees. Here's a quote from their most recent filing:
"
Pursuant to Federal Rules of Civil Procedure, Rule 54 and Rule 109.2 of the Local Rules of the United States Disctrict Court for the District of Maryland, Defendant/Counter-Claimant Interplay Entertainment Corp. ("Interplay"), hereby moves the Court for an award of the attorney fees and expenses that it incurred in successfully defending against the Motion for Preliminary Injunctions (the "Motion") filed against it by Plaintiff/Counter-Defendant Bethesda Softworks, LLC, ("Bethesda").
"
Interplay estimates that its legal fees will exceed $100,000, and its recoverable costs and expenses are $9,539.38. Here's a detailed breakdown:
Travel Expenses for Herve Caen and the 2 lawyers: $3,901.32
Deposition of James Leder, COO of Bethesda: $3,525.00
Online Legal Research: $1,686.40
Overnight mail to Court and Opposition Counsel: $225.76
Postage: $2.40
Photocopy Charges: $197.50
Interplay will file more expense details in the coming days.
Meanwhile, looks like Bethesda is unhappy with DLA Piper, one of the world's biggest law firms, which represented them until now, and has hired a different, and much smaller firm - Steptoe & Johnson LLP. Bethesda's new counsel is Howard H. Stahl.
Community content is available under
CC-BY-SA
unless otherwise noted.