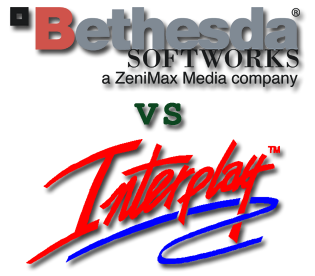 We have received a 17-page document written and signed by Herve Caen, summarizing Interplay's arguments in its battle with Bethesda over the rights to the Fallout franchise. Here's a summary of the most interesting points:
Interplay has continuously sold Fallout, Fallout 2 and Fallout Tactics since their original release dates, as standalone products or in compilations such as Saga Fallout (since 2004), Fallout Trilogy and Fallout Collection (since at least 2005 or 2006).
Under the 2007 Asset Purchase Agreement (APA), Interplay has retained perpetual, royalty-free, worldwide, and exclusive right to continue selling the Interplay-developed Fallout games (reffered to collectively as "Pre-existing Fallout games").
The parties fully expected that new Fallout games by Bethesda would renew consumer interest in the pre-existing games and the perpetual rights to continue the sales thereof were a substantial part of the consideration Interplay was to receive in exchange for giving the rights to the franchise to Bethesda.
Nothing in the APA requires Interplay to spend any particular amount of money to develop the Fallout MMOG, but rather Interplay must deliver a finished product approved by Bethesda within a certain period of time.
The Trademark Licensing Agreement, while it requires Interplay to be in "full scale development" of the game by April 2009, it does not define what it means. Interplay and Masthead currently have a number of artists, programmers, writers, and game designers working on the game, which according to Caen does constitute "full-scale" development.
The current Project V13 game design document is more than 600 pages long and describes background material, such as the game world, characters, creatures, weapons, equipment, back story and other key concepts concerning game play.
Interplay has not assigned any rights in the Fallout mark or in its MMOG to Masthead Studios or to anyone, so contrary to what Bethesda claims, this is not sublicensing and the TLA does not prohibit Interplay from using contractors to assist in the development of the MMORPG. Masthead has more than 65 people working on game development.
In March 2009, a playable demonstration was created using Interplay's pre-production designs and Masthead's technology. It consists of a portion of the post-apocalyptic world, with buildings, locations, objects, NPCs player characters. Caen states that Interplay can submit a video of this demonstration to the court.
On April 3, 2008, Interplay sought approval to use the Fallout mark on its website to announce the MMORPG. However, Bethesda refused to permit Interplay to announce its Fallout MMORPG as such, even though Interplay should have been, and should be, allowed to use the Fallout mark according to the TLA. According to Caen, the refusal of Bethesda to permit this is in bad faith. When Interplay changed the name of its project on the website to Project V13, Bethesda forced Interplay to remove even generic post-apocalyptic art from the site.
The APA does not limit Interplay's distribution channels for the pre-existing games in any way (e.g. in terms of digital distribution), contrary to Bethesda's claims. Interplay exercises its rights through the same industry standard as any publisher, including Bethesda, which involves third-party distributors.
The packaging approval rights are of limited purpose, in order to ensure that Interplay does not "refer to, trade upon, reflect the look and feel or otherwise exploit" Bethesda's games. Interplay, on the other hand, simply recycles artwork that it has used in conjunction with the pre-existing games years before the APA. The current packaging of Fallout Trilogy and Saga Fallout is overwhelmingly similar to the pre-APA boxes.
The only truly new packaging and promotional materials were used in conjunction with the release of Fallout and Fallout 2 in the French PC Jeux magazine. Bethesda did not object to any of the pre-APA art being used, and only demanded changes to legal notices.
Interplay's use of "Trilogy" simply refers to the fact that the package contains three independent, but connected games. Interplay used the title Trilogy years before the release of Fallout 3 and the packaging clearly identifies the three games included. Neither of the three currently sold compilations uses any art created by or for Bethesda.
According to Caen, Bethesda's conduct (including the creation of its own MMORPG studio) indicates that Bethesda never intended to permit Interplay to develop the game and planned from the outset to terminate Interplay's rights and grant them instead to ZeniMax Online Studios, and constitutes Bethesda's scheme to renege on its obligations, as well as disparage and defame Interplay and disrupt its business.
Herve Caen requested to meet with Bethesda's president Vlatko Andonov and Bethesda's VP of legal affairs, Grif Lesher, and his e-mails were completely ignored.
We have also acquired copies of e-mails exchanged between Herve Caen and Bethesda/ZeniMax representatives, submitted by Caen as court evidence, which we have posted in a separate post.
Community content is available under
CC-BY-SA
unless otherwise noted.